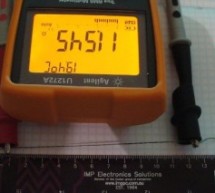 Time for another instalment in my irregular series of irregular clock projects. In contrast with the minimalism of Clock Two, in this article we describe how to build a different type of clock – using the "lilypad" style of Arduino-compatible board and components designed for use in e-textiles and wearable electronics. As the LilyPad system is new territory for us, the results have been somewhat agricultura ...
Read more

›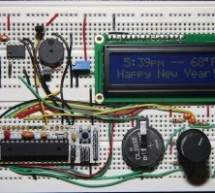 I don't get up at the same time every day, so I thought it'd be nice to have an alarm clock that would drag me out of bed at different times on different days. That was the initial idea: things got out of hand, of course, and this is the result. What it does: 1) It displays the time, day, and date. It also keeps track of the year, leap years, and adjusts automatically for daylight savings time. 2) It displa ...
Read more

›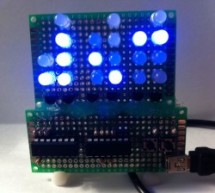 I was wandering the internet looking for a good arduino tutorial on how to build a binary clock with seconds, but I could not find one. So now I am  writing this for you to have a binary clock with seconds, minutes, and hours. What I did: -Because controlling 20 LEDs individually for this cube would be messy, I multiplexed. -I used an ATtiny84 and a SN74HC164N to control the clock. This makes the clock chea ...
Read more

›
I was googling around looking for some sort of device I could make using arduino and stumbled upon eshop with devices for visually impaired. What really shocked me was the price. I mean-I do realize that such sorts of devices are not really mainstream, but still, it was kinda high. So I decided to make something similar while keeping the price as low as possible. I ended up making a clock, stopwatch, egg ti ...
Read more

›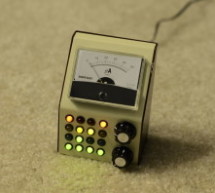 Overview This is a guide to building an Arduino-powered clock that uses LEDs to display a 24-hour clock (hours and minutes) as binary digits, an analog meter to display the seconds, a switch to toggle between time-display and time-setting mode, and 2 knobs for setting the hours and minutes. This was designed from scratch, but is an improvement over other Arduino binary clocks that miss milliseconds here and ...
Read more

›
Update: The Arduino system is fine; the only thing you have to take into consideration is the 9.54 hour rollover event, which Rob Faludi has provided an excellent solution for here. I made up a nice little over-analysis of the issue, available here. I have been wanting to make a variable-speed clock for a while, so this weekend I picked up a cheapish clock unit (thrift stores are a great source!), and playe ...
Read more

›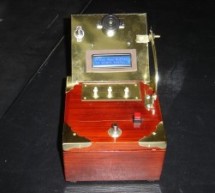 I am new to Arduino and wanted a project which would teach me different things. This got me involved with sound and the use of a LCD. This project is based on the Instructable posted by bertus52x11 which you can find here http://www.instructables.com/id/After-Dinner-Reaction-Time-Tester/ .  While I did start with the bertus52x11 project I did make the following major mods : 1.   I use 3 LEDS  which change l ...
Read more

›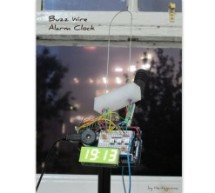 Does it happen to you to slide your finger across your phone's screen and turn the alarm off ... just because you have automated this task and don't even need to open your eyes? Well, let me present to you the alarm clock that WILL MAKE YOU: ..... stand from the bed ..... open your eyes ..... get you absolutely focused ..... and finaly WAKE UP !!! Here are some stories from life that may encourage you to bu ...
Read more

›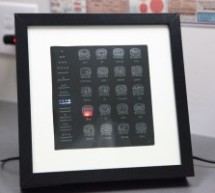 OK, I will admit that I am a little obsessed with things Mayan at the moment, which explains why I wanted to make a Mayan Tzolkin calendar. I modeled the general layout and fabrication on the very nice Sleek Word Clock by scottbez1 which you can see here: http://www.instructables.com/id/Sleek-word-clock/?ALLSTEPS. You can read about the Tzolkin Mayan calendar on Wikipedia http://en.wikipedia.org/wiki/Tzolk% ...
Read more

›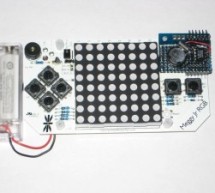 There is a saying: "If all you have is a hammer, everything looks like a nail". Well, when I see a display, I think of clocks :) I will show you here how to easily make a simple digital clock by hacking Meggy Jr RGB. This is an Arduino-programmable device, featuring an 8x8 RGB LED matrix, a few buttons and a buzzer. Ideal candidate for an alarm clock. The clock will use the ubiquitous DS1307 as RTC (real-ti ...
Read more

›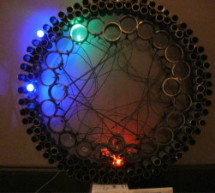 A 24-hour clock with hour, minute, and second indicators. Here's the catch, despite being a digital media (LED's) it is still displaying using an analog method (circles!). I finished making this clock months ago but did not bring it with me to school so I wasn't able to take pictures and all until now. I have been very excited to get this up since I think it is sooooo cool :) It functions as a very pretty p ...
Read more

›
Our goal in this step-by-step instructable is to build a device you can clip to your belt and wear throughout the day.  This device will log data that, when downloaded to a back-end server system, will provide a report showing the location history of your day along with the breakdown of how much time you spent indoors and outdoors. A quick rundown of how the system will operate is as follows: The accelerome ...
Read more

›