Today you can hardly surprise anyone with a mobile phone with a camera, wireless gadgets and other technical advances. Thanks to the Arduino platform, millions of people have discovered the wonderful world of electronics and programming. 100,500 instructions were written on how to exchange data between a mobile phone and Arduino via bluetooth ... What am I talking about? Yes. I want to exchange data between ...
Read more

›
This instructable describes how to turn a Commodore 64 computer into a bluetooth keyboard. It involves programming a micro controller with the Arduino IDE and constructing a circuit board. Supplies you'll need (some are optional): Commodore 64 with keyboard (remove mother board, it is not used)(2) 74HC595 shift registers(8) 1N4148 diodes(3) 220 ohm resistors(1) RGB Led (common cathode)(1) Adafruit Feather M ...
Read more

›
Hello, Guys! In this instructable tutorial, I'm going to make an Arduino nano based smartphone (Bluetooth) controlled car. All we know that Arduino is an excellent prototyping platform, principally because it uses a friendly programming language and there are a lot of extra incredible components that provide us great experiences. We can integrate the Arduino with different shields or modules and build fanta ...
Read more

›
This is a Arduino RC car, originally based off of a project made by Owen_soo. It is very maneuverable, able to do quick turns, go backward and forward with just a flick of a switch. This was originally just going to be a very basic RC car that can go forward and turn right or left. It uses an Arduino Uno. I decided to change the software and use Labview instead. Step 1: Parts This are the necessary parts ne ...
Read more

›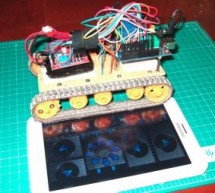 https://youtu.be/J3DwgZvD2js After trying to remote tracked robot by IR remote control.I have proceed to control same robot platform by Bluetooth Arduino controller via Android application.This method is more reliable,longer distance,pretty Android application enhancement. Same principle,low cost play and home level technical skill.Programming khownledge is not necessary. Thanks for free download Ardui ...
Read more

›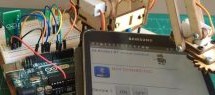 A very good wireless local area network (and personal) is undoubtedly the Bluetooth (BT). Today in our day-to-day is common to find us using cell phones, stereos, cameras, etc., interconnected with the help of the famous "blue little light". In the world of IoT and automation in general, it is very common find remote controls via mobile phones using BT technology. This is due to two basic components, but ve ...
Read more

›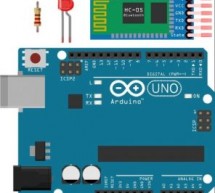 Ever thought of controlling any electronic devices with your smart phone ?Controlling your robot or any other devices with your smartphone will be really cool. Here is is a simple and basic tutorial for interfacing Bluetooth with arduino Step 1: Things You Need Hardware Bluetooth Module HC 05/06ArduinoLED220Ω ResistorAndroid device Software Arduino IDEArduino IDEAndroid Studio (Not Really required I wi ...
Read more

›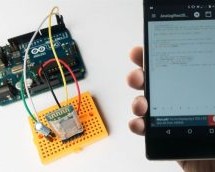 Hello world, in this Instructable I want to show you, how to program your Arduino Uno with your Android device over Bluetooth. It is very simple and so cheap. Also it allows us to program our Arduino where ever we want over wireless bluetooth... So lets get started! :) Step 1: Materials and Tools Hardware : Arduino UnoBluetooth HC-05 moduleMini breadboardCapacitor 1uf/16v (elco)Reasisor 100 ohm5 pcs x Jumpe ...
Read more

›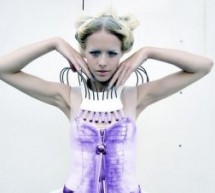 What Does Fashion Lack? "Microcontrollers" I always answer - and it's TRUE! It makes your garments SO much more interesting, interactive and communicative as soon as you add some INTELLIGENCE to it. But which ones are on the market? I started a little research on available on some of the hottest SMALLEST boards at the moment: If you have any recommendations - please feel free to help me with my ...
Read more

›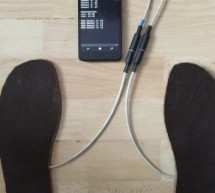 Everyone has a certain Gait-Rythtm! ..influenced by architecture and our surrounding. This Project should Tack your Gait and find yours. Things used in this project Hardware components Velostat, Linqstat × 1 SparkFun Bluetooth Modem - BlueSMiRF Silver × 1 Coppertape (narrow) × 1 cork 2mm × 2 Foam rubber 2mm × 1 Felt plate × 1 Software apps and online services Microsoft Virtual Shields for Arduino You have t ...
Read more

›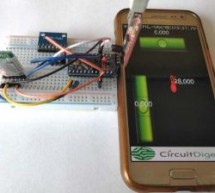 The MPU6050 is an IC 3-axis accelerometer and a 3-axis gyroscope combined into one unit. It also houses a temperature sensor and a DCM to perform a complex task. The MPU6050 is commonly used in building Drone and other remote robots like a self-balancing robot. In this project we will learn how to use the MPU6050 is built an Inclinometer or Spirit Leveller. As we know an inclinometer is used to check if a s ...
Read more

›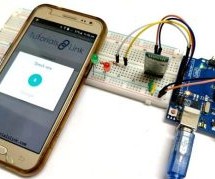 Controlling LEDs with voice command seems to be a difficult task, but it's easy and you can quickly build it. We just need an Arduino UNO to serially communicate with HC-06 Bluetooth module and a smartphone to send voice command to Bluetooth module HC-06. For receiving voice command we are using "Arduino Bluetooth Voice Controller" android app which you can download from play store (link is given below). Ma ...
Read more

›