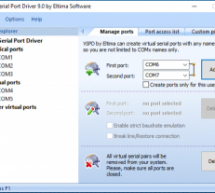 Serial communication was once the most widely used method of transferring data between computers. Many computing devices that you have used over time employ serial communication. Some of the terms associated with this type of data transfer are FTDI chip, COM interface, the RS232 protocol, and serial port. Serial communication refers to data that is electronically sent and received a single bit at a time. It ...
Read more

›
Greetings, One late night of web surfing I came across some 45 Degree Extension boards. Thinking to myself "Wow!" that's cool and then I looked at the price…$27.00 before S&H. "Yikes!" I've been looking for an excuse to learn Eagle PCB layout software and this was the project I decided to cut my teeth on…"Wing Tip Extension" was born! Step 1: Layout PCB Layout, I'm sure this took longer than it should h ...
Read more

›
I enjoy both Geocaching and electronics and have made a couple of electronic puzzle caches using an Arduino. My latest creation (with the help of a fellow cacher for the code) is using an Arduino and RFID reader to make a puzzle geocache we call RFIDuino. The GeoCacher takes RFIDuino and has to find 3 RFID tags in order to get the location of the final geocache. They are given the coordinates of the first t ...
Read more

›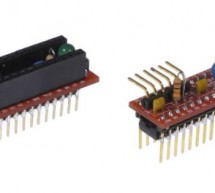 Open-source hardware? Arduino(tm) is the first name to come to mind! As great as it is, sometimes we need a small microcontroller solution for a project, or a stripped-down version for cost-effectiveness. The Ardweeny is the solution. These small kits are 100% compatible with the Arduino programming environment, are very small, (and unlike the regular Arduino) they can fit on a breadboard. Oh, and they're q ...
Read more

›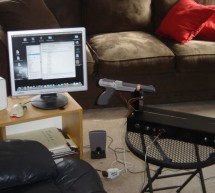 I created this Theremin like device after seeing this article in Make magazine: http://m-cdn.dashdigital.com/make/vol15/?pg=69#pg67 While this looked pretty straight forward it turned out to be a bit much for me at the time.  But after much effort, I got it to work pretty good. I had trouble getting the laser to aim correctly so I chose to mod a zapper I had available to hold the laser.  This worked well. S ...
Read more

›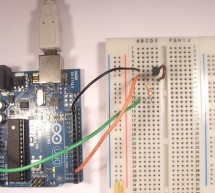 The one wire Digital Temperature Sensor - DS18B20 from Maxim (formerly Dallas) is a great chip for measuring temperature in your projects. Luckily, there is a Dallas Temperature library for the arduino which makes using this sensor very easy. The most recent version of this library can be found at http://www.milesburton.com/?title=Dallas_Temperature_Control_Library We used version 3.6.0 for this tutorial wh ...
Read more

›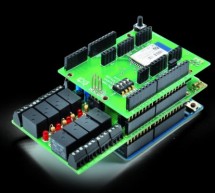 Today we'll expand Arduino's digital resources thanks to an I2C bus equipped shield and we'll allow the management of the board via a bluetooth connection RN-42 through an Android systems. All Arduino boards feature a number of digital I/Os. For the simplest projects, such resources are usually more than sufficient, but in those where they you need several control lines, "standard" I/Os can be less than eno ...
Read more

›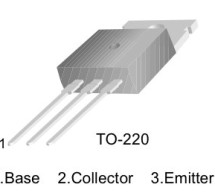 In this tutorial, you'll learn how to control a high-current DC load such as a DC motor or an incandescent light from a microcontroller. (:toc Table of Contents:) Connect a transistor to the microcontroller The transistor allows you to control a circuit that's carrying higher current and voltage from the microcontroller. It acts as an electronic switch. The one you're using for this lab is an NPN-type trans ...
Read more

›
ButtonHero is a game made on an Arduino that involves the use of buttons, LEDs, wires, and resistors. In this game, you have to hit the corresponding button to the light that is randomly selected before the light changes. You start with 5 lives and missing or being too slow subtracts one life. The high score is 56. Good luck! ideo of the Serial Monitor of the same game: http://screencast.com/t/PTaS3JwUu ...
Read more

›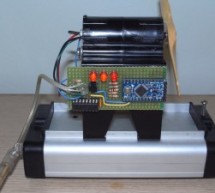 A "fan cart" is a roughly constant-force device used in introductory physics labs. It consists of a fan (usually a model airplane propeller on a brushed DC motor) mounted on top of a low-friction cart. Students use it to pretend they're learning something about force, acceleration, energy, etc. If you've ever taken an introductory physics lab, there's a good chance you've seen one. A couple weeks ago I was ...
Read more

›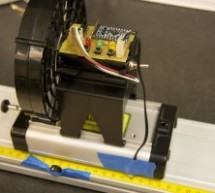 In an earlier post I described an Arduino-controlled fan cart. The driver I used was an L293D quad half-H chip, because I had one handy and was out of simpler parts at the time. It's always bugged me that I was just controlling speed on that cart, since it's possible to control direction with an H-bridge also. I'd also gotten several suggestions of other features the fan-cart could have; and I've learned a ...
Read more

›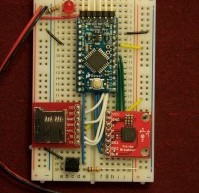 Thanks to Will Greiman's Fat16 library for the Arduino, I finally got a useful version of this datalogger working! Here's the schematic: And here's the code. The code is highly configurable: it can save raw A/D values or converted values, it allows software-defined gain, it can collect for a set time or until user input, and of course the collection interval is user-defined. It also includes a "DEBUG" mode, ...
Read more

›