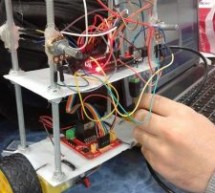 In this project I will describe the construction of robots standing in equilibrium with Arduino.We explained in our previous version of the android controlled project. In this project we will move to our control. Let's go let's get to our building project. Step 1: Materials: Arduino Uno or MegaL298 Motor Driver Card3 Piece potentiometerYou can cut plexiglass plate for mechanical or rigid plastic containers. ...
Read more

›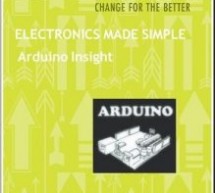 Hello friends...!!! This is my first tutorial on Instructables, in this tutorial I'm going to show you* Write a simple program for glowing LED* Group of LED program* Explain analog output (PWM)* Create a simple project of (4 bit binary counter).Small BIO:Friends we know that arduino is a powerful tool with infinite abilities !,,. so in my later tutorials I will boost my progress in making complex projects l ...
Read more

›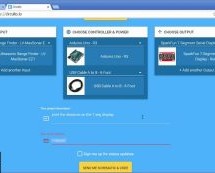 https://youtu.be/qdnoPGi0sR8 In the following Instructable, we'll show you how you can make your next Arduino project in just 5 minutes. It's simple, easy and fun. Step 1: Plan It! 1. Go to Circuito.io 2. Select the components in the screenshot, add a description and your email and click "Send" 3. Instantly receive schematic and code from Circuito.io. * Sometimes our emails go to "promotions" so make s ...
Read more

›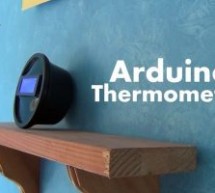 Its hot here in Los Angeles! Besides the massive drought California is in, Its not as cool around here lately. I wanted to build something to see just how hot it really was, and here it is! Read this instructable and Ill teach how you can turn just a few components you have into an accurate mini desktop thermometer!I hope you enjoy the project and vote for it for the contests! Lets Build It! Step 1: You Wil ...
Read more

›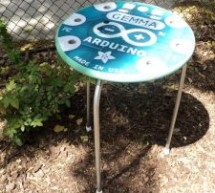 They're always serving up something hot at Adafruit. Make this giant Arduino GEMMA side table to use as a platform for various purposes. I needed a small utility table next to my BBQ grill so I made this. Enjoy afternoon tea or cappuccino outdoors in the fresh air with Totoro under the big tree. For all things geeky, this is fun to pair with a giant 555 timer bench. As a bonus, I will show yo ...
Read more

›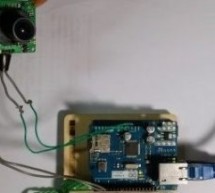 I will introduce a Arduino ethernet Camera. You can take a picture inside of house which have a this arduino ethernet camera by just openning the web site if you follow this contents. It is very easy and simple way which don't need any app. for smart phone. Let's start. Step 1: Prepare Meterials We need a several meterials. 1. Arduino Uno 2. Arduino Ethernet Shield 3. Serial Camera ( https://learn.adaf ...
Read more

›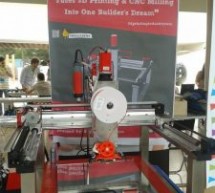 The objective of this instructable is to guide your way throw the entire making process of building a BuildersBot machine. An open design Arduino Controlled CNC Router that can also perform 3D printing. The instructions will cover all areas such as design, mechanics, electronics and software. But before you go any further take a look at machine's concept design: https://youtu.be/Dt7uyuZ4DJA And also the mac ...
Read more

›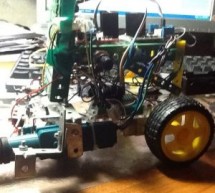 first of all, i am sorry if i have grammar mistakes, i am asian and i am 13 years old, i study arduino by my self (mostly my self) and this is my first project and also my first instructables. this is the robot that i used to compete with my friends in soccer robot. i did some modifications when i used it but it is broken now, so what i show you here is just a smartphone control robot. i will upload the imp ...
Read more

›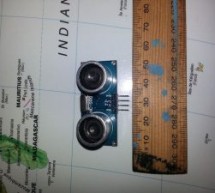 The HC-SR04 Ultrasonic range sensing module is great for sensing distances that can be used as an input for your Arduino projects, but using multiple (more than two) can quickly cost you a lot of pins. This basic Instructable gives you the code and basic instructions to use the 74HC595 8 bit series to parallel shift register so you can connect up to 8 HC-SR04 modules (16 IO pins) while using only 4 Arduino ...
Read more

›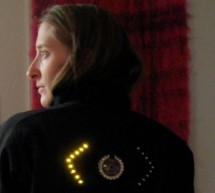 This tutorial will show you how to build a jacket with turn signals that will let people know where you're headed when you're on your bike. We'll use conductive thread and sewable electronics so your jacket will be soft and wearable and washable when you're done. Enjoy! A version of this tutorial is also on my website. https://youtu.be/ZtNEPkwCfxA Step 1: Supplies Get your supplies. You need: -- LilyPa ...
Read more

›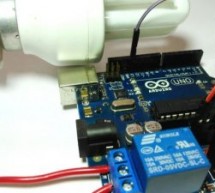 Hello everyone, In this instructable we will be using Arduino And Relay module to control home appliances. This instructable covers: Basics of Relays.Connecting Relays with Arduino.Controlling AC appliances using Relays. How it works: The relay uses an electromagnet to mechanically switch electric appliances.A relay can be operated by a relatively small electric current that can turn on or off a much larger ...
Read more

›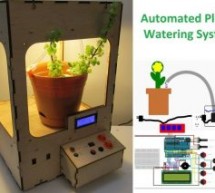 House Plant Babysitter Going away from a while? Need something to babysit your house plants?This box will automatically deliver an adjustable volume of water to four plants (or less) every day, or once every "x" day (up to seven days). A micro controller handles the time tracking and 120AC switching (via a relay). The relay powers a fountain pump which functions as the water delivery system. Step 1: Materia ...
Read more

›