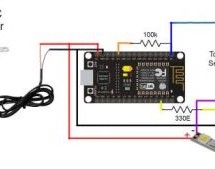 It is not just another Engraved LED lamp that you see on the market nowadays. This is an advanced version of that lamps. In the era of connected devices, I have made my own connected lamps. This project is inspired by Filimin: A Wi-Fi Enabled Touch Light That Connects You. I truly loved this product as in this generation of smartphone where each and everything, every activity is taken over by our smartphone ...
Read more

›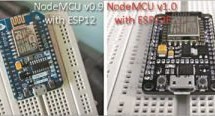 Since Internet of Things (IoT) projects are now quite popular, I recently bought a NodeMCU board to try IoT application development. The NodeMCU development board is an open source board based on ESP8266EX microcontroller with integrated Wi-Fi transceiver. Uploading programs to NodeMCU from any computer via microUSB port is very easy as it supports several programing languages. This makes NodeMCU a smart ch ...
Read more

›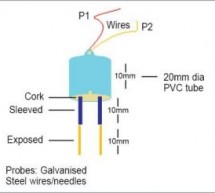 A digital soil moisture meter is used for indicating the water content of a given soil sample. [caption id="attachment_31551" align="alignright" width="300"] Soil moisture sensor head[/caption] As crop production requires water at different stages and in different amounts, it is important to measure soil moisture from time to time to know its status. The digital soil moisture meter circuit presented ...
Read more

›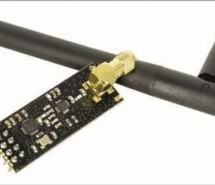 Presented here is an ATmega328P microcontroller-based ultra low power sensor hub using nRF24L01+ radio frequency (RF) transceiver modules having transmitter and receiver units. The transmitter sends humidity and temperature values of a place to the receiver kept at a remote location for display on an OLED module. The nRF24L01+ module used in the receiver unit is a 2.4GHz transceiver suitable for ultra-low-p ...
Read more

›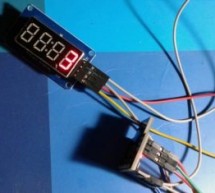 Microcontroller based miniscule event counter presented here is based on the inexpensive Digispark Attiny development board. One advantage of this design is that any type of active or passive switch can be connected to its trigger input. Whenever the switch closes event will be counted inside the microcontroller and would be displayed on the 4-digit LED display module, a type generally known as TM1637 LED D ...
Read more

›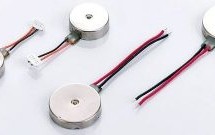 Nowadays numerous electronic devices make use of vibrotactile feedback to increase user interaction with the help of suitable haptic feedback hardware like the eccentric rotating mass motors, linear resonant actuators, and piezoelectric actuators. The most popular type of eccentric rotating mass (ERM) motor inside of consumer electronic devices is the pancake vibration motor (coin vibration motors). Pancake ...
Read more

›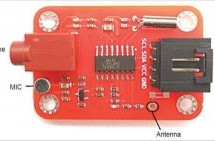 This article shows you how to build a small radio station at home and share music with others. The station can also be used for making announcements in colleges, industries, hospitals, schools and other places using a condenser mic amplifier circuit. In this project an FM transmitter V2.0 module is used, as shown in Fig. 1. It is available on www.ebay.com and www.amazon.in. The module can modulate your voic ...
Read more

›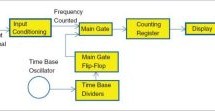 Precise measurement of line signal frequency is very important in many applications, especially in the management of power grid systems. Tasks like calibration of governors of engines that run generators in power plants need a resolution up to 0.01Hz. Frequency is also an important parameter in load sharing among several power plants in the grid. Presented here is a line frequency meter, that does it for yo ...
Read more

›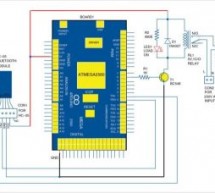 This is a project for a voice controlled home automation system to control appliances with your voice through an Android app. An Arduino Mega board is used for controlling the relay through which an appliance is switched on/off. You can modify the Android app to add more functions. First, download Bluetalk app and install it on your Android phone. Screenshot of Bluetalk app is shown in Fig. 1. Block diagram ...
Read more

›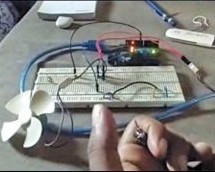 A light-dependent resistor (LDR) whose resistance is inversely proportional to the intensity of light is often used as a sensor in electronic projects that involve the use of light. This LDR based DC motor speed control project uses an LDR to control the speed of a DC motor. The objective of this project is to see how much faster the motor moves when a hand is brought closer to it. This circuit could be ver ...
Read more

›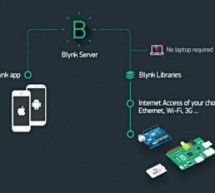 Presented here is a IoT enabled air pollution meter to monitor air quality on your smartphone using Blynk application and Arduino board. Blynk is an Internet of Things (IoT) platform to control Arduino, Raspberry Pi and the like over the Internet. In this project Blynk provides a digital dashboard on your smartphone that displays real-time air quality readings for the immediate surroundings. Blynk is not me ...
Read more

›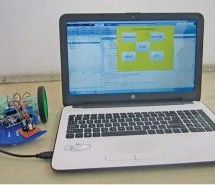 This project presents the implementation of a MATLAB based graphical user interface (GUI) to control the movement of a robotic car. The commands to move the car in forward, reverse, right and left directions are sent from the GUI and processed by Arduino Uno board mounted on top of the car. Authors' prototype is shown in Fig. 1. MATLAB GUI based robotic car Circuit and working In this project, ...
Read more

›