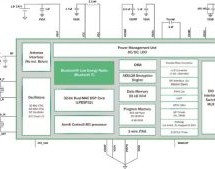 Bringing the industry's lowest power Bluetooth® low energy technology to IoT with a highly flexible multi-protocol 2,4 GHz radio RSL10 from ON Semiconductor. RSL10 is a multi-protocol Bluetooth 5 certified radio System on Chip (SoC) which brings ultra-low-power wireless technology to IoT. Offering the industry's lowest power consumption, RSL10 helps provide devices like heart rate monitors with advanced wir ...
Read more

›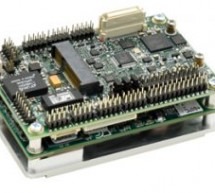 Zeta is a Single Board Computer (SBC) from Diamond Systems that combines a COM Express Mini Type 10 module based on Apollo Lake or Bay Trail SoCs with a DAQ-rich carrier, and a heat spreader mounted below. The Zeta COM Express Mini Type 10 supports the quad-core Atom E3940 and Pentium N4200 from Intel's Apollo Lake generation, as well as a dual-core Atom E3825 from the earlier Bay Trail family. Measures 84m ...
Read more

›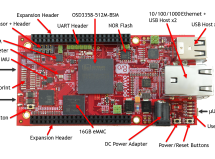 Octavo Systems back in 2017 released their OSD335x-SM System-In-Package device, a powerful ARM Cortex®-A8 SIP-based package. The OSD335x-SM was a device of its class, measured at just 21mm x 21mm, and the OSD335x-SM is the smallest AM335x processor-based module on the market today that still allows complete access to all the AM335x device I/Os including PRUs. The OSD335x-SM helps in removing the need for DD ...
Read more

›

Simplify your DC/DC design with LMZM33603 The LMZM33603 36V, 3A power module offers stellar EMI performance in a compact QFN package. Order yours today and enjoy the peace of mind that comes with reliable performance, small solution size, and reduced design cycle time. Power your processor with the industry's first 5+3- phase PMBus controller Powering high-current processors requires flexible solutions, and ...
Read more

›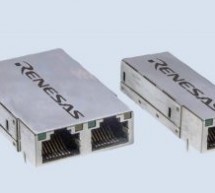 Renesas Electronics Corporation, a significant supplier of advanced semiconductor solutions, announced its latest industrial Ethernet module solution, the I-RJ45. It combines a single- or dual-port RJ45 connector and simplifies integration for industrial Ethernet by supporting various industrial network applications including sensors and transmitters, gateways, operator terminals and remote I/O. This new de ...
Read more

›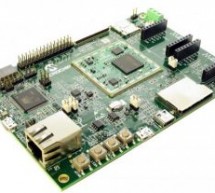 American microcontroller manufacturer company Microchip has unveiled an open source, mainline Linux ready "SAMA5D27 SOM" module. This module is based on a SiP implementation of its Cortex-A5-based SAMA5D27 SoC with 128MB RAM. The 40 x 38mm module is also compatible with a SOM1-EK1 dev board. SAMA5D27 SOM1 The SAMA5D27 SOM is Microchip's first computer-on-module based on a Linux-ready application processor, ...
Read more

›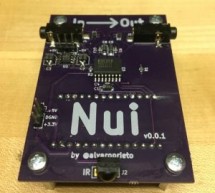 Nui is an IR controlled volume controller for analog audio. It sits between your audio source and speakers and can amplify or reduce the volume using IR commands (and eventually BLE). Why do I need this? It all started because I have my trusty Logitech Z-2300 speakers and subwoofer I purchased back around 2004/5. They still work great, but instead of being on my computer, they are used for my TV. Unfortunat ...
Read more

›
Hi guys, over the past few tutorials, we have been discussing TFT displays, how to connect and use them in Arduino projects, especially the 1.8″ Colored TFT display. In a similar way, we will look at how to use the 1.44″ TFT Display (ILI9163C) with the Arduino. The ILI9163C based 1.44″ colored TFT Display, is a SPI protocol based display with a resolution of 128 x 128 pixels. It's capable of displaying up t ...
Read more

›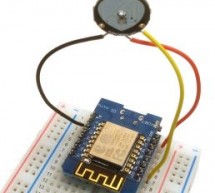 Pulse sensors have become popular due to their use in health-monitors like the Fitbit. The sensors used are cheap, simple and pretty reliable at getting a reasonable indication of heart rate in daily use. They work by sensing the change in light absorption or reflection by blood as it pulses through your arteries — a technique jauntily named photoplethysmography (PPG). The rising and falling light signal ca ...
Read more

›
The AFBR – S50 is a multipixel distance and motion measurement sensor. It has an integrated 850nm vertical cavity surface emitting laser (VCSEL) which uses a single voltage supply of 5V. It's measurement rates are quick and as fast as 3 kHz, which is a distinguishing feature. However, this is not the reason why the AFBR – S50 stands out. It is different because unlike other Time of Flight (ToF) ranging sens ...
Read more

›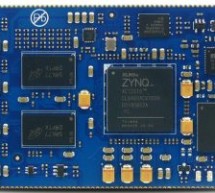 MYIR Tech has launched an $85 module, Xilinx Zynq-7010 or -7007S that runs on MYC-C7Z010/007S CPU Module. MYC-C7Z010/007S CPU Module is a part of their newly launched sandwich-style, $209 MYD-Y7Z010/007S Development Board. There's an open source Linux 3.15.0 based BSP for the module, and the MYD-Y7Z010/007S carrier board ships with schematics. Both the module and development board can withstand -40 to 85°C  ...
Read more

›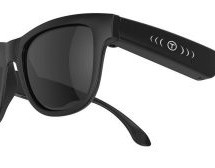 In the last few years, we have seen an increasing interest in smart glasses. Some analysts believe that in the next few years, smart glasses will be at the center of consumer and business electronics in the same way that smartphones are today. Companies and Startups like Google, Intel, Vue, Vuzix, and many others have all come up with their smart glass initiative, and even Apple has many smart-glasses paten ...
Read more

›