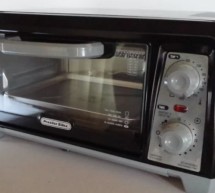 An Arduino-compatible smart outlet designed to instantly turn your toaster oven into a reflow soldering station. Keep up to date with our progress by following us on Twitter: @Reflowster or visit us online at www.reflowster.com Reflow soldering Advances in technology continue to shrink the size of components. Hobbyists, who have traditionally worked with through-hole parts, are finding these parts harder an ...
Read more

›
The new Texas Instruments 0.3" HD Tilt & Roll Pixel (TRP) DLP® Pico™ chipset is TI's smallest, most power-efficient HD micro-mirror array and can generate 720p displays from compact applications, including tablets, smartphones, accessories, wearable displays, augmented reality displays, interactive surface computing, digital signage and control panels. The chipset delivers significantly higher levels of ...
Read more

›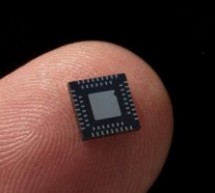 Atmosic Technologies Inc. (Saratoga, CA) has launched the M2 and M3 Bluetooth 5.0 transceiver chips, claiming them to be the lowest power Bluetooth wireless chips available. Atmosic took a wireless agnostic approach to determine the most power-efficient foundation for its first IoT connectivity solutions. To radically reduce power consumption, Atmosic has developed three key technologies: Lowest Power Radio ...
Read more

›
The new power supply series consists of the R&S NGE102B with two channels and the R&S NGE103B with three channels. They are suitable for various applications in education and production as well as in R&D labs. With these new features, Rohde & Schwarz is addressing the educational sector in particular. The power supplies' new colour-coding of the channels simplifies operation. Thanks to regul ...
Read more

›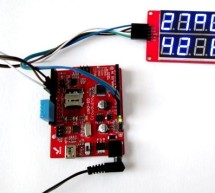 In this blog post, I am providing you step by step instructions to build a very simple temperature and relative humidity meter for indoor use. All you need to build this project are an Arduino Uno or compatible board, a DHT11 sensor, and a MAX7219 based 8-digit serial 7-segment LED display. The temperature is displayed in degree Celsius and relative humidity in percentage. Things required to build this proj ...
Read more

›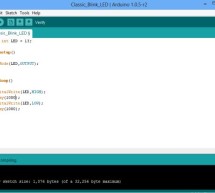 When we learn a new programming language in computer science (say C, PHP or Java), we begin the learning curve with the classic "Hello World" program.  We learn some essential keywords used in the programming language, then we learn the structure of the language and finally we begin to play with the language by making it display the two words "hello world" in our computer screen. So that's how we begin to l ...
Read more

›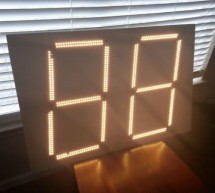 You don't have to be in Times Square to enjoy large bright displays of lights. You can create that in the comfort of your own home with some foam board, LEDs, and our little friend Arduino. My sister-in-law decided to get married on New Year Eve, and the venue she chose stays open until 1am that night, so I started thinking it would be great to have a nice big countdown clock. I ran the idea past her and he ...
Read more

›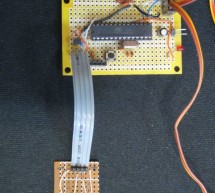 It seems that you can't visit to a microcontroller website without seeing a digital thermometer/hygrometer build of some kind. After all, it is pretty easy to build and at the same time quite useful as well. In this post, I will show you yet another thermometer/hygrometer build. But instead of using an LCD or 7 segment display for the output, I decided to go retro, using two "needles" to display the tempera ...
Read more

›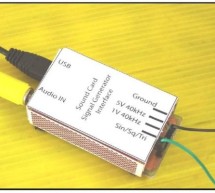 PC sound cards form a readily available Signal Generator for testing electronic circuits. The utility of these signal generators is limited because the outputs are AC coupled and limited to ±2V. Taking advantage of the two channels provided by the sound card this Instructable shows a scheme which uses one channel to output the Sin/Square/Triangle waveform with a fixed gain, while setting up a 441 Hz PWM squ ...
Read more

›
Microcontrollers are, without a doubt, amazing little things. They are versatile, powerful, and extremely tiny. Unfortunately, the latter trait is also shared by both my wallet and my programming skills. My understanding of C is poor, and I can hardly afford to buy something like an Arduino or a decent ISP. And in any case, the Arduino would be overkill for many of my projects, which only need simple IC's. ...
Read more

›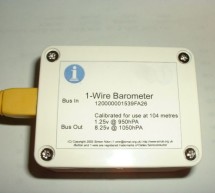 The 1-wire weather group is always looking for new sensors and ideas that will allow them to monitor more and more elements, the 1-wire barometer is just one of these sensors. Based around the Motorola MPX4115A absolute pressure sensor, the group has been trying to design / decide on a good interface circuit for quite a long time. The most commonly used and my personal preference is the Bray series. Both th ...
Read more

›
360-hour Battery Life with Charging Case | Superior Sound Quality | IPX-7 Waterproof | Bluetooth 5.0 UNI TWS is the world's most advanced true wireless earbuds designed with superior Hi-Fi sound and ultra-long playtime. It's your perfect workout companion with secure fit and an IPX-7 waterproof rating. Tired of running out of juice when you need your music the most? The UNI charging case has a 3500 mAh prem ...
Read more

›