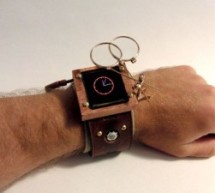 Update: New version out that works with Arduino 1.0 and higher! The Arduino Watch provides augmented sensing of temperature and range, 16-bit color drawing program, Breakout game, and also tells the time in your choice of digital, binary, or analog.  Additional sensors, devices, and programs are easy to add as any standard Arduino. The source code can be downloaded from the google code page, code.google.com ...
Read more

›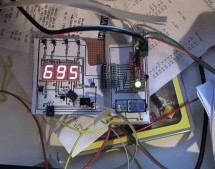 Hi, so me and my pal are setting up so we can make PCB´s. We are currently making a UV exposure box (possibly another instrucable) and for this box, we needed a timer, so this is what we have done so far, and what we are going to do. This project is based on the ardweeny from solarbotics because its cheap (10 $) and its small (28 DIP) it counts down from 999 to 0 (seconds) it has a 250V 10A Relay. here is a ...
Read more

›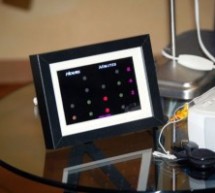 Hi from Italy Although many watches are created binary, my project was inspired mainly to this: http:// http://www.instructables.com/id/LED-Binary-Clock-1/, very smart and funny. I tried to improve the design and to add something personal. I think it's a good result at the end. The project is not difficult, requires patience, it requires a little knowledge of electronics and the use of Arduino. Step 1: List ...
Read more

›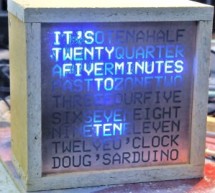 ************************************************************************** Major updates - A much better enclosure for this clock has been designed - check out http://www.instructables.com/id/The-Wordclock-Grew-Up/ ************************************************************************** Last month I wanted to build a special gift for my beautiful wife, Megan.  She has a teaching background in English, so ...
Read more

›
After the untimely death of my Mac Mini (the last thing Apple I never buy), I recycled her limping in a clock display LEDs. Technically, there is not rocket science: an Arduino reads the time from an external clock and displays a matrix of 8x6 colored LEDs for hours, minutes, seconds and a linear array of numbers for the date. A last line of LEDs appears a balance. Tell the time At first glance, the reading ...
Read more

›
Activities of daily living (ADL) are self-care activities that are usually taken for granted, since as the name implies they are performed on a daily basis. If you have ever ended up in a cast, or on crutches you can empathize how menial daily activities can suddenly be very difficult to perform. Waking up in the morning and maintaining a schedule is obviously an important ADL, and for those with hearing im ...
Read more

›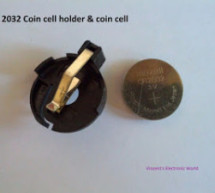 In this article you will learn how to make a digital clock using Arduino and the DS1307 RTC IC. What is DS1307 IC actually? Well, it is a Real Time Clock (RTC) IC that is simple to use, low cost and easy available. The IC basically is able to count the date and time accurately and it will continue its counting if the backup battery – coin cell battery is there although the mainsupply to the IC is cut off. P ...
Read more

›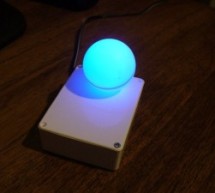 In this tutorial you learn how to make a blinking clock with a difference! Updated 18/03/2013 Followers of my website would realise that I tend to make too many clocks in those tutorials. Well, I like making clocks… so here is another one. However this time I have tried to make the most simple version possible. Usually projects will have many LEDs, or perhaps an LCD, buzzers, buttons, all sorts of things. W ...
Read more

›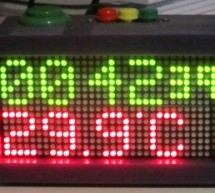 This is a funny looking clock that has that displays time on relatively large 32x16 Bi-Color LED Matrix. It includes also a countdown counter that I find very useful in many situations. Features: Date And time display Temperature display Countdown timer Buzzer notification Randomly changing colors of display Display intensity control (brightness) Aside the fact it is fun to build, you might ask why do that? ...
Read more

›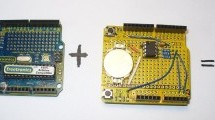 Let's add a DS1307 real-time clock to our Freetronics Arduino-compatible board. Updated 18/03/2013 Now and again I find myself making another kind of clock or timing device using the Arduino system, and each one has been making use of the Maxim DS1307 real-time clock IC. However every time another clock is being worked on, my DS1307 real-time clock shield needs to come out to play. Although in itself it is ...
Read more

›
This instructable will help you to build an Arduino Binary Clock.  The orignial idea for this instructable was designed by Daniel Andrade.  My instructable uses surface mount components, but can easily be adapted to through-hole components if you wish.  You can follow my other Instructable for Building Your Own Arduino to get started. I would encourage you to give the surface mount an attempt however as thi ...
Read more

›
For some strange reason I have a fascination with various types of electronic clocks (which explains this article). Therefore this project will be the start of an irregular series of clock projects whose goal will be easy to follow and produce interesting results. Our "Clock One" will use a Freetronics Dot Matrix Display board as reviewed previously. Here is an example of an operating Clock One: As you can ...
Read more

›