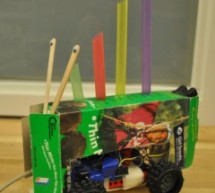 Eat too many cookies? These are some guidelines for how you can add a few security features to an ordinary box of cookies - or at least have a fun toy. The runaway cookie box will roll away when objects approach it and sound an alarm when it is picked up. What you need for the craft side of things: -empty cookie box -wheels (4) -Legos (axles, gears, basic) -hot glue -electrical tape -popsicle sticks, colorf ...
Read more

›
These slippers have 4 analog pressure sensors embedded. They can be used to feed Up, Down, Left and Right values into your computer replacing your mouse, joystick... Visit the JoySlippers website >> http://www.joyslippers.plusea.at/ This Instructable improves upon the previous version http://www.instructables.com/id/Joy-Slippers/. It will show you how to make a pair of Joy Slippers, connect them to an ...
Read more

›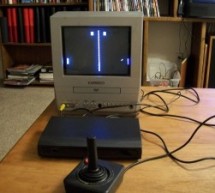 A while back the instructables robot made a post on Facebook about some guys who played pong on an Arduino (http://wayneandlayne.com/projects/video-game-shield/games/#pong) but after looking around, i saw that everyone who did this was only worried about making it work. and often resulted as a very hard to use system with only potentiometers to use as controllers. so in my attempt at this, i decided that it ...
Read more

›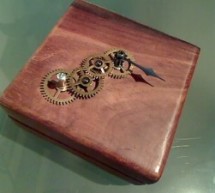 Having built a few puzzle box games recently, and having some components left over I thought I would build a functional Steampunk Compass. Based around a Arduino Duemilanove this is a really quick and simple build. Taking reading from a digital compass the Arduino controls a servo to position a clock hand. Step 2: Connect the electrics. Couldnt be simpler. The digital compass connects; SCL to Arduino Analog ...
Read more

›
Spoiler! Winter is definitely coming. But make this cool Game of Thrones light up map for a Spring project. The map lights up with a flame effect revealing the sigil of the remaining house in power. What do I know, make it with the sigil of your favorite. https://youtu.be/KWv-nz7mkwI Step 1: Board It Up... This is truly a low budget build. I just used materials and components I had on hand. Ok, I have a lot ...
Read more

›
This instructables show how to combine Arduino Esplora and M5Stack to make a NES game console. Step 1: What Is Arduino Esplora? Arduino Esplora is an Atmega32U4 AVR microcontroller board. It is unique Arduino boards, because it built-in various input sensors out-of-the-box, including a joystick, 4 push buttons, a slider, a temperature sensor, an accelerometer, a microphone, a light sensor, etc. And also Ard ...
Read more

›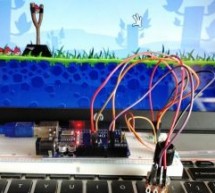 It's all started with a small game from the dark ages called "Mario", right from the time of being a tiny little guy jumping on ducks to save my princess till being a masculine handsome Prince roaming in Persia (Prince of Persia) fighting against darkness to save my world behind I have been a great fan of playing video games and I grew up playing them. But they do get bored up sometimes and I feel less invo ...
Read more

›
In this Instructable, I will show you how to make an Arduino powered lamp that detects the colour under it and then attempts to emulate that colour. All using easy to find parts (most can be found in the Dollar store with the exception of the Arduino of course). It turns out that a colour detection module can be built for next to nothing, and the results are astoundingly good for the investment. The biggest ...
Read more

›
What can you make with fluorescent acrylic as the inspiration?  We chose to make a glow-in-the-dark baby mobile, with an accompanying toy.  This project was completed as a part of the Computing and Craft class at Olin College of Engineering. Materials: - Craft Materials: - Fluorescent acrylic (1 square foot of each of the following colors: pink, orange, yellow, green*) - Wooden dowels (8 feet of each of 1/4 ...
Read more

›
My company has annual events where we all get together for fun - to blow off steam and have a little competition. In the past we have had softball and bowling competitions. This year someone had an inspiration: each department would build a putt-putt 'hole' in the officed and we would all compete to make the best hole. There were some amazing contributions. This is my contribution to the IT department's hol ...
Read more

›
I came across Plama2002's "Emergency Party Button" build a while back and wanted something similar for my bar. I also had an old USAF B-8 stick grip from an A-10A that I picked up in my previous life. I figured instead of just being a conversation piece, I could put it to good use as a remote control for my AV system. What I came up with is a master control box that: - Controls my SAT TV, music server and i ...
Read more

›
Yes, this is exactly what the title says it is. This instructable will teach you how to control any Nerf Vulcan, with your Arduino. The provided tutorial will just shoot for 2.5 seconds, stop for 2.5 seconds, and so on. It is like a "hello world" program for controlling your Nerf Vulcan. It can easily be expanded to do whatever you want, you could use a proximity sensor to make security system, you could us ...
Read more

›