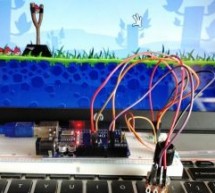 It's all started with a small game from the dark ages called "Mario", right from the time of being a tiny little guy jumping on ducks to save my princess till being a masculine handsome Prince roaming in Persia (Prince of Persia) fighting against darkness to save my world behind I have been a great fan of playing video games and I grew up playing them. But they do get bored up sometimes and I feel less invo ...
Read more

›
In this Instructable, I will show you how to make an Arduino powered lamp that detects the colour under it and then attempts to emulate that colour. All using easy to find parts (most can be found in the Dollar store with the exception of the Arduino of course). It turns out that a colour detection module can be built for next to nothing, and the results are astoundingly good for the investment. The biggest ...
Read more

›
What can you make with fluorescent acrylic as the inspiration?  We chose to make a glow-in-the-dark baby mobile, with an accompanying toy.  This project was completed as a part of the Computing and Craft class at Olin College of Engineering. Materials: - Craft Materials: - Fluorescent acrylic (1 square foot of each of the following colors: pink, orange, yellow, green*) - Wooden dowels (8 feet of each of 1/4 ...
Read more

›
My company has annual events where we all get together for fun - to blow off steam and have a little competition. In the past we have had softball and bowling competitions. This year someone had an inspiration: each department would build a putt-putt 'hole' in the officed and we would all compete to make the best hole. There were some amazing contributions. This is my contribution to the IT department's hol ...
Read more

›
I came across Plama2002's "Emergency Party Button" build a while back and wanted something similar for my bar. I also had an old USAF B-8 stick grip from an A-10A that I picked up in my previous life. I figured instead of just being a conversation piece, I could put it to good use as a remote control for my AV system. What I came up with is a master control box that: - Controls my SAT TV, music server and i ...
Read more

›
Yes, this is exactly what the title says it is. This instructable will teach you how to control any Nerf Vulcan, with your Arduino. The provided tutorial will just shoot for 2.5 seconds, stop for 2.5 seconds, and so on. It is like a "hello world" program for controlling your Nerf Vulcan. It can easily be expanded to do whatever you want, you could use a proximity sensor to make security system, you could us ...
Read more

›
The idea for this project came to me on the way to the trash. I was tasked with throwing away a box that has just been emptied of its original Ferrero Rocher sweetness content by my dear wife. This was shortly after the Valentine's Day. So, I got to spend 10 seconds alone with this box and realized that it holds some promise, so it ended up on my workbench instead of the trash. Despite its festive thematic ...
Read more

›
A hideaway cat litter box is a great way to make your apartment look like a residence for adults instead of crazy cat ladies. A hidden litter box in a cabinet, under a sink, or built in to some other furniture does a lot for appearances, but what about the smell? Here's how you can exploit the power of baking soda and embedded computers to keep your apartment fresh-smelling without disturbing your cat durin ...
Read more

›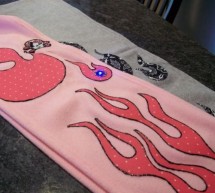 This was my first time working with an Arduino Lilypad. I have been wanting to try something that dealt with soft circuits for awhile now. This project is what I came up with. The concept is based off my friend Ethan Dicks from theFusefactory.org's emergent Sheep Sculpture project. The  Lilypad Interactive Passion Sensing Scarf works like so: Scarf number one being worn by someone walking alone will light u ...
Read more

›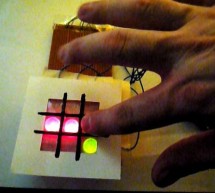 Or, an exercise in input and output multiplexing, and working with bits.  And a submission for the Arduino contest. This is an implementation of a tic tac toe game using a 3x3 array of bicoloured LEDs for a display, a simple resistive touchpad, and an Arduino to tie everything together. Parts and consumables One perf board (or strip board) Nine bicoloured LEDs, common cathode Nine identical resistors, in th ...
Read more

›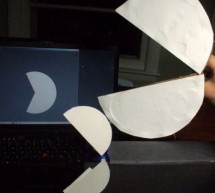 Three kinds of motion:  Human, Mechanical,  Animation.  Blend them together to build a puppet controller for the real and virtual world. Or, Pacman - three ways. This Instructable includes: - Using an adjustable resistor as input to the Arduino Micro-controller - Controlling two servo motors from the Arduino -Controlling animation on the computer from the Arduino Here are the basic steps: - Servo control wi ...
Read more

›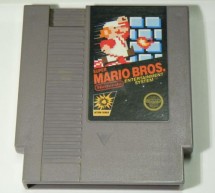 An Arduino Duemilanove (other boards will probably work, but you will have to adjust the steps for your device) Working NES Console Super Mario Bros. (Note: this must be only the single game, not the two- or three-in-one cartridge) A controller you can cut the cord from Two LEDs (two different colors are recommended but not required) 2x ~390 ohm resistors 3x 1.6k ohm resistors 3x 3.3k ohm resistors 4021 (16 ...
Read more

›