Full-size metal detectors are great for narrowing down a region to start digging through. But what if you had a smaller metal detector that could pinpoint the location? Then you could spend far less time digging and way more time sweeping for metal. Metal detectors work because of the way metal behaves around electromagnetic fields. [mircemk] reused the ferrite core from an old MW radio to build the antenna ...
Read more

›
[Christofer Hiitti] found himself with the latest Microsoft Flight Simulator on his PC, but the joystick he ordered was still a few weeks out. So he grabbed an Arduino, potentiometers and a button and hacked together what a joke-yoke. The genius part of this hack is the way [Christopher] used his desk drawer for pitch control. One side of a plastic hinge is attached to a potentiometer inside a drawer, while ...
Read more

›
Every so often, console manufacturers release a crystal edition of their hardware that never really lives up to the hype. The manufacturing realities of producing optically clear plastic mean the expense is rarely justified, even for a special edition. Instead, we get hazy, smoky translucent cases that are comparatively underwhelming. Here to rectify that, [BitHead1000] delivers on a properly transparent Pl ...
Read more

›
As far as robots are concerned, wheels and tracks are great ways to get around when you've got serious work to do. However, if you want to build something that feels more animal than machine, building a walking 'bot is the way to go. [Technovation] delivers a great example in the form of this quadruped design. It's a build executed in the modern style, taking full advantage of contemporary design tools and ...
Read more

›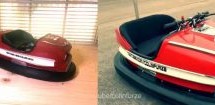 A few years ago, YouTubing madman [Colin Furze] took an old bumper car and made a 600-horsepower beast of a go-kart that managed to clock 100MPH with a headwind. This isn't that. It's a miniaturized, remote-control homage to [Colin]'s go-kart that is equally awesome. [Forsyth Creations] started by CAD-modeling the chassis right on top of a still from the video. The entire body is 3D-printed in four large pi ...
Read more

›
Master of 3D printed robots, [James Bruton], plans to do some autonomous rover projects in the future, but first, he needed a modular rover platform. Everything is cooler with tank tracks, so he built a rover with flexible interlocking track sections. The track sections are printed with flexible Ninjaflex filament. Each section has a tab designed to slot through two neighboring pieces. The ends of the tabs ...
Read more

›
At one time or another, most of us have seen a gadget for sale and thought we could build something similar for cheaper. Of course, we're almost always wrong. Not about being able to build it, mind you. But when you add up the cost of the materials, the tool or two you almost inevitably end up buying, and the time spent chasing perfection, you're lucky if you haven't doubled the original price. We're not su ...
Read more

›
Teaching kids about robotics gives them valuable skills for their futures, and is generally pretty darn fun for all involved, too. However, teaching children often involves taking a bit of a different tack to educating college students, and more of a hand-holding approach is often needed. This robot project is an attempt to do just that, using some classic time-honored techniques and a unique method of prop ...
Read more

›
These days, when doing any sort of optical tracking, our mind immediately leaps towards sophisticated solutions. Raspberry Pis, high end cameras, and machine learning toolchains all come to mind. Of course, if your goals are simpler, you needn't complicate the issue. PHIL is a light tracking robot who is perfectly happy to do it the old-school way. PHIL consists of an Arduino Uno running a twin-servo motion ...
Read more

›
All across the country, parents are wondering what to do about the upcoming Trick Or Treat season. Measures such as social distancing, contact free treats, or simply doing it at home are all being weighed as a balance of fun and safety. [BuildXYZ] has decided to lean into the challenges this year and incorporate a mask as part of the costume for his boys. It started with a 3d printed mask, printed in two ha ...
Read more

›
Ask anybody whose spent time standing in front of a mill or lathe and they'll tell you that some operations can get tedious. When you need to turn down a stainless rod by 1/4″ in 0.030″ increments, you get a lot of time to reflect on why you didn't just buy the right size stock as you crank the wheel back and forth. That's where the lead screw comes in — most lathes have a gear-driven lead screw that can be ...
Read more

›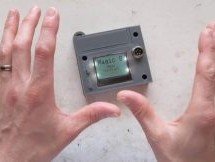 [FacelessTech] was recently charmed by one of our prized possessions as a kid — the Magic 8-Ball — and decided to have a go at making a digital version. Though there is no icosahedron or mysterious fluid inside, the end result is still without a doubt quite cool, especially for a project made on a whim with parts on hand. It's not just an 8-ball, it also functions as a 6-sided die and a direct decider of ye ...
Read more

›