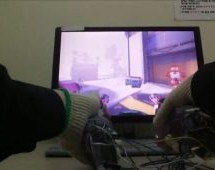 An Overwatch fan by the name of Medist has created his own motion controllers to play as D.Va. The motion controllers were made by wiring an Arduino Leonardo through the cases of two different controllers, which would be modeled after D.Va's pilot controls. The Arduino board would input keyboard and mouse signals to the computer, allowing Medist to map his own triggers and buttons onto his controllers as ke ...
Read more

›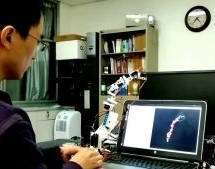 Robotic arms have found all manner of applications in industry. Whether its welding cars, painting cars, or installing dashboards in cars, robotic arms can definitely do the job. However, you don't need to be a major automaker to experiment with the technology. You can build your own, complete with proper motion planning, thanks to Arduino and ROS. Motion planning is important, as it makes working with the ...
Read more

›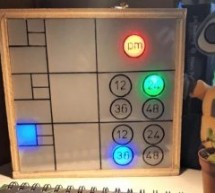 Makers and Arduino enthusiasts searching for a project to keep them busy this weekend may be interested in this awesome Arduino Fibonacci clock created by maker "TecnoProfesor". may look a little complicated to read the time but once you know how to read it the Fibonacci clock is a great talking piece. Check out the video below to see it in action. Fibonacci was an Italian mathematician and created the Fibo ...
Read more

›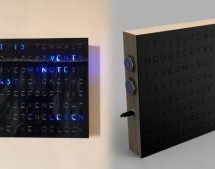 Word clocks are a cool way to tell the time. While they could have probably been built back in the 1960s with a bunch of relays and bulbs, they really only came into their own in the LED-everything era. [Vatsal Agarwal] built one of his own, showcasing his maker credentials. It's a build that relies on good woodworking practices from the ground up. Maple wood is used for the frame, cut and prepared on a mit ...
Read more

›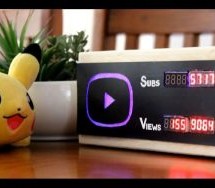 How do you hack your motivation? Do you put red marker Xs on a paper calendar every day you exercise? Do you use an egg timer to sprint through dozens of emails? Do you lock all the doors and shut off your data to write some bulletproof code? If you are [Hulk], you build a YouTube Desktop Notifier showing his YouTube subscribers and views. This is his ticket to getting off the couch to make a video about ju ...
Read more

›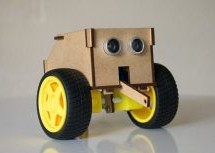 We often write about the growing trend of tech companies to make robots for the purposes of teaching the youth how to code. Today we're doing that again, but this time telling the story of a local tech start-up doing this rather than some big international company. Because South Africans should also be learning about robotics, so why not have a local company that can help us get up to speed with where the w ...
Read more

›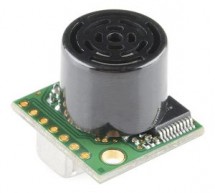 The Global Ultrasonic Range Finder Market research report provides an effective industry outlook, future trends and dynamics for market growth rate, market size, trading and key players of the industry's information with forecast. The market has been forecasted based on revenue (US$ Mn) and volume (in thousand units) from 2019 to 2023. The report provides key information regarding market size, market share, ...
Read more

›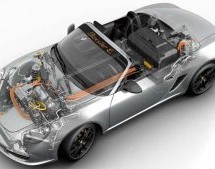 While luxury carmaker Porsche works towards bringing an all-electric Boxster to production 11 years after it first started thinking about it, a sixteen-year-old from California's Napa County has side-stepped the long wait (and the high price tag) and converted his own. Joining the likes of Simone Giertz (who, tired of waiting for a Tesla ute, made her own), St Helena teen Isaac Kelly decided that he wo ...
Read more

›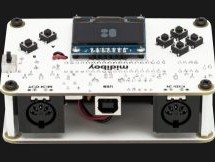 The ArduBoy is a tiny little gaming console that's also extremely simple. It's only a small, cheap, monochrome OLED display, a microcontroller with Arduino-derived firmware, and a few buttons. That's it, but with these simple ingredients the community around the ArduBoy has created a viable gaming platform. It has cartridges now, and one version has a crank. Now, the MIDIboy is bringing something like the A ...
Read more

›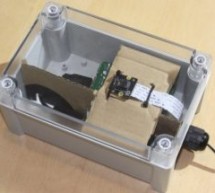 A new project has been published to the official Arduino blog this week providing insight into a new LoRa security camera and detection system that is capable of transmitting data when a trust parser is recognised. The system is also clever enough to ignore animals such as dogs that move into its field of view and will only trigger when it recognises a human figure. Watch the video below for a demonstration ...
Read more

›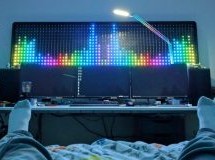 The various displays and interfaces in Star Trek, especially The Original Series, were intentionally designed to be obtuse and overly complex so they would appear futuristic to the audience. If you can figure out how Sulu was able to fly the Enterprise with an array of unlabeled buttons and rocker switches, we'd love to hear it. But one area of the ship where this abstract design aesthetic was backed off a ...
Read more

›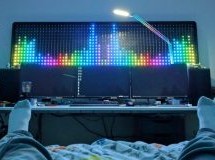 When it comes to wall-mounted ornamentation, get ready to throw out your throw-rugs and swap them for something that will pop so vividly, you'll want to get your eyes checked. To get our eyes warmed up and popping, [James Best] has concocted a gargantuan 900-RGB-LED music visualizer to ensure that our bedrooms are bright and blinky on demand. Like any other graduate from that small liberal-arts sc ...
Read more

›