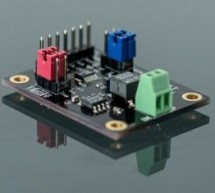 The isolated SPI module is designed for applications, where SPI signals need to be transferred over longer distances than usually. It is based on Linear's LTC6820. The board is designed as two layer stack-up, with GND plane on the bottom layer and signal traces and components at the top layer. Signals and power are supplied over standard 100mil (2.54mm) pitch IDC header. Specification Dimension: 40.005 mm x ...
Read more

›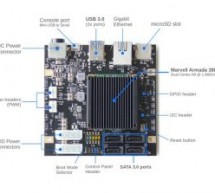 Helios your Own Private Cloud Helios4 is a Network Attached Storage or NAS - a smart box with up to 4 hard drives designed to store Family Photos, Music playlists, and Movie collections by connecting to your Home network. Program movie download & Get Fast access to Videos, Pictures & Music from any device. Share your photos & files and let friends and family access them anywhere, anytime... Prot ...
Read more

›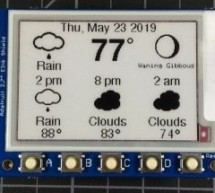 Makers, hobbyists and weather enthusiasts interested in building their very own DIY weather station may be interested in the new project featured on the Adafruit Explore & Learn portal. The new guide provides a method of creating a no-solder, Internet-connected ePaper weather display that escape full of displaying weather symbols, temperature, date and more. Project uses the Adafruit Tri-Color ePaper Sh ...
Read more

›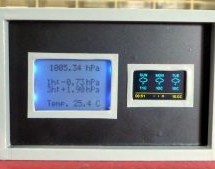 [Mirko Pavleski] has put together a little weather station for himself that combines Internet-sourced forecasts with physical sensor data to give him a complete view of his local conditions. There's no shortage of weather applications for our smartphones and computers that will show us the current local conditions and the forecast for the next couple of days. It's so easy to pull weather data from the vario ...
Read more

›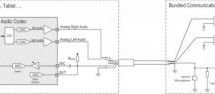 The 3.5mm phone jack is a well-established standard in the audio industry and continues to get strong support from users in the market. Originally invented in the 19th century for telephone switch boards, it made its way into mobile phones, tablets, and personal computers to connect audio and communication headsets for phone calls or simply for listening to music. While the phone jack has a rather long evol ...
Read more

›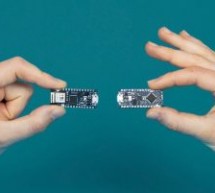 Arduino's Nano line will soon welcome four new products. They're all small boards like the classic one, making Nano a family of small boards meant for compact projects. All the new boards boast low energy consumption and processors more powerful than what the classic has. Even better, they're all pretty affordable: the most basic entry called Nano Every, which you can use for "everyday" projects and can rep ...
Read more

›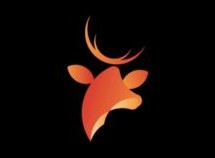 The team initially tried to build open-source hardware for IoT, now it is launching it on the blockchain instead. The firm plans to launch a tiny board that can connect to a blockchain. The equipment will also control electronic components like motors, sensors, and switches. This technology will make it possible for users to build an embedded blockchain system in a few minutes. Elk uses the K ...
Read more

›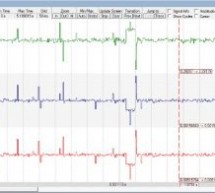 While building an ultra-low power application, sensitive hardware and software validation is required to reach system and long battery life. Testing will need an interaction with the tested parts, like simulating input pins of the target application. These difficulties could be solved with ARM's new debug adapter "ULINKplus". It connects the target system with the PC through USB port using a 10-pin Cortex D ...
Read more

›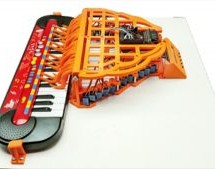 MIDI has been around for nearly forty years, but what do you do if you have an old 'toy' keyboard without MIDI? Or really any way to make it sound good? You could turn it into a player piano, and that's exactly what [Alessandro] did with an old toy keyboard. It's The Pianist Octopus, and it is perhaps the coolest, neatest pianist you've ever seen. This build uses 24 individual 9 gram hobby servos, which of ...
Read more

›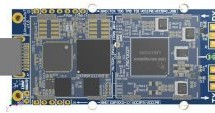 The LimeSDR Mini development board is a hardware platform for developing and prototyping high-performance and logic-intensive digital and RF designs that use Altera's MAX 10 FPGA and Lime Microsystems' LMS7002M RF transceiver. LimeSDR vs LimeSDR Mini The LimeSDR and LimeSDR Mini are members of the same family of software-defined radios. One does not replace the other. Rather, they are complementary. Simply ...
Read more

›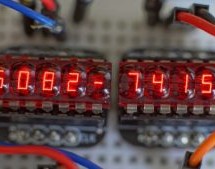 For those of us who remember LED calculators, the HP 5082-7400 series red "bubble" displays hold a special charm. Available in 3, 4, or 5-digit varieties, these multiplexed 7-segment displays provided countless hours of entertainment to those who would spell upside-down words on their pocket calculators. In case you happen to be lucky enough to have access to a few of these beautiful vintage display sticks, ...
Read more

›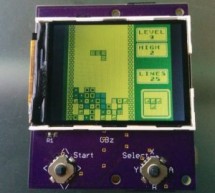 So the pi zero is cool, retro gaming is cool, im really not cool, but i thought 'what the hell!!' Im not overly fond of 'rats nest' wires, and i have a bit of an obsession with making things as small as possible, so this is what i came up with. tis just an ili9341 screen, a pi zero, 2 navi switches (5 way), and a battery (with charge/protect circuit) using the notro's fbtft driver, tasanakorn's fbcp code to ...
Read more

›