Project MACKRA was started after I saw the many problems with pre-built robotic platforms e.g. size, programability, mobility, need for batteries,PRICE, and most being dedicated to a single microcontroller. the goals of the MACKRA project were to do the following: 1.create a cheap, and easy to manufacture chassis 2.draw all power from only a 5 volt source 3.no motor controllers would be required 4.only a sm ...
Read more

›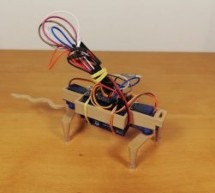 Hello! My name is David, I am a 14-year-old boy living in Spain and this is my first Instructable. I have been building robots and fixing old computers for some time now and my robotics teacher told me that it was good time to start sharing with other people what I have learnt. So here we go! One day a friend of mine gave me a 3D model to build a robot and some components: One arduino nano microcontroller a ...
Read more

›
Rory is a funny looking robot in the form of a plant, interact with some inputs by sensors, play music and detect any human movements around, in addition, to snap photos when you order it too. It's also caring about a small plant inside the pot, notify me with water level, humidity and temperature vocally in a human voice. Step 1: Hardware Required 1. Arduino UNO 2. SD Card Reader module 3. Micro SD card 4. ...
Read more

›
I am a member of a robotics group and each year our group participates in an annual Mini-Maker Faire. Beginning in 2014, I decided to build a new project for each year's event. At the time, I had about a month before the event to put something together and had no idea what I wanted to do. A fellow member posted a link to "an interesting open source robotic arm build" that peaked my interest. ...
Read more

›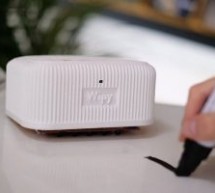 https://youtu.be/_uObXbdwi4w Introduction Did you ever get tired of cleaning the whiteboard? Have you ever wondered how much your life would improve if a robot could do this for you? You now have the chance to make this a reality with Wipy: the overly motivated whiteboard cleaner. Wipy will properly clean your embarrassingly bad drawings, and it will even do it with a cute smile. You don't even need to acti ...
Read more

›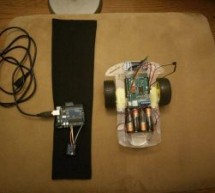 A gesture-detecting wearable sleeve that can direct a robot in different directions. Things used in this project Hardware components Arduino MKR1000 × 1 Arduino Motor Shield × 1 Arduino UNO & Genuino UNO × 1 Adafruit BNO055 × 1 Li-Ion Battery 1000mAh × 1 AA Batteries × 4 Software apps and online services Microsoft Windows 10 IoT Core Arduino IDE Microsoft Visual Studio 2015 Hand tools and fabrication ma ...
Read more

›
Nowadays, manual labor is being reduced at big scale industries and factories to increase efficiency and gain profit by installing robots that can do repetitive works. A onetime installation of such a device may cost a huge amount, but in the long run, will turn out to be more profitable that manual labor. Out of the lot, a simple robotic arm is one of the most commonly installed machines. We are introducin ...
Read more

›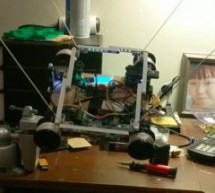 An interesting Arduino project has been created by Nathaniel Nifong and kindly published to Reddit, offering insight on how to create your very own DIY ceiling mounted cable robot powered by an Arduino Mega development board. More commonly associated with sporting events cable robots offer an easy way to view the action on large pitches and are normally mounted with cameras and microphones. Although Nathani ...
Read more

›
In this project, we will use several ultrasonic sensors to create a robot car with obstacle detection feature. The sensors will help us estimate the distance of the car from the nearby obstacles. Thus allowing us to create routines that we can execute when the car is about to hit the obstacle while moving. If you want to know more on how an ultrasonic sensor work, please refer to 4Duino Ultrasonic Sensor pr ...
Read more

›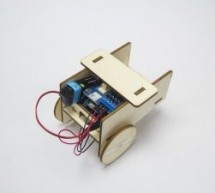 This project consists of a small robot controlled via WiFi using an Arduino MKR1000, MKR2UNO Shield Adapter and Arduino Motor Shield! Things used in this project Hardware components Arduino MKR1000 × 1 Arduino MKR2UNO Adapter × 1 Arduino MotorShield Rev3 × 1 Arduino Small DC Motor × 2 9V battery (generic) × 1 Arduino Battery snap × 1 Software apps and online services Arduino IDE Arduino Web Editor Hand tool ...
Read more

›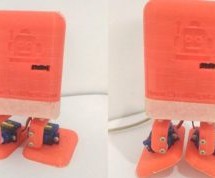 Welcome to another project in which we will build a small Robot which can walk and dance. The project aims in teaching you how to make small hobby robots using Arduino and how to program your Servo motors for such applications. At the end of the project you will be able to make this walking and dancing robot that takes command from an Android Mobile Phone to perform some pre-defined actions. You can also us ...
Read more

›
Ever wanted to build a Face Tracking Robotic Arm or Robot by simply using Arduino and not any other programming like OpenCV, visual basics C# etc? Then read along, in this project we are going to implement face detection by blending in the power of Arduino and Android. In this project, the mobile camera will move along with your face with the help of servos. The advantage of using the Android Mobile Phone h ...
Read more

›