As a follow up to the Arduino Audio Input tutorial that I posted last week, I wrote a sketch which analyzes a signal coming into the Arduino's analog input and determines the frequency.  The code uses a sampling rate of 38.5kHz and is generalized for arbitrary waveshapes.  I've also turned the LED attached to pin 13 into a clipping indicator, so you know if you need to adjust your signal's amplitude as you ...
Read more

›
https://youtu.be/BhkrtQ5O1Rk This project shows how to make an interactive picture of a dandelion. It starts as a yellow flower with LED's for petals then changes into a white dandelion clock, which can be blown on to make the seeds disperse. It is based on a beautiful artwork by Qi Jie, whose picture was inspired by a single flower design by Jessie Thompson and Zachory Berta. I made mine on fabric and fram ...
Read more

›
https://youtu.be/mzeA3yxu_lg https://youtu.be/jH2gEoB5x1w I recently had my kitchen updated and knew that lighting would 'lift' the look of the cupboards. I went for 'True Handless' so I have a gap under the work surface, as well as a kickboard, under cupboard and on the top of the cupboards available and wanted to light them up. After looking around I couldn't find exactly what I wanted, and decided to giv ...
Read more

›
The problem we picked was - Growing plants in limited space by amateurs. Many people would like to grow plants (basic vegetables, herbs for the kitchen, etc) but do not have enough space in their house to do so. They also may not have the expertise to grow plants, so would need an easy DIY solution. Solving this is important, especially in urban areas, because it will help households become more self suffic ...
Read more

›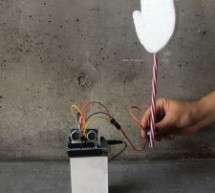 https://youtu.be/g1-p7gsNzpk The project conducted as part of the Computational Design and Digital Fabrication seminar in the ITECH masters program. https://icd.uni-stuttgart.de The Idea Exam period is coming. And you already feel sleepless and hopeless. You want to study, but you've lost your motivation. And it's crucial that you study hard. But the weather outside is perfect, it's sunny. All you want ...
Read more

›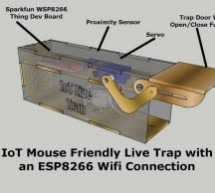 https://youtu.be/LA21193Wel4 This is a trap to capture the mice without hurting them, so you can release them outside. If the proximity sensor detects the mouse, the Servo motor will close the door. You will receive an instant message and/or an Email, to inform you that you captured a mouse. When you are not at home or to far away, you can release the mouse, wherever you are. Video Link: https://youtu. ...
Read more

›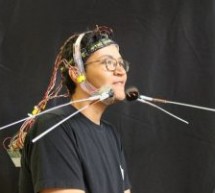 This project is a continuation and reimagining of my former colleague's (metaterra) "Whisker Sensory Extension Wearable". The purpose of this project was to focus on the creation of novel, computationally-enriched "sensory extensions" that allow for augmented-sensing of the natural world. My major effort with this project was devoted to the fabrication and implementation of sensory augmentations that will e ...
Read more

›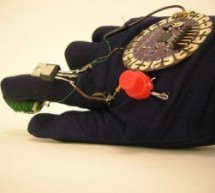 For a class assignment, I needed to make something fabric-based which took an Arduino, some programming, and at least two inputs and outputs. After sketching a few different ideas, I hit on this one: an electromagnetic glove for MagnetoGirl. It sprang to life for me, because magnetism is an invisible force which can seem magical. Also, a superhero can be given life, character, and (the best part) a cool cos ...
Read more

›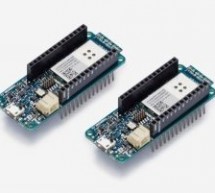 Arduino MKR1000 meets Python With the release r2.0.7, Zerynth adds another board to its supported device list: Arduino MKR1000, a device specifically designed for IoT projects. The MKR1000 is described as a powerful board that combines the functionality of an Arduino Zero (already supported by Zerynth) and the connectivity of a Wi-Fi Shield, with a Cryptochip for secure communication. The design also includ ...
Read more

›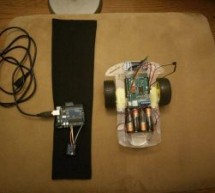 A gesture-detecting wearable sleeve that can direct a robot in different directions. Things used in this project Hardware components Arduino MKR1000 × 1 Arduino Motor Shield × 1 Arduino UNO & Genuino UNO × 1 Adafruit BNO055 × 1 Li-Ion Battery 1000mAh × 1 AA Batteries × 4 Software apps and online services Microsoft Windows 10 IoT Core Arduino IDE Microsoft Visual Studio 2015 Hand tools and fabrication ma ...
Read more

›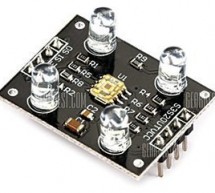 This is a simple Color Detector using Arduino Uno R3 and TCS3200 color sensor module. It can be useful for color identification and detection for food-processing units, color printer applications, paint-mixing applications and other industrial applications including robotics. This project is used for detecting primary colors (red, green and blue, or RGB)—colors that are physically available in LEDs in one p ...
Read more

›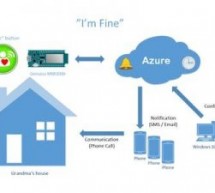 The "I'm Fine" project is about monitoring the well being of especially lonely elderly people, who may not have daily contact to the family. Things used in this project Hardware components Arduino MKR1000 × 1 Arcade style button (60 mm diameter) with builtin LED light. I chose this type of button as I'd like it to be big and easy to press as well as it has light built into it. × 1 DHT22 Temperature Sensor T ...
Read more

›