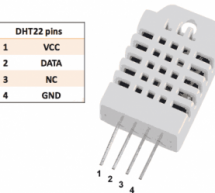 The objective of this tutorial is to learn how to use the DHT22 sensor with Arduino uno. The room temperature and humidity will be printed to serial monitor and also will be displayed to the LCD 4×20 in Proteus ISIS. [caption id="attachment_28379" align="aligncenter" width="300"] DHT22 sensor[/caption] DHT22 is simple basic, cheap digital temperature and humidity sensor. It uses a capacitive humidity sensor ...
Read more

›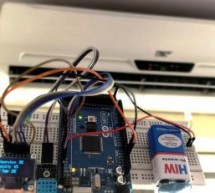 An AC (Air Conditioner) which was once considered to be a luxury item and was only to be found in big hotels, movie halls, restaurants etc... But, now almost everyone has a AC in our home to beat out the summer/winter and those who have it, worry about one common thing. That is their high electricity consumption and chargers due to it.  In this project we are going to make a small Automatic Temperature Cont ...
Read more

›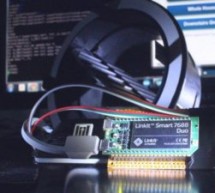 Hardware components: MediaTek Labs The MediaTek LinkIt™ Smart 7688 platform × 1 Everything ESP ESP8266 ESP-01 × 1 Arduino Nano R3 × 1 Atmel ATTiny85 × 1 DHT22 Temperature Sensor × 1 Servo (generic) × 1 Software apps and online services: Arduino IDE STORY Winter is coming When my wife and I had our first child last winter, we got an electric space heater to keep the area immediately around our baby girl nice ...
Read more

›
A Thermistor is a thermal-resistor. It's just a simple device that changes it's resistance based on temperature. If the LRD/Photoresistor is day of of arduino class. The thermistor should be day 1.01. (Can I do that?). If you need precise temperature readings, this is not the part for you. Check out the DS18B20, TMP102, or MLX90614 Thermistors are not that precise or anything, so you wont be able to tell th ...
Read more

›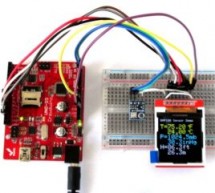 The BMP180 is a new generation digital barometric pressure and temperature sensor from Bosch Sensortec. In this tutorial, we will briefly review this device and describe how to interface it with an Arduino Uno board for measuring the surrounding temperature and pressure. We will also discuss about retrieving the sensor altitude from its pressure readings. Experiment setup Bosch Sensortag's BMP180 is an ultr ...
Read more

›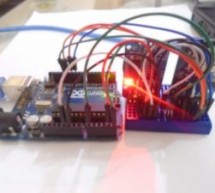 In this project, we are going to make an Arduino Temperature logger that will get the temperature value from the LM35 temperature sensor and the time from the DS3231 Real Time Clock module. Then we will store these values in the SD card file using the mini SD card Module. After that, we will access this file from a PC and create a chart of these values in the Microsoft excel.   Required Components The compo ...
Read more

›
Humidity and Temperature are very common parameters for measuring at many places like farm, green house, medical, industries home and offices. We have already covered Humidity and Temperature Measurement using Arduino and displayed the data on LCD. In this IoT project we are going to Monitor Humidity and Temperature over the internet using ThingSpeak where we will show the current Humidity & Temperature ...
Read more

›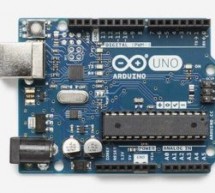 Story Have you ever wanted to make your own interface that can display the time, date, along with the temperature and the humidity? Well it's a lot easier than you'd think. A few important components are needed, as shown below. Arduino Uno/Nano Firstly we will be needing a micro controller. I used an Arduino Uno for my project but an Arduino Nano will also have enough pins. The DHT11 is a very affordable di ...
Read more

›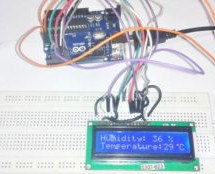 Humidity and temperature are common parameters to measure environmental conditions. In this Arduino based project we are going to measure ambient temperature and humidity and display it on a 16x2 LCD screen. A combined te mperature and himidity sensor DHT11 is used with Arduino uno to develop this Celsius scale thermometer and percentage scale humidity measurement project. In one of my previous project, I h ...
Read more

›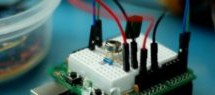 Being able to sense temperature is cool… But being able to read the temperature of an object without even touching it is simply awesome. The MLX90614 is a sensor that can do just that. By reading the infrared light coming off an object, this guy can sense between -95 and 720ºf (-70 to 382.2°C) with 17bit resolution. That's 128X more precise than the Arduino's ADC, and means this little guy can tell the diff ...
Read more

›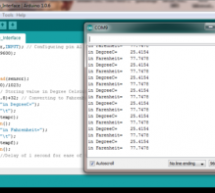 In this article, we are presenting a tutorial on how to interface LM35 and Arduino along with its program. Once we successfully interface arduino and lm35, we will go on to build a temperature display using arduino and a 16×2 LCD module which constantly monitors temperature around the measurement field/range of LM35 and displays the same on LCD module. So lets get to building the project! LM35 is an analog, ...
Read more

›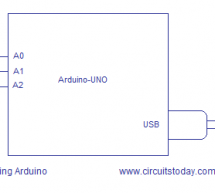 Simple temperature logger using arduino (°C & °F). This project is about a simple USB temperature logging system using arduino uno and the serial monitor function in the arduino IDE. The system monitors the temperature every 2 seconds and shows it on the arduino serial monitor. The temperature is shown in °Celsius  and °Fahrenheit. The system is interfaced to the PC through the USB port. LM35 is used as ...
Read more

›