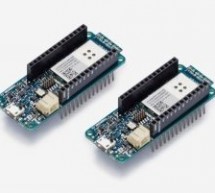 Arduino MKR1000 meets Python With the release r2.0.7, Zerynth adds another board to its supported device list: Arduino MKR1000, a device specifically designed for IoT projects. The MKR1000 is described as a powerful board that combines the functionality of an Arduino Zero (already supported by Zerynth) and the connectivity of a Wi-Fi Shield, with a Cryptochip for secure communication. The design also includ ...
Read more

›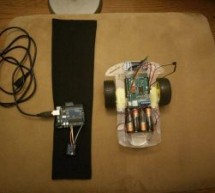 A gesture-detecting wearable sleeve that can direct a robot in different directions. Things used in this project Hardware components Arduino MKR1000 × 1 Arduino Motor Shield × 1 Arduino UNO & Genuino UNO × 1 Adafruit BNO055 × 1 Li-Ion Battery 1000mAh × 1 AA Batteries × 4 Software apps and online services Microsoft Windows 10 IoT Core Arduino IDE Microsoft Visual Studio 2015 Hand tools and fabrication ma ...
Read more

›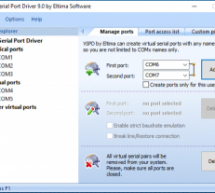 Serial communication was once the most widely used method of transferring data between computers. Many computing devices that you have used over time employ serial communication. Some of the terms associated with this type of data transfer are FTDI chip, COM interface, the RS232 protocol, and serial port. Serial communication refers to data that is electronically sent and received a single bit at a time. It ...
Read more

›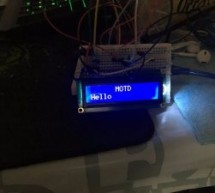 Use Arduino MKR1000 and a LCD to set the message of the day. Things used in this project Hardware components Arduino MKR1000 × 1 Adafruit Standard LCD - 16x2 White on Blue × 1 Software apps and online services Arduino IDE Story I wanted to display text on an LCD screen with the MKR1000. I wrote a simple sketch that subscribes to a topic from my own Mosquitto server and updates the screen with on the data it ...
Read more

›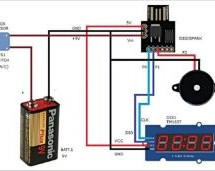 Ever accidentally left your room door ajar for a long period of time and found your valuables missing? Here is an intelligent solution for you. The idea is fairly simple as it mainly requires a TM1637 4-digit display and a Digispark USB development board. Digispark board TM1637 is a popular clock display module with a TM1637 driver chip from Titan Micro Electronics. This 4-digit, 7-segment LED display modul ...
Read more

›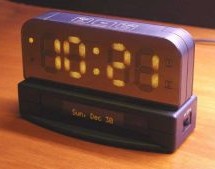 Clocks are a popular project on Hackaday. They're a great way to showcase a whole range of creative build techniques, and can make an excellent showpiece as well. We've seen everything from the blinkiest binary build to the noisiest alarms, but [Benoit] has delivered something different — a stylish build that looks like it came right off the store shelf. The clock features a large 7-segment display built wi ...
Read more

›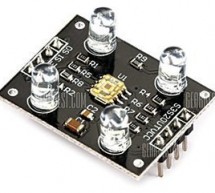 This is a simple Color Detector using Arduino Uno R3 and TCS3200 color sensor module. It can be useful for color identification and detection for food-processing units, color printer applications, paint-mixing applications and other industrial applications including robotics. This project is used for detecting primary colors (red, green and blue, or RGB)—colors that are physically available in LEDs in one p ...
Read more

›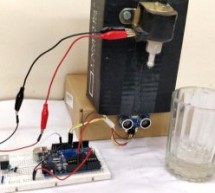 Automatic Water Dispenser using Arduino About 71% of earth is covered with water, but sadly only 2.5% of it is drinking water. With rise in population, pollution and climate change, it is expected that by as soon as 2025 we will experience perennial water shortages. At one hand there are already minor disputes among nations and states for sharing river water on the other hand we as humans waste a lot of dri ...
Read more

›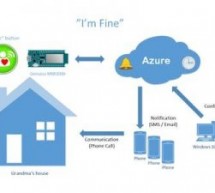 The "I'm Fine" project is about monitoring the well being of especially lonely elderly people, who may not have daily contact to the family. Things used in this project Hardware components Arduino MKR1000 × 1 Arcade style button (60 mm diameter) with builtin LED light. I chose this type of button as I'd like it to be big and easy to press as well as it has light built into it. × 1 DHT22 Temperature Sensor T ...
Read more

›
Nowadays, manual labor is being reduced at big scale industries and factories to increase efficiency and gain profit by installing robots that can do repetitive works. A onetime installation of such a device may cost a huge amount, but in the long run, will turn out to be more profitable that manual labor. Out of the lot, a simple robotic arm is one of the most commonly installed machines. We are introducin ...
Read more

›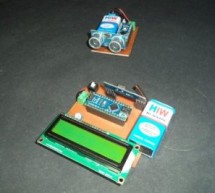 Water Level Indicator Using Arduino Wireless Water Level Indicator Using Ultrasonic sensor & Arduino is an amazing and very useful project. The objective of this project is to notify the user the amount of water that is present in the overhead water tank. This project can be further enhanced to control the water level in the tank by turning it ON, when the water level is LOW, and turning it OFF when the ...
Read more

›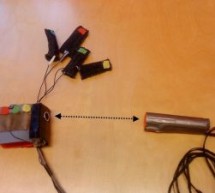 The idea here is to build a wearable virtual guitar that is to be controlled with two hands much like playing Air Guitar. It has been created and prototyped during a two weeks project at ChalmersUniversity (Sweden) for a Physical Computing class. The aim is to get the feeling of playing a real guitar. The AIRduino Guitar is made of one glove and one stick. The glove is used to set the tone and the stick to ...
Read more

›