No longer will you have to pay hundreds of dollars for a heart rate monitor! The Smart Heart Monitor will be able to do all of your cardiac measuring needs for you! The Smart Heart Monitor measures the user's heartbeat using an LED and a very sensitive photo-resistor attached to the user's ear. A light will blink to the user's heartbeat, and the program will calculate the user's beats per minute. The BPM wi ...
Read more

›
The Need:  Occupational Therapy Device Occupational therapy is used in treating Traumatic Brain Injury during many phases of recovery and rehabilitation. As the patient's condition improves, occupational therapy helps them regain skills ranging from basic self-care, to complex cognitive skills such as memory and problem solving. Occupational therapy can be helpful for individuals of all ages. Source:  http: ...
Read more

›
We are nation of obsessive counters: of pulse, steps, followers and calories. Most of these numbers mean little as physiology cannot be reduced to these metrics. But we try and I wondered how do we count a breath? Remember the cinematic days before hospital demise a cold mirror was a crude indicator of expiring breath. I needed a micro controller-sensor that would do this. Published methods of sensing a bre ...
Read more

›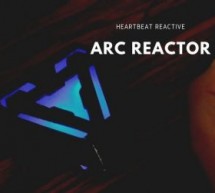 https://youtu.be/bnX99E5VdHI There are lot of DIY arc reactors out there that look pretty cool. Some look realistic too. But why build something that just looks like that thing and does not do anything. Well, this arc reactor is not going to protect your heart using electromagnets (of course not) but will surely look cool when it beats with your heart. I mean literally, the LEDs in it will pulse with your h ...
Read more

›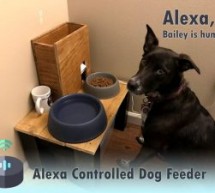 This is our dog Bailey. She's part Border Collie and Australian Cattle Dog so sometimes she's smarter than her own good, especially when it comes to telling time and knowing when she should be eating dinner. Typically, we try to feed her around 6 PM but this isn't always easy if we're away from home. The Alexa Controlled Dog Feeder was created as the perfect solution to feeding Bailey while we're away from ...
Read more

›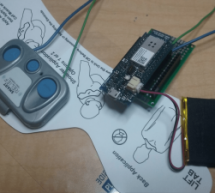 This project will allow you to control someone through the internet using the MKR1000 and Electric Muscle Stimulation also known as EMS. Things used in this project Hardware components General Purpose Transistor NPN × 2 Arduino MKR1000 × 1 Icy Hot Smart Relief Back and Hip Starter Kit × 1 Female Pin Headers × 1 Adafruit Lipo Battery 1200 mAh × 1 Pocket Solder- 60/40 Rosin Core 0.031" diameter × 1 Double-sid ...
Read more

›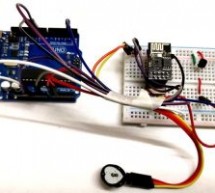 IoT based Patient Monitoring System using ESP8266 and Arduino Health monitoring is the major problem in today's world. Due to lack of proper health monitoring, patient suffer from serious health issues. There are lots of IoT devices now days to monitor the health of patient over internet. Health experts are also taking advantage of these smart devices to keep an eye on their patients. With tons of new healt ...
Read more

›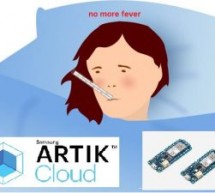 This project consists of 2 devices. the first one is wearable and monitors temperature, second one will control the temperature. Things used in this project Hardware components Arduino MKR1000 × 2 SparkFun Logic Level Converter - Bi-Directional × 1 Li-Ion Battery 1000mAh × 1 RGB Diffused Common Cathode × 1 DHT11 Temperature & Humidity Sensor (4 pins) × 1 Relay Module × 1 Resistor 1k ohm × 2 Software app ...
Read more

›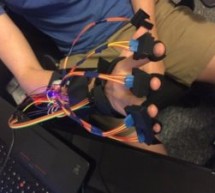 Description The ExoMind Glove is a wearable device equipped with 7 accelerometers that are used to quantify forearm, wrist, and finger angles. Additionally, an EMG with conductive fabric electrodes is secured into the sleeve of the device to monitor muscle activity. The glove houses an Ardiuno 101 which runs an interactive program to prompt the user through motions in order to gauge range of motion and dete ...
Read more

›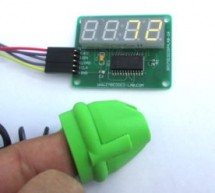 The PIC16F628A based heart rate meter is one of the most popular projects published on Embedded Lab. In this article, I am going to show how to replicate the same project using a simpler platform like Arduino. The Arduino heart rate meter will use Arduino Uno, Easy Pulse Plugin, and 4-digit SPI seven segment LED display module. It computes the heart beat rate by processing the analog pulse signal output fro ...
Read more

›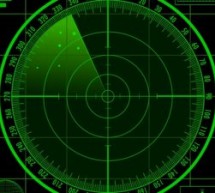 Abstract RADAR is an object-detection system which uses radio waves to determine the range, altitude, direction, or speed of objects. Radar systems come in a variety of sizes and have different performance specifications. Some radar systems are used for air-traffic control at airports, and others are used for long range surveillance and early-warning systems. A radar system is the heart of a missile guidanc ...
Read more

›
Heart rate, body temperature and blood pressure monitoring are very important parameters of human body. Doctors use various kind of medical apparatus like thermometer for checking fever or body temperature, BP monitor for blood pressure measurement and heart rate monitor for heart rate measurement. In this project, we have built an Arduino based heartbeat monitor which counts the number of heartbeats in a m ...
Read more

›