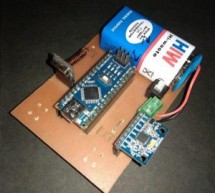 AIR Mouse is also called gesture-controlled mouse and it works based on hand gesture. In this project an accelerometer is used for measuring the tilt of hand in X and Y direction and moves the cursor according the tilt. In the project two types of circuit are used, one is the transmitter circuit and other is the receiver circuit. Transmitter circuit makes use of MPU6050 series of accelerometer, which is con ...
Read more

›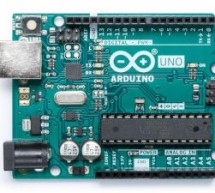 Arduino Uno is a microcontroller board based on the ATmega328P (datasheet). It has 14 digital input/output pins (of which 6 can be used as PWM outputs), 6 analog inputs, a 16 MHz quartz crystal, a USB connection, a power jack, an ICSP header and a reset button. It contains everything needed to support the microcontroller; simply connect it to a computer with a USB cable or power it with a AC-to-DC ad ...
Read more

›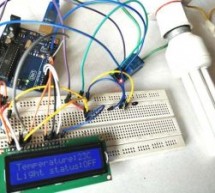 Suppose you are sitting in a room and feeling cold and you want your heater to be automatically turned on, and then off after some time when room temperature is increased, then this project help you to control your home appliances automatically according to the temperature. Here we are controlling Home AC Appliances with Arduino based on the temperature. Here we have used Thermistor to read the temperature. ...
Read more

›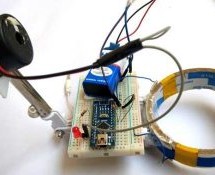 Metal Detector is a security device which is used for detecting metals which can be harmful, at various places like Airports, shopping malls, cinemas etc. Previously we have made a very simple Metal detector without a microcontroller, now we are building the Metal Detector using Arduino. In this project, we are going to use a coil and capacitor which will be responsible for the detection of metals. Here we ...
Read more

›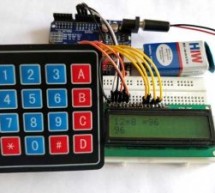 Programming is always fun and Arduino is a wonderful platform if you are just getting started with Embedded programming. In this tutorial we will build our own calculator with Arduino. The values can be sent in through a keypad (4×4 keypad) and result can be viewed on a LCD screen (16×2 Dot-matrix). This calculator could perform simple operations like Addition, Subtraction, Multiplication and Division with ...
Read more

›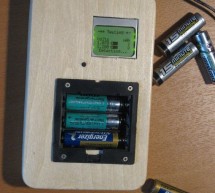 Do you have a pile of AA rechargeable batteries in your drawer? Some are old, some are new, but which sets would you bring with your camera on your next trip, and which ones are past their useful life? I like using rechargeable batteries, but I'm certain that some of them are not living up to the stated capacity on the label. So how good are those batteries? Simple battery testers measure the voltage, but t ...
Read more

›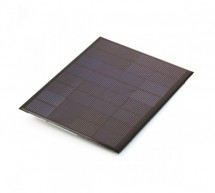 Simple Solar Power Light contains energy. When light hits a conductor (or semiconductor) some of the energy is translated into moving electrons, creating current. We can harness the current using solar cells (aka photovoltaic cells). When the sun shines on a solar cell, the current output is mostly constant, which is known as direct current, DC. DC is easy to use and great for charging batteries and powerin ...
Read more

›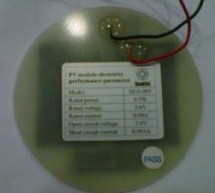 *NOTE* THIS PROJECT IS DONE BY A GROUP OF STUDENTS FROM SINGAPORE POLYTECHNIC. Telemetry - Solar Cells Our project is using Arduino with the ZigBee to transmit and receive data from the solar cell. Data will be shown in the LCD and the software called "X-CTU". Components used: 1 Arduino Uno 1 ZigBee Shield (Transmitter) 1 ZigBee (Receiver) 1 LCD Monitor 1 Solar Cell 1Resistor (Value may change) Instructions ...
Read more

›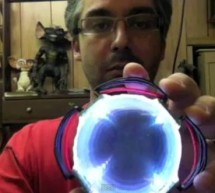 I'm creating a robot, but am finding that it's better if I break the build down into smaller projects. This is one of those projects, and it seems to have a look that could be used for other things as well. Step 1: Destroy a lady's compact mirror. I took the mirrors out of their plastic housing and used a dremel buffing attachment to buff the silver off the magnifying mirror. This was a horribly tedious tas ...
Read more

›
There are many electronic devices that use the SPI  bus, or Serial Peripheral Interface bus, for communications (e.g. various sensors, LCD displays, digital potentiometers, D/A and A/D converters, wireless transmitters and receivers, audio volume controls).  The devices receive data serially from a microcontroller using a 3-wire set-up that includes a chip select signal (usually titled CS - when this signal ...
Read more

›
Last winter I experienced some problems with my car battery. I knew that it was about time to replace it so off I went to buy a new one. This fact reminded me of an old article about a car battery/charging system diagnostics kit I had seen in one of those 1980s electronics magazines. That magazine's battery monitor relied on an IC that had several analog comparators arranged in a way similar to the ones in ...
Read more

›
I needed a couple of AA batteries and found the display at the supermarket where they were all arrayed. Normally when I'm shopping in the supermarket, I tend to look at the price/kg or price/l when comparing similar products. In the case of the batteries, there was no such indicator. Fine, I thought, I'll work it out myself. I grabbed a few different makes and scanned the packaging for some measure of their ...
Read more

›