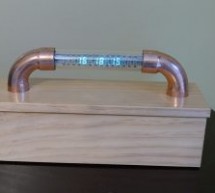 IV-27M Alarm Clock Project date: March 2019 – May 2019 Overview After the successful completion of the XIV Nixie Clock which was Direct/Static Driven, I was keen to start work on a new clock which was based on the Multiplexing(Dynamic) or "MUX" principle of operation, known also as "Muxing". The new clock would be based on the USSR manufactured IV-27V VFD, 13 element, 7 segment tube. This tube requires a 24 ...
Read more

›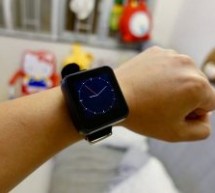 https://youtu.be/gSs7gNcs25Q This instructables show how to start playing with TTGO T-Watch. Step 1: What Is TTGO T-Watch? TTGO T-Watch is watch shape ESP32 based development kit. 16 MB flash and 8 MB PSRAM both are top specification. It also built-in a 240x240 IPS LCD, touch screen, micro-SD card port, I2C port, RTC, 3-axis accelerometer and a custom button. The backplane also can be switched to other modu ...
Read more

›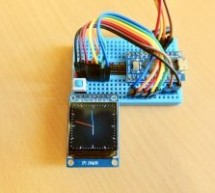 https://youtu.be/lFRq-LM5flQ This instructables show how to use a square color display and Arduino dev board build a watch core. This will cover the topics of dev board selection, display selection, extra modules selection, UI design, performance tuning and power saving. Note: I have prototyped some Arduino Watches few years ago. But the hardware sizes at that time are too big to squeeze into a watch case, ...
Read more

›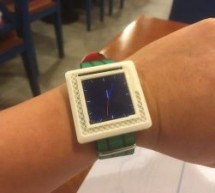 This Instructables show how to make a Arduino Watch from Arduino Watch Core. Step 1: Preparation Arduino Dev Board This time I am using Sparkfun Pro Micro 3.3 V 8 MHz dev board. Watch Display This time I am using a ST7789 1.3" IPS LCD. Lipo Battery I have some 301420 Lipo battery in hand. Lipo Charge Board I have some 15 mm x 15 mm Lipo charge board in hand. RTC Chip This time I am using DS3231M, it built-i ...
Read more

›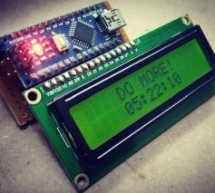 https://youtu.be/anUKywfO_l8 Summer, the lovely season when things happen. But sometimes we tend to forget the time. So to remind us the time left , I designed this Casey Neistat's 'Do More' DIY arduino driven timer which can be programmed to display the time left from any event, the start of a day or the start of summer its on you.All there was left to do was add a pair of Casey's signature glasses. But I ...
Read more

›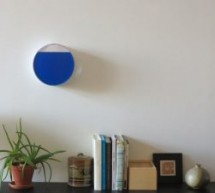 This is a tutorial for making the Tidal Clock. The clock shows the ebb and flow between high and low tide by a rising and falling water level. It consists of an airtight acrylic container that has a front visible chamber and a back hidden chamber. A volume rotates through the back chamber, displacing the water in the front and causing the water level to rise and fall. The rotation is controlled by an Arduin ...
Read more

›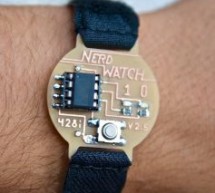 Hello! Welcome to another Other Machine project tutorial! I'm Sam DeRose, a former Other Machine Co. Summer Intern. I created the Nerd Watch last summer while working at OMC. The Nerd Watch displays the time in binary when the button is pushed. The watch shows the hour and minutes by flashing two LEDs in sequence to represent two 4-bit binary numbers (in big-endian format). Here's a grea ...
Read more

›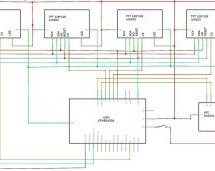 The presence of 12-Multi-National Digital clocks is very common at the lobby / front desk of star hotels, showing time & dates of several countries where from most of the guests to arrive to stay at the hotel. One common feature of these clocks is that they are majestically looking elegant dial clocks! I tried to achieve that feature using a cheap ATMega-328 alias bare-minimum Arduino UNO microcontrolle ...
Read more

›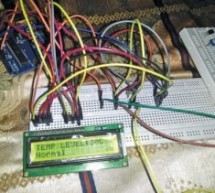 Monitoring the temperature of a transformer or electric motor winding involves data acquisition. This project is developed to monitor the temperature of an electric motor and a transformer with high accuracy, incorporating display and alarm facility. This circuit can be installed near a transformer winding or a motor's location, or it can be attached to either of these using suitable support. It can track t ...
Read more

›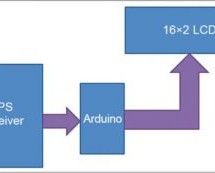 Global positioning system (GPS) synchronised clocks give accurate time. These clocks are universal and commonly used at railway stations, bus stands and airports. These are widely used for military purposes too. Here we describe a GPS clock based on Arduino Uno R3—an AVR ATmega328-based microcontroller board with six analogue inputs pins and 14 digital input/output (I/O) pins. The microcontroller has 32kB I ...
Read more

›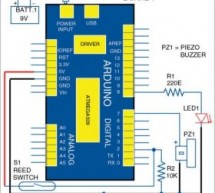 This Arduino based visitor alarm is useful for offices, clinics and shops. It alerts you to the entry of a visitor by producing a beep sound every time the door is opened. The alarm automatically switches off after a few seconds. Circuit and working Circuit diagram of the Arduino based visitor alarm is shown below. It is built around an Arduino Uno board (Board1), a reed switch (S1) and a piezo buzzer (PZ1) ...
Read more

›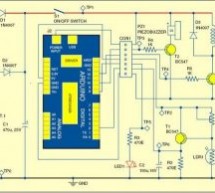 Shadow alarms are usually used for protection against theft. A shadow alarm is a device that sounds an alarm when a shadow falls on it. Described here is a simple circuit of an Arduino-based shadow alarm. This compact shadow alarm unit is capable of sensing a moving shadow in a restricted area, and can be easily installed on a wall, window or door to protect your valuables from theft. Constant lighting is r ...
Read more

›