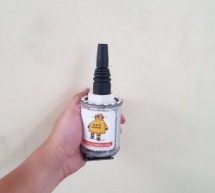 Today I will share how to make a WIFI JOYSTICK from an ESP8266 and 4 ways industrial joystick. It can be integrated into the factory's automation system or be used for smart home control. The mentioned control systems are PLCs and the specific case that I am applying is SIEMENS PLC S7-300..... Let's start and firstly please watch the video below: https://youtu.be/aFG6ttPEAu4 Step 1: BILL OF MATERIAL Main co ...
Read more

›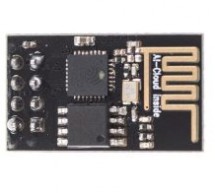 The ESP8266 ESP-01 is a Wi-Fi module that allows microcontrollers access to a Wi-Fi network. This module is a self-contained SOC (System On a Chip) that doesn't necessarily need a microcontroller to manipulate inputs and outputs as you would normally do with an Arduino, for example, because the ESP-01 acts as a small computer. Depending on the version of the ESP8266, ...
Read more

›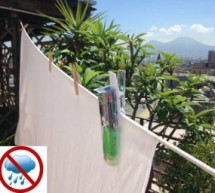 My country mild climate lets the sun to shine for the greatest part of the year, then tumble driers are not widely used and so we often use to drain clothes in the sun. What to do when a sudden rainfall comes? This project has been made for anyone drain clothes in the sun or, simply, needs an alert when it starts to rain. "Peggy" project is a simple portable rain traker that uses a rain sensor, 433 Mhz tran ...
Read more

›
Are you familiar with Arduino, but are looking for a little more connectivity in your projects? This Instructable goes over a new (and cheap) wireless module that has hit the embedded world hard - the ESP8266. This little module is a perfect way to hook your Arduino project into your WiFi. What you do with it is entirely up to your imagination. This project demonstrates how to tie into the WeatherUndergroun ...
Read more

›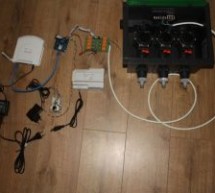 This is my first post so... be brutal ! I have a small yard with a very odd shape, well... L-shaped really and not enough pressure at the tap to be able to water it in one go. So I had to create 3 sprinkler sub systems that can only be turned on one at a time. I sourced 3 Gardena valves but refused to cough up the extra cash for their dull 'computer' (not sure why they call it a computer btw). Besides, cont ...
Read more

›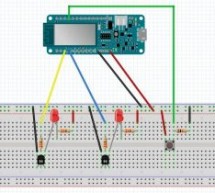 In the second project in my pick to light, I am using WIFI to pass the data between PC and Arduino. Things used in this project Hardware components Arduino MKR1000 × 1 LED (generic) × 2 Jumper wires (generic) × 1 SparkFun Pushbutton switch 12mm × 1 Resistor 10k ohm × 1 Resistor 330 ohm × 4 Breadboard (generic) × 1 USB-A to Micro-USB Cable × 1 General Purpose Transistor NPN × 1 Story This is the second proje ...
Read more

›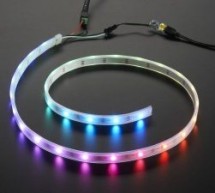 An application to rule the neopixels all. Things used in this project Hardware components Arduino MKR1000 × 1 Adafruit NeoPixel Ring: WS2812 5050 RGB LED × 1 Story I love LEDs but as much as I love them, you have to manually pull the color in your arduino and honestly there are no good or cool applications to do that, so the best way to that is either with your computer or with bluetooth, but the bluetooth ...
Read more

›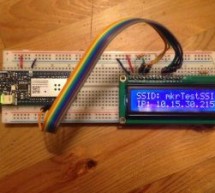 Simple Wifi pager system. Things used in this project Hardware components Arduino MKR1000 × 1 Adafruit Standard LCD - 16x2 White on Blue × 1 Story This project is an initial stage of the Spartan WIFI pager system (https://www.hackster.io/challenges/arduino-microsoft-maker/ideas/2421). First step in this stage is assembling a test breadboard-based circuit with MKR1000 and LCD: MKR1000 and LCD assembled Secon ...
Read more

›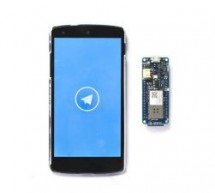 Host a Telegram Bot on your Arduino and chat with your brand new IoT device! Things used in this project Hardware components Arduino MKR1000 × 1 Software apps and online services Arduino Web Editor Story Learn how to use the Telegram Bot library, host a Telegram Bot on your Arduino/Genuino Board, and use the messaging app to interact with your device. It currently works on Arduino MKR1000, and Arduino Zero  ...
Read more

›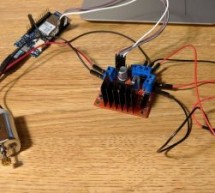 I have created the framework for WiFi and voice control of a robot. The MKR1000 chip enables us to receive controls over WiFi. Things used in this project Hardware components Arduino MKR1000 × 1 DC motor (generic) × 2 Wheels × 1 SparkFun Dual H-Bridge motor drivers L298 × 1 9V battery (generic) × 1 Story I began with the idea of remote controlling a device using Arduino MKR1000's built-in WiFi capabilities. ...
Read more

›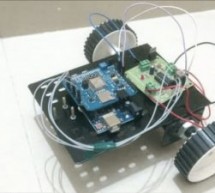 This Wi-Fi controlled robot can be controlled from anywhere using the ARMA IoT shield for UNO and the Blynk App which provides the user interface. Overview Simple WiFi Controlled Robot Using ARMA IoT and Blynk! This project uses an Arduino Uno connected to the WiFi using an ARMA IoT shield and controlled using Blynk app which is available for both iOS as well as Android. The chassis is ...
Read more

›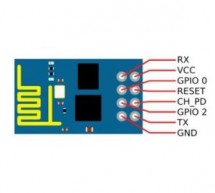 Out of curiosity, I ordered the tiny ESP8266 relay switch from aliexpress.com but never knew it could be so embarrassing to find the right way to operate. The vendor said that the switching program is inbuilt and I only have to use some android phone to operate it. But despite several attempts with several Chinese and English android apps, nothing happened The device gets connected with the WiFi of my PC or ...
Read more

›