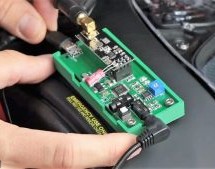 There's something seriously wrong with the Arduino walkie-talkie that [GreatScott!] built. The idea is simple: build a wireless intercom so a group of motor scooter riders can talk in real-time. Yes, such products exist commercially, but that's no fun at all. With a little ingenuity and a well-stocked parts bin, such a device should be easy to build on the cheap, right? Apparently not. [GreatScott!] went wi ...
Read more

›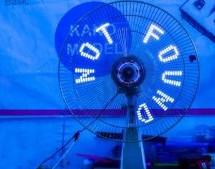 Persistance of vision is a fun feature of the human visual system, which allows us to blink a bunch of spinning LEDs at the right time to spell out messages that appear to hang in the air. [TN_Inventor] took a stab at his own POV build, using an old desk fan as a base. The initial build relied on a rotor made of MDF and some very old-school LEDs. The rotor was heavy and unbalanced, causing issues for the mo ...
Read more

›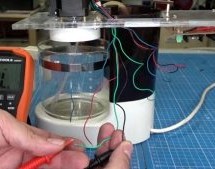 Instant ramen, the favoured repast of the impecunious would-be tech genius! It's cheap, of dubious nutritional value, and it only takes a minute to cook. But what if you are in the creative Zone to the extent that five minutes to boil water is too much? For that you need an automatic ramen cooker, which is what [Mayermakes] has created from an upcycled electric filter coffee maker. A filter coffee maker is ...
Read more

›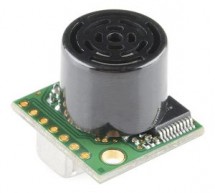 The Global Ultrasonic Range Finder Market research report provides an effective industry outlook, future trends and dynamics for market growth rate, market size, trading and key players of the industry's information with forecast. The market has been forecasted based on revenue (US$ Mn) and volume (in thousand units) from 2019 to 2023. The report provides key information regarding market size, market share, ...
Read more

›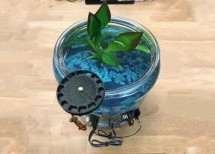 Fish are easy to keep as pets, requiring little more than regular feeding to keep them happy in the short-to-medium term. If you're going on holiday, it can be nice to know that your pets are being taken care of, but finding someone to take on the chore can be hard. [Trevor_DIY] doesn't need to worry about that, however – he's built an automatic feeder to handle the job. The build uses an Arduino Uno as the ...
Read more

›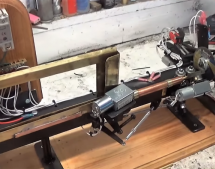 For [Turbo Conquering Mega Eagle], the question was simple: Do I spend 20 minutes slaving away in front of a bandsaw to cut a bunch of short brass rods into even shorter pieces of brass rod? Or do I spend days designing and building an automatic cutoff saw to do the same job? The answer is obvious. It's only at the end of the video below that [TCME] reveals the need for these brass bits: they're for rivetin ...
Read more

›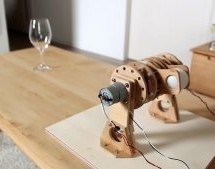 We've heard of beer pong, but we're not sure we've heard of wine pong. And certainly never wine pong automated with a ping pong ball throwing robot like this one. There's not a huge amount of detail available in the video below, and no build log per se. But [Electron Dust] has a few shots in the video that explain what's going on, as well as a brief description in a reddit thread about the de ...
Read more

›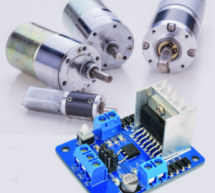 It can be controlled through logic levels to set the speed and the direction of the rotation of CC brushed motors and stepper motors; outputs have LEDs indicating the rotation direction. The circuit board we are presenting this time is based on the dual-bridge driver L298N, in a traditionally mounted version in a Multiwatt container with 15 staggered pins; it has two terminal blocks for attaching to DC moto ...
Read more

›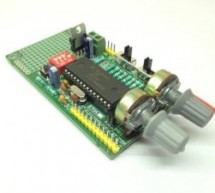 This project made using MC3PHAC from NXP Semiconductor. The project generates 6 PWM signals for 3 Phase AC Motor controller. It's very easy to make professional VFD combining with Intelligent Power Module (IPM) or 3 Phase IGBT/MOSFET with Gate driver. The board provides 6 PWM signals for the IPM or IGBT Inverter and also brake signal. Also this board works in stand-alone mode and doesn't require any softwar ...
Read more

›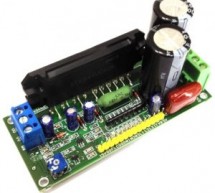 10 Amp 400V DC Intelligent power module board has been designed using ON Semiconductors STK544UC62K. This Inverter IPM module includes the output stage of a 3-phase inverter, pre-drive circuits, bootstrap circuits, protection circuits, op-amp based current sense circuit, comparator circuit for fault/Over current output, Bus voltage output, onboard 5V DC regulator for op-amp circuit. This board can be used t ...
Read more

›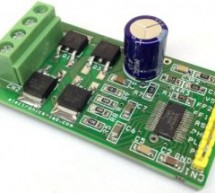 This tiny board designed to drive bidirectional DC brushed motor of large current. DC supply is up to 50V DC. A3941 gate driver IC and 4X N Channel Mosfet IRLR024 used as H-Bridge. The project can handle a load up to 10Amps. Screw terminals provided to connect load and load supply, 9 Pin header connector provided for easy interface with micro-controller. On board shunt resistor provides current feedback. Th ...
Read more

›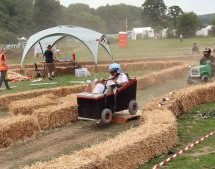 Running a brushed motor in muddy or dusty environments takes a toll on controllers, with both heavy back EMF and high stall currents. This explains one of the challenge in Europe's Hacky Racer series, which is decidedly more off-road than America's Power Racing Series. In pushing these little electric vehicles to the limits, many builders use brushless Chinese scooter motors since they're both available and ...
Read more

›