We absolutely love the impetus of this project, as it definitely sounds like something a Hackaday reader would go through. After finally deciding between a CNC router and a laser cutter, [Eirik Brandal] was planning to "Hello, World" the CNC with something quick and simple, like maybe a few acrylic plates with curves and some electronics. Instead, feature creep took over, "things escalated out of control", and [Eirik] came up with this intriguing and complicated kinetic sculpture.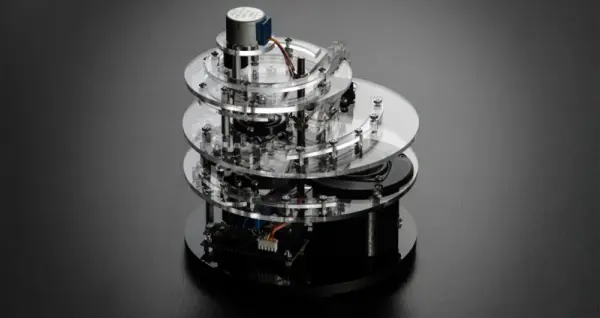 As you'll see in the demo video below, this is a motor-driven sculpture with sound and intermittent light. It has an Arduino Nano Every, two motors, and eight gears with various cog counts to accommodate the project. The light comes from LEDs that are attached to the DIY gears with their legs bent and their little feet sliding around homemade slip rings in order to alight.
But what about the sound? There's an affixed piezo disk that picks up the gears' vibrations and chafing, and this gets amplified to augment the acoustic sounds of the sculpture. Be sure to check out the quite satisfying demo video after the break, and stick around for the build video.
Are you as fascinated by kinetic sculptures as we are? Here's on that uses machine learning in order to bring balance to itself.
Source: KINETIC SCULPTURE INTERMITTENTLY LIGHTS UP THE NIGHT