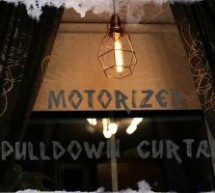 https://youtu.be/v0-TlGm9BxM I pull my curtain up and down a couple of times a day. If I watch a movie I pull it down and then, I pull it up to get better lighting. I also pull it down when I go to sleep and I pull it up again when I wake up. I want this process to be automatic, if my curtain rises before I wake up, it will be easier for me to wake up when the clock goes off. Just like those night lights th ...
Read more

›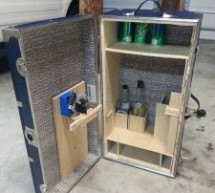 This project was tough but nothing worth doing is easy and i am ver proud that i was able to accomplish what i did. To know that my skills are further than they once were is a reward on their own.......but how did i get to where i am now? unfortunately i couldn't get it to work in its entirety and this is also my first one so have mercy jk...sorta. Step 1: Supplys First off i had to get supplys... (Arduino ...
Read more

›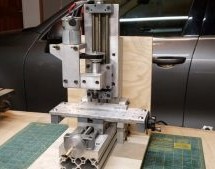 Hanging around the machining community online, you'd be more than familiar with clapped out Bridgeport mills, which are practically a meme at this point. But mills come in all shapes and sizes, from the stout old iron from the days of yore, to smaller, compact builds. [Honus] decided to build the latter, and shared the details of the project. The aim of [Honus's] build is to create a small benchtop mil ...
Read more

›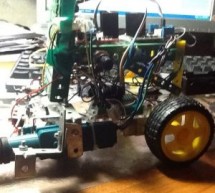 first of all, i am sorry if i have grammar mistakes, i am asian and i am 13 years old, i study arduino by my self (mostly my self) and this is my first project and also my first instructables. this is the robot that i used to compete with my friends in soccer robot. i did some modifications when i used it but it is broken now, so what i show you here is just a smartphone control robot. i will upload the imp ...
Read more

›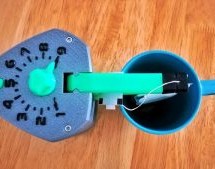 For anyone who's ever had to make their own tea, steeping it for the right amount of time can be a pain. That's precisely the problem that the automatic tea brewing robot solves with its painless approach to brewing tea, built by Slovenian electrical engineering student [Kristjan Berce]. You can use the robot by setting a timer on the knob, at which point the robot raises it arm for the tea bag th ...
Read more

›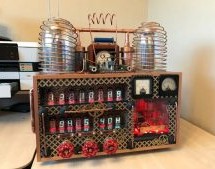 Radios are, by and large, not powered by steam. One could make the argument that much of our municipal electricity supply does come via steam turbines, but that might be drawing a long bow. Regardless, steampunk remains a popular and attractive aesthetic, and it's the one that [Christine] selected for her radio build. The build cribs from [Christine's] earlier work on a VFD alarm clock, using similar tubes ...
Read more

›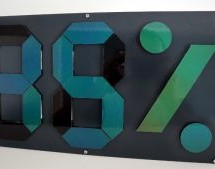 We love unique ways of displaying data here at Hackaday, and this ingenious thermochromic display created by [Moritz v. Sivers] more than fits the bill. Using sheets of color changing liquid crystals and careful temperature control of the plates they're mounted on, he's built a giant seven-segment display that can colorfully (albeit somewhat slowly) show the current temperature and humidity. The sheets of t ...
Read more

›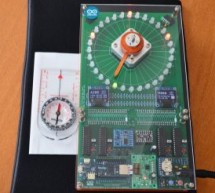 If you have solar panels, you want soak up as much sunshine as you can to get your money's worth. If you don't have space for a lot of panels, the next best thing is repositioning the panels to catch the most rays. For his entry into the Hackaday Prize, [Frank] built a gorgeous solar tracker prototype to both validate his theories and to serve as a learning platform. A solar tracker's purpose is — you guess ...
Read more

›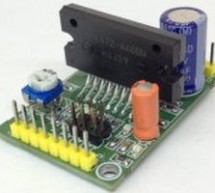 Compact Unipolar stepper motor driver can drive unipolar motor up to 3.5A and supply range 10 To 50V DC. This compact board is based on STK672-440BN IC from ON semiconductor. The STK672-440BN is a hybrid IC for use as a unipolar, 2-phase stepper motor driver with PWM current control with Micro-stepping. Note: This Board can work with motor supply up to 36V DC, for 50V DC Supply Remove IC U2 LM317, and provi ...
Read more

›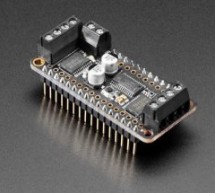 Adafruit is now offering an assembled DC Motor + Stepper FeatherWing add-on board priced at $21.50 enabling you to use 2 x bi-polar stepper motors or 4 x brushed DC motors (or 1 stepper and 2 DC motors) with the companies FeatherWing range of controllers. Since the FeatherWing only uses the I2C (SDA & SCL pins), it works with any and all Feather boards currently available. Motor FeatherWing specificatio ...
Read more

›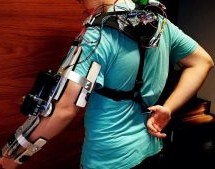 Whether it is motivated by a dream of superhuman strength courtesy of a mech suit or of mobility for those with impaired muscle function, the powered exoskeleton exerts a curious fascination among engineers. The idea of a machine-augmented human body achieving great things is thwarted though by the difficulty of the task, actuators and power sources small enough to be worn comfortably represent a significan ...
Read more

›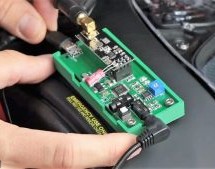 There's something seriously wrong with the Arduino walkie-talkie that [GreatScott!] built. The idea is simple: build a wireless intercom so a group of motor scooter riders can talk in real-time. Yes, such products exist commercially, but that's no fun at all. With a little ingenuity and a well-stocked parts bin, such a device should be easy to build on the cheap, right? Apparently not. [GreatScott!] went wi ...
Read more

›