For the last ten to fifteen years, optical drives have been fading out of existence. There's little reason to have them around anymore unless you are serious about archiving data or unconvinced that streaming platforms will always be around. While there are some niche uses for them still, we're seeing more and more get repurposed for parts and other projects like this tabletop laser engraver.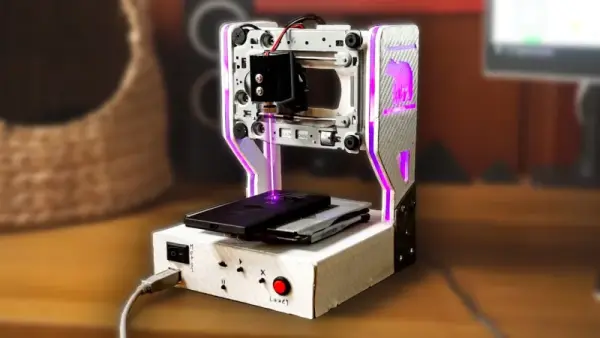 The build starts with a couple optical drives, both of which are dismantled. One of the shells is saved to use as a base for the engraver, and two support structures are made out of particle board and acrylic to hold the laser and the Y axis mechanism. Both axes are made from the carriages of the disassembled hard drives, with the X axis set into the base to move the work piece. A high-output laser module is fitted to the Y axis with a heat sink, and an Arduino and a pair of A4988 motor controllers are added to the mix to turn incoming G-code into two-dimensional movement.
We've actually seen a commercial laser engraver built around the same concept, but the DIY approach is certainly appealing if you've got some optical drives collecting dust. Otherwise you could use them to build a scanning laser microscope.
Source: LASER ENGRAVER USES ALL OF THE DVD DRIVE