As seen in MotoGP Race, the rider is seen riding through corners while laying aside his bike to the left and right. But there is an interesting moment when the motor looks to collapse sideward, the front views remain horizontally. How could that be? Such onboard camera applies GYRO system, where the camera will be fixed perpendicular to the gravity of the earth. Step 1: BUILD YOUR OWN GYRO CAMERA We could b ...
Read more

›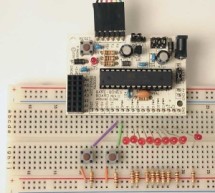 Tutorial 1 Part One Materials needed for tutorial Working BBB, RBBB, Arduino, or other Arduino compatible (BBB shown in photos) Solderless breadboard 22 gauge solid wire for use with breadboard 3 6mm momentary switches 8 LED's, any color 8 1k resistors, (470 ohm or 220 ohm will also work fine if you want brighter LEDs) 3 10k resistors,(1k will also work fine) Part One Software install See the page on instal ...
Read more

›
The Photometric System The photometric camera for the SDSS consists of two TDI scanning CCD arrays, one, using 30 Tektronix/SITe 2048 x 2048 CCDs in a 5 by 6 array for five-color photometry, and the other using 24 2048 x 400 chips for astrometry and focus monitoring. We here discuss these arrays, the filter system, the scheme for focusing the telescope during an imaging scan, and the CCDs and associated ele ...
Read more

›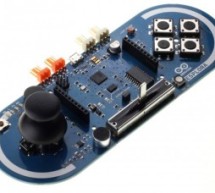 Episode 3 of AndroidTec, Formed by members thamind (Jon) chaostic (Lewis) & Computer Whiz (Jim) and introducing GuyCothal, who discusses about the amazing abilities of Arduino micro controller boards and how they can be used with Androids! Jason also made a guest appearance! ...
Read more

›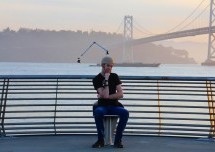 Can I tell you a secret? I don't like handshakes. I really don't. Handshakes just make me feel dirty. It's too impersonal. It's a gesture with no soul and reeks of a corporate entity. Why must we limit ourselves to this one boring interaction? Of all the split second human gestures we could do, it's the lamest. Even the handshake has so many different variations, yet we choose the same boring one every time ...
Read more

›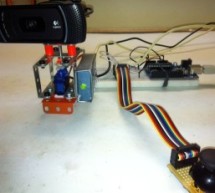 This is an instructable to show how to mount a webcam on a servo in a meccano frame and controlling it via an Arduino board. For a while now I was looking to do something more than blinking LEDs with my Arduino. This idea came to me while Skyping in our morning-meet with my colleagues to enable them to control what they see in our office. So on a rainy  Sunday afternoon a while back I pitched it to a buddy ...
Read more

›
This is a trial and error / design and development process which I followed in developing a camera slider for creating time-lapse video clips on my DSLR camera. The idea came from using standard Aluminium extrusions I have available at hardware stores, and create a slider chassis / dolly which is able to slide along this extrusion. The Aluminium extrusion is what builders use for creating a smooth screed on ...
Read more

›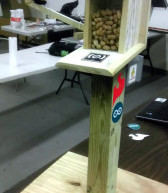 The Solar Powered-Bird Proof Squirrel Feeder w\ Camera will allow squirrels to retrieve seeds, nuts, and corn kernels without worrying about those pesky birds stealing all their food. While your squirrel enjoys the spoils of your feeder, you'll enjoy lovely digital photos to entertain and impress your friends, family, and fellow squirrel lovers. This environment friendly project is powered entirely off of s ...
Read more

›
This is a Spring 2014 Electronics project at Pomona College created by Andreas Biekert and Jonah Grubb. Thanks to Professor Dwight Whitaker, Tony Grigsby and the Pomona Physics Department. Our goal with this project was to create a 2 axis brushless gimbal controlled solely by an Arduino Uno with input from an accelerometer/gyro. A gimbal is a camera stabilization system that uses motors to correct unwanted ...
Read more

›
Welcome to my instructable on how to make an Arduino-controlled motion sensing camera and alarm! The motivation behind this project, which I worked on in my electronics class at Pomona College, was the need to keep away varmints (particularly raccoons) that were digging up my parents' yard. Although a simple motion sensing alarm would probably do the trick, I decided to add a camera to the circuit so that I ...
Read more

›
The aim of this project is to create a setup to capture the image of a falling object or any object in motion at a precise time using a DSLR and Arduino microcontroller. It can be done in many different ways, but the method I tried is illustrated below. The idea is, when the object falling or moving blocks the light source from reaching light sensor the camera and/or the external flash unit is trigge ...
Read more

›
This instructable is about building a Rotary Stewart Platform. It allows to position its moving platform in six degrees of freedom. This specific platform is designed to be able to position a DSLR or any other digital camera. This version of Stewart Platform uses instead of linear actuators just ordinary hobbyist servos for motion. Whole platform is controlled by an Arduino Uno, it computes all necessary eq ...
Read more

›