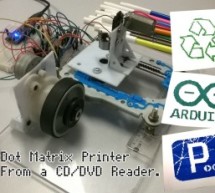 Hey! Some time ago while going through the pages here in Instructables, something catch my attention, a printer made of a CD reader, and i was amazed. I thought: "This is incredible, I have to make one!" I know that these kind of projects don't always receive a "I made it", because of its degree of difficulty, so I tried to make mine easier. This project was started more than a year ago, because of the lack ...
Read more

›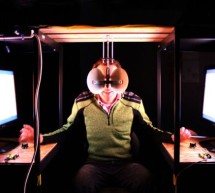 What is it? This is an ongoing project that i've been working on to see the potential of interactive stereoscopic installations in examining the perceptual process. I use a setup that i've called a Diplopiascope to investigate this. The Diplopiascope has gone through a few changes but basically it is a stereoscopic viewer that allows the viewer to control the images they are being shown through an analog de ...
Read more

›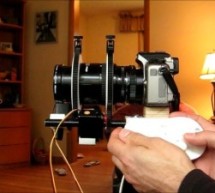 My Lumix GH2 Micro Four Thirds camera not only shoots fantastic high definition videos, but with inexpensive adapters I can use it with older manual lenses that are cheap and often very high quality. I shoot a lot of performance videos for my daughter's dance studio, and I use an f3.5 Nikon 28-85mm zoom lens because it provides a good zoom range and a fast aperture for a zoom lens. The problem with this set ...
Read more

›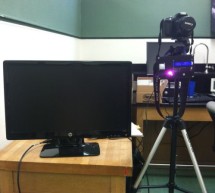 This is a tutorial on how to program your DSLR camera to take photos photobooth-style. It's a simple Arduino setup that allows you to take continuous photos with 3-second delay intervals. This was built for a college electronics project. A motion sensor detects motion in front of the camera, lights up and shows an LCD that prompts photo-takers to take photos. There are 5 settings in this tutorial - jump sho ...
Read more

›
With this device you'll be able to: take pictures from anything you can sense or detect: - movement - sound - … You don't need to modify your camera or flash for this. It's compatible with the old High Voltage flashes and the new TTL ones. Why I did this project? A friend of me who's really passionate about photography showed me some high speed photography examples. And how expensive the equipment you need ...
Read more

›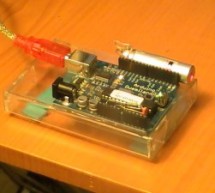 This instructable will show you how to construct a laser tripwire that can twitter and grab an image from a webcam, as well as execute any command you can put in a bash script. This instructable is actually quite simple and is even suitable as a beginner arduino project. It requires a GNU/linux (or possibly Mac) operating system with the arduino IDE and Processing IDE working properly. This project could al ...
Read more

›
Have you ever heard of TFT LCD screens?  They are great ways to display information from your Arduino, or display pictures.  The Arduino team just released an official TFT LCD screen with their new Robot at Maker Faire 2013.  It's very easy to get started with!!  This tutorial will show you how to get the LCD up and running, load information from the SD card, and make a few simple projects. The TFT LCD scre ...
Read more

›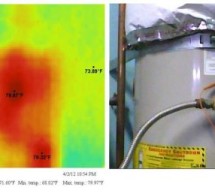 Have you ever had the desire to see what can not be seen? I never had the ability to see in thermal infrared, and it is rather cool to be able to see in the thermal infrared part of the electromagnetic spectrum. Unfortunately, most thermal (FLIR) cameras are very expensive. In 2011 cameras frequently cost several thousand dollars. This project was created to develop a cheaper solution at a fraction of the c ...
Read more

›
This project originally started out with a few simple parts thrown together to create a very simple time-lapse controller for a DSLR camera. After I was happy with the initial prototype, I wanted to make a final version which the programming of the "lapse time" was self contained into one single entity instead of relying on a computer to re-program and change the delay between shooting sessions. After addin ...
Read more

›
4D Systems makes some really nice serial OLEDS. They aren't hard to use, but the documentation for them is very scattered. This tutorial pulls together the various pieces i've found so that you can get up and running very quickly. Start by skimming through the user manual for your particular 4D OLED. µOLED-128-GMD µOLED-96-G1 µOLED-160-GMD1 The OLED I worked with was the µOLED-128-GMD. The other OLEDs liste ...
Read more

›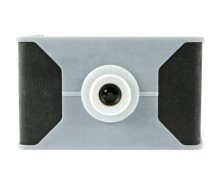 This is a 3D printed digital camera that you can build yourself. By making your own digital camera, it takes away some of the mystery around how such devices work, and are fabricated. Also, it allows you to fully customize the camera to your liking. You can expand the circuit to have new functionality, or design your own custom case by modifying the 123D Design build files. While this may not be a high-reso ...
Read more

›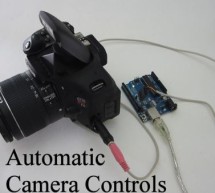 The best part of haunted houses and amusement park rides is getting to see pictures of your friends screaming in terror. To get these kinds of pictures requires perfect timing. The best way to get this is with an electronic control circuit. So in this project, I am going to show you how to make a simple automatic camera shutter switch. The best way to set this up depends largely on what kind of camera you h ...
Read more

›