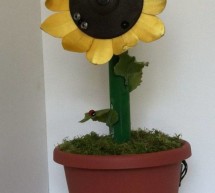 This was a 6 week project created for the Spring 2012 Things That Think course at the University of Colorado at Boulder. Our project is an autonomous Sunflower. As in nature, the highest priority for our flower is sunlight, necessary for photosynthesis. Our Arduino controlled sunflower is constructed using 3D printing and laser cutting technologies. Primarily, our flower finds and follows the brightest sour ...
Read more

›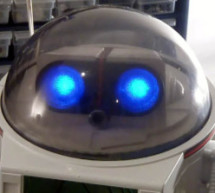 *Check back for more updates on this build :) So, have you heard of the Omnibot? Well! Any kid from the 80's will remember how amazing this robot was. For you young kids, this robot was released in the early 80's by Tomy. The robot was "programmable", in the sense that the actions were recorded to a casette tape. As you operated the robot over its remote control, the casette would record tones for each acti ...
Read more

›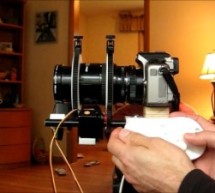 My Lumix GH2 Micro Four Thirds camera not only shoots fantastic high definition videos, but with inexpensive adapters I can use it with older manual lenses that are cheap and often very high quality. I shoot a lot of performance videos for my daughter's dance studio, and I use an f3.5 Nikon 28-85mm zoom lens because it provides a good zoom range and a fast aperture for a zoom lens. The problem with this set ...
Read more

›
I wanted to make a photbooth for a Christmas party. I wanted it to be simple to operate and only be one click easy so that even a guest who was chemically uncoordinated could even operate it.I wanted a solution that would take a photo and post it on facebook. Guests could later tag themselves or others. There are three parts to this solution: The Photobooth software The Button Software for the button to tal ...
Read more

›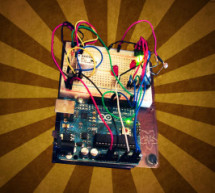 Being a broke amateur photographer isn't easy. Film, chemicals and paper aren't cheap and a budget for some studio lights is non existant. So, I decided to, with the help of my trusty arduino, create my own sync controller to use with disposable camera flash circuits. By using a photoresistor the arduino can sense when the flash from your camera (master) is triggered and then trips the relay activating the ...
Read more

›
Today I'm going to show you how I made my "light painters palette" aka light box. If your into electronics and photography than this is probably something you are going to like. Supplies: -Arduino (I'm using a arduino pro mini which requires a ftdi basic to program, But an uno or leaonardo... would work just fine) -Tri Color LED Breakout Kit -Rocker Switch -A Battery Holder for 4 AA's -2 Toggle Switches -2 ...
Read more

›
So having worked out that I can make a remote for my Nikon D80 to do some timelapse photography. I started thinking of things I can do to trigger the remote, below video shows it working but you'll need sound to hear the shutter going. First of all check out my tutorial for making the remote as this builds on that tutorial – also saves me having to recap and explain that. Arduino Nikon intervalometer infrar ...
Read more

›
I'm cheap and skint, yet I want to do timelapse photography with my Nikon D80 DSLR. Unfortnately that requires spending some cash on an intervalometer for time lapse photography which will set me back a sizeable chunk of cash. Or I could get a remote or get the trigger system then create a delay mechanism to do the timelapse. But again it'd cost a few quid to even get a remote… Thankfully I already have an ...
Read more

›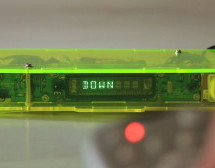 This is a description of an open source/open hardware project of a remotely controlled Arduino (Freeduino) based clock/thermometer utilising power supply and VFD panel from a broken DVD player in a custom made acrylic enclosure. The aim of the project was to demonstrate what could be done from electronics that has been literally thrown away rather than design one more digital clock. Having source code and a ...
Read more

›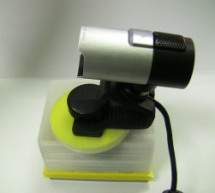 The camera controller box is an easy way to rotate a webcam from a PC or remotely through the internet. Step 1: Materials and 3D files In this project I used a Teensy 2.0 micro-controller since it was available, but you can use any other MCU like an ATtiny85 or an atmega328. The servo model number is S9001. I designed a place for a weight on the base part, in order to prevent vibrations and to keep the came ...
Read more

›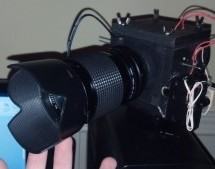 There's a real beauty in long exposure photography.  Hours and days and weeks and months and even years can be condensed onto a single frame, and that frame will catalog the constants in our fast paced and forever changing lives.  However, the issue is that these photos can be difficult to capture using modern cameras.  Most fancy DSLRs have a maximum exposure time of 30 seconds, and then to get any longer ...
Read more

›
Hi, First of all, my English is not perfect =) I've seen many projects with Arduino that describes how to control 2 servo's with a joystick or use a lcd screen. All of the projects that i have seen are all seperate things. So i decided to make a short Instructable of these things combined. In this instructable is everything you need! Drawings, schematics, pictures and even the Complete Code that i've mostly ...
Read more

›