Today I'm going to show you how I made my "light painters palette" aka light box. If your into electronics and photography than this is probably something you are going to like. Supplies: -Arduino (I'm using a arduino pro mini which requires a ftdi basic to program, But an uno or leaonardo... would work just fine) -Tri Color LED Breakout Kit -Rocker Switch -A Battery Holder for 4 AA's -2 Toggle Switches -2 ...
Read more

›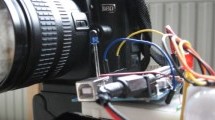 So having worked out that I can make a remote for my Nikon D80 to do some timelapse photography. I started thinking of things I can do to trigger the remote, below video shows it working but you'll need sound to hear the shutter going. First of all check out my tutorial for making the remote as this builds on that tutorial – also saves me having to recap and explain that. Arduino Nikon intervalometer infrar ...
Read more

›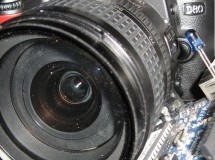 I'm cheap and skint, yet I want to do timelapse photography with my Nikon D80 DSLR. Unfortnately that requires spending some cash on an intervalometer for time lapse photography which will set me back a sizeable chunk of cash. Or I could get a remote or get the trigger system then create a delay mechanism to do the timelapse. But again it'd cost a few quid to even get a remote… Thankfully I already have an ...
Read more

›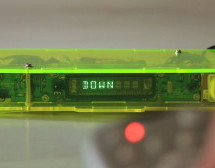 This is a description of an open source/open hardware project of a remotely controlled Arduino (Freeduino) based clock/thermometer utilising power supply and VFD panel from a broken DVD player in a custom made acrylic enclosure. The aim of the project was to demonstrate what could be done from electronics that has been literally thrown away rather than design one more digital clock. Having source code and a ...
Read more

›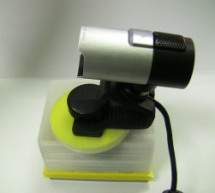 The camera controller box is an easy way to rotate a webcam from a PC or remotely through the internet. Step 1: Materials and 3D files In this project I used a Teensy 2.0 micro-controller since it was available, but you can use any other MCU like an ATtiny85 or an atmega328. The servo model number is S9001. I designed a place for a weight on the base part, in order to prevent vibrations and to keep the came ...
Read more

›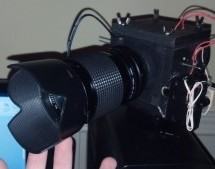 There's a real beauty in long exposure photography.  Hours and days and weeks and months and even years can be condensed onto a single frame, and that frame will catalog the constants in our fast paced and forever changing lives.  However, the issue is that these photos can be difficult to capture using modern cameras.  Most fancy DSLRs have a maximum exposure time of 30 seconds, and then to get any longer ...
Read more

›
Hi, First of all, my English is not perfect =) I've seen many projects with Arduino that describes how to control 2 servo's with a joystick or use a lcd screen. All of the projects that i have seen are all seperate things. So i decided to make a short Instructable of these things combined. In this instructable is everything you need! Drawings, schematics, pictures and even the Complete Code that i've mostly ...
Read more

›
As seen in MotoGP Race, the rider is seen riding through corners while laying aside his bike to the left and right. But there is an interesting moment when the motor looks to collapse sideward, the front views remain horizontally. How could that be? Such onboard camera applies GYRO system, where the camera will be fixed perpendicular to the gravity of the earth. Step 1: BUILD YOUR OWN GYRO CAMERA We could b ...
Read more

›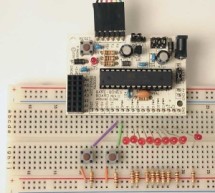 Tutorial 1 Part One Materials needed for tutorial Working BBB, RBBB, Arduino, or other Arduino compatible (BBB shown in photos) Solderless breadboard 22 gauge solid wire for use with breadboard 3 6mm momentary switches 8 LED's, any color 8 1k resistors, (470 ohm or 220 ohm will also work fine if you want brighter LEDs) 3 10k resistors,(1k will also work fine) Part One Software install See the page on instal ...
Read more

›
The Photometric System The photometric camera for the SDSS consists of two TDI scanning CCD arrays, one, using 30 Tektronix/SITe 2048 x 2048 CCDs in a 5 by 6 array for five-color photometry, and the other using 24 2048 x 400 chips for astrometry and focus monitoring. We here discuss these arrays, the filter system, the scheme for focusing the telescope during an imaging scan, and the CCDs and associated ele ...
Read more

›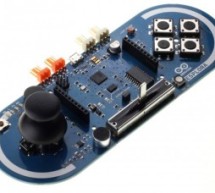 Episode 3 of AndroidTec, Formed by members thamind (Jon) chaostic (Lewis) & Computer Whiz (Jim) and introducing GuyCothal, who discusses about the amazing abilities of Arduino micro controller boards and how they can be used with Androids! Jason also made a guest appearance! ...
Read more

›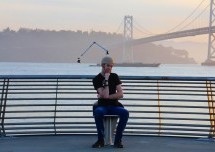 Can I tell you a secret? I don't like handshakes. I really don't. Handshakes just make me feel dirty. It's too impersonal. It's a gesture with no soul and reeks of a corporate entity. Why must we limit ourselves to this one boring interaction? Of all the split second human gestures we could do, it's the lamest. Even the handshake has so many different variations, yet we choose the same boring one every time ...
Read more

›