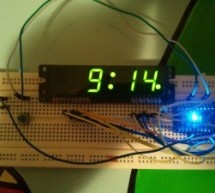 This is a relatively simple clock to build, in terms of the hardware required and in terms of hooking up all the wires. The complexity lies in the software, which I've conveniently included as part of this instructable :) This instructable illustrates a few things: * Keeping relatively accurate time on an Arduino without using a real time clock (RTC) * Using a basic clock display - the type you see on most ...
Read more

›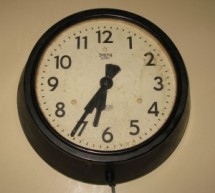 One day while exploring the bric-a-brac at the markets, I stumbled across an old, Bakelite slave dial from the 1950's. Slave Dials are clock movements without the actual time keeping circuit. All they contain is the mechanism to drive the hour and minute hands, which can be advanced by an electric pulse. This pulse is sent by a centralised master time-keeping mechanism. They were often used railway stations ...
Read more

›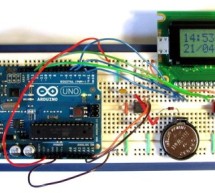 In this tutorial, the Arduino displays the time and date on a LCD (optional) and in the Arduino IDE serial monitor window. A PCF8563 real time clock (RTC) IC is used to generate the time and date. The time and date can be set using the Arduino serial monitor window. An optional battery can be used to back up the time and date settings in the real time clock chip so that the time and date are not lost if the ...
Read more

›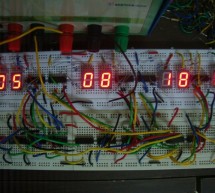 This instructable is for two purposes 1) to understand and learn the fundamentals of sequential logic 2) use that knowledge to create a digital clock. Digital clocks have been built by countless electronics hobbyists over the world. So why have I chosen to implement that? Well usually clock circuits available on the internet (all circuits I have seen) use the 7490 counter (I have used 7493 but I will show w ...
Read more

›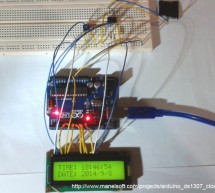 1) Introduction and Images Hello friends, today I am going to build a Digital Clock using Arduino UNO and famous DS1307 Real Time Clock IC. Before we begin, here are some images of the completed project. You can find the YouTube video at the bottom of the page 2) DS1307 RTC IC DS1307 is a low power serial real time clock with full binary coded decimal (BCD) clock/calendar plus 56 bytes of NV SRAM. The RTC p ...
Read more

›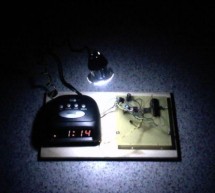 My Motivation This winter my girlfriend had a lot of trouble waking up in the morning and seemed to be suffering from SAD (Seasonal Affective Disorder). I even notice how much harder it is to wake up in the winter since the sun hasn't come up yet. Symptoms of severe SAD can include irritability, oversleeping but still being tired, not being able to get out of bed, depression, and even some physical problems ...
Read more

›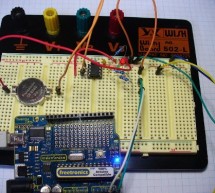 Today we are going to make a real time clock Arduino shield. Doing so will give you a simple way of adding … real time capability to your projects such as time, date, alarms and so on. We will use the inexpensive Maxim DS1307 real-time clock IC. First of all, we need create our circuit diagram. Thankfully the Maxim DS1307 data sheet [pdf] has this basics laid out on page one. From examining a DS1307 board u ...
Read more

›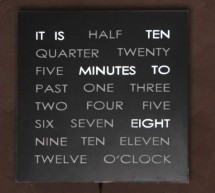 Well, It had to happen. I first published my WordClock project in September 2009. It was a Microchip PIC based clock, using a PIC16F877A microprocessor. In the last year and a half, I have been constantly improving it, and have adapted it to the Arduino, and even designed an updated controller board for it. Well, It got better. I have discovered how to cut Vinyl stencils, and have been experimenting with Pe ...
Read more

›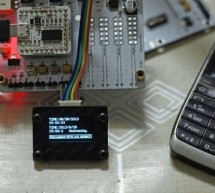 The resolvent of clock synchronization over internet. by PKJ, The web−based clock management system allows you to monitor clock status from wherever they are and centrally change settings. and this small device is built with PoE technology, thus IP clocks get their time, data and power from the same network that supports your other IP endpoints. Author: https://www.facebook.com/pan.kejia Editor: https://www ...
Read more

›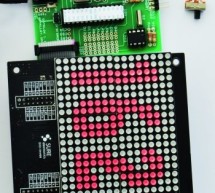 Andrew O'Malley, an amazingly creative maker, created this fanstastic Open Source Arduino-based clock that can display the time in many different ways: if not enough, one can also add his own personal animation. Compared to other clocks based on Arduino, this one has two distinctive features: a single board with the ATmega 328P chip plus the RTC (not a shield) and a led matrix display (16 x 24 pixels) based ...
Read more

›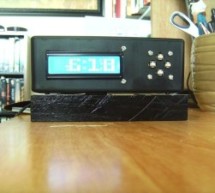 This is an Arduino powered alarm clock that after hitting snooze twice the alarm will not cancel until the user has cleared 4 lines in the game Tetris. You physically turn the clock sideways, so the screen is vertical, to play Tetris.  It's never fun to wake up in the morning but playing a little Tetris is at least somewhat enjoyable and quite effective. Feel free to vote for me in the microcontriller conte ...
Read more

›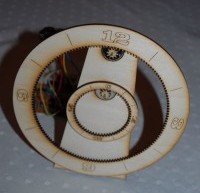 This summer, my hackerspace LVL1 (in Louisville, Ky) got an awesome laser cutter http://fslaser.com/40w-deluxe-hobby-laser-engraver-and-cutter.  LVL1 is an awesome community of creative folks that like to build stuff.  You can always check out what we are up to at http://www.lvl1.org.  If you like instructables and making stuff, you should see if there is a hackerspace in your area.  Anyway... I decided to ...
Read more

›