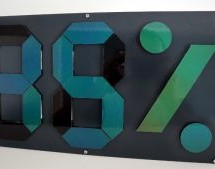 We love unique ways of displaying data here at Hackaday, and this ingenious thermochromic display created by [Moritz v. Sivers] more than fits the bill. Using sheets of color changing liquid crystals and careful temperature control of the plates they're mounted on, he's built a giant seven-segment display that can colorfully (albeit somewhat slowly) show the current temperature and humidity. The sheets of t ...
Read more

›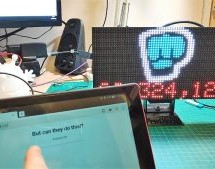 Of all the things you never would have guessed you'd need just ten years ago, a YouTube subscriber counter would probably rank highly. You would have guessed that the little hits of dopamine accompanying each tick upward of a number would be so addictive? As it turns out, lots of people wanted to keep a running total of their online fans, and a bewilderingly varied ecosystem of subscriber counters has cropp ...
Read more

›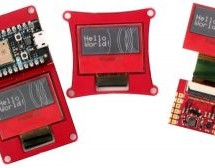 ePaper displays (EPDs) are becoming a trend in application, just like the display used in Amazon Kindle, for their low power consumption due to the to the underlying 'bistable' display technology. These displays can continue to show information without any power at all. It is only required while updating the display with new information, otherwise there won't be any power consumption. Providing such revolut ...
Read more

›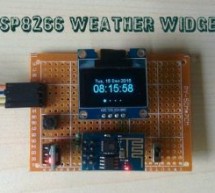 deba168's new instructable is a weather widget: "an application that can be downloaded on your PC, laptop or a mobile device and perform the job of providing easy access to weather information" It's an ESP8266 based weather display unit which retrieves localized weather information from http://www.wunderground.com by WLAN and displays it on a 128×64 OLED display. It displays the current time with date, some ...
Read more

›
Abstract The Arduino inbuilt 10 bit ADC, can be used for constructing / measuring the 0Volt to 50Volt Digital Volt Meter. Popular MAX7219 display driver, connected with Arduino Uno will be used for displaying the measured voltage. This voltmeter can read only DC voltage. Parts and components Arduino Uno board Max7219 4 Digit 7Segment Common cathode displays = 1 Nos Or Max7219 assembled board Resistor 27 K = ...
Read more

›
MAGIC PIXEL Magic Pixel is a universal and handy Bluetooth LED display, which we've been developing with focus on ease of use and effectivity. It can be used for displaying advertisement, information or just for fun. Magic Pixel is an ideal solution where effective and dynamic visualization of information is required. With its thin profile and matte black front panel Magic Pixel looks unsuspicious, but its ...
Read more

›
This project, builds on Wunderground weather forecast via the Internet. Specs: 1. 3 days weather forecast (Low&High temps, probably of precipitation, condition icons) 2. Current weather conditions (Current temp, feelslike temp, humidity, pressure) 3. Current wind directions & speed with analog gauge meter. 4. Indoor temperature with Dallas 18b20 Temperature sensor. 5. NTP time via Wunderground time ...
Read more

›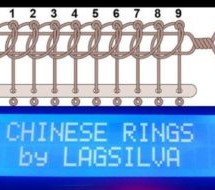 Introduction Hello all, The Chinese Rings Puzzle with Arduino is my version of a centennial Chinese puzzle. It is very simple to play and it is an example of a combinatorial puzzle, and lots of patience and concentration is required to solve it. The objective is to untangle the long loop from all nine rings, and the solution takes 341 moves (minimum possible). Once you learn the method to solve the puzzle, ...
Read more

›
Story Behold: the MorseCard! Fulfill your dreams of becoming a telegraph operator (or just make something cool to show your friends) with this weekend project. The MorseCard features a high-contrast OLED screen that will decipher whatever you tap out. I have written a variety of different sketches for the MorseCard, as the video above shows, that can do things like teach you Morse code, allow you to write o ...
Read more

›
Story The Nokia 5110 is a basic graphic LCD screen for lots of applications. It was originally intended to be used as a cell phone screen. This one is mounted on an easy to solder PCB. It uses the PCD8544 controller, which is the same used in the Nokia 3310 LCD. The PCD8544 is a low power CMOS LCD controller/driver, designed to drive a graphic display of 48 rows and 84 columns. All necessary functions for t ...
Read more

›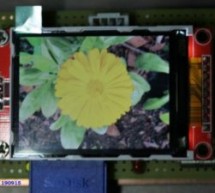 Story The main purpose of this project is to build a system based on chip ATMEGA328P, Arduino compatible, and interface it with a 2.2" QVGA TFT display using the library ILI9341. As an alternative to the self-build system you can use an Arduino Pro 3.3 V/ 8 MHz board or similar. This system works well and can be very useful for many applications, as data-loggers, graphic terminal, etc. A great advantage of ...
Read more

›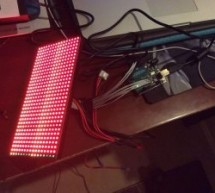 - Arduino Uno ($25) - 32 x 16 LED Matrix ($20) - Breadboard ($5) - Jumper Cables ($5) - USB A to B Cable ($3) - Computer - 5V 2Amp Power Supply ($10) - A basic understanding of coding in C In order to create this project, many physical materials are necessary, a lot of which will not be found lying around at home. In order to do this project, you should go out to computer stores or look online for these pro ...
Read more

›