In this instructable i will explain how to connect 7 segment display, decoder and arduino. It´s pretty easy. At first we have to learn something about decoder. I´m using BCD to 7 segment decoder. My is D147D, this is old chip, but the newer are similar. Documentation about one of them you can find here . Description of D147D you can see on picture two. There are four pins for sending BCD code to the decoder ...
Read more

›
In what can only be described as a work of art, [suedbunker] has created a clock under a glass dome. Sporting Nixie tubes, a DS3223, BCD encoders, and MPSA43 transistors driven by an MCP23008 I/O expander it is truly a sight to behold. [suedbunker] has previously created the Circus Clock, a similar clock that celebrated a diversity of ways of displaying the time. The dome clock represents a continuation of ...
Read more

›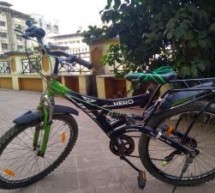 This project came to my mind when doing my MEM (Mechanical Engineering Measurement) project, a subject in my B.tech. The idea is to measure the angular velocity of my bicycle's wheel. Thus knowing the diameter and the all time mathematical legend the pi(3.14) the speed can be calculated. Also knowing the number of time the wheel has rotated, the distance traveled can be easily known. As an added bonus, I de ...
Read more

›
TFT touchscreens are the amazing graphical interface which can be used with microcontrollers such as Atmel, PIC, STM, as it has a wide color range, and good graphical ability and a good mapping of pixels. Today, we are going to Interface 2.4 inch TFT LCD Shield with Arduino. This shield is for Arduino UNO, but I'll teach how to use it with Arduino Mega for a very logical reason, the "Program Memory". By usi ...
Read more

›
Time for a fun-filled, easy-peasy Japan-easy to make a project! Today, we're going to show you how to make an LED POV Display. POV, an acronym for the persistence of vision, is a kind of optical illusion in which a visual image seems to persist even when the light from it ceases to enter our eyes and this makes it super cool! You can display any text or image that you want to in the display. Sounds awesome, ...
Read more

›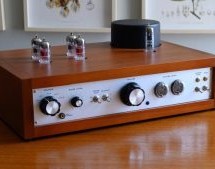 The pursuit of audiophile hi-fi is one upon which many superlatives and perhaps a little too much money are lavished. But it's also a field in which the self-builder can produce their own equipment that is as good or often better than that which can be bought, so it provides plenty of interesting projects along the way. [Justin Scott]'s tube preamplifier is a great example, with its novel use of a pair of N ...
Read more

›
That whole project started a while back with an hackaday article from 2014 in which [Johngineer] build the 'ChronodeVFD', a wristwatch made from an old soviet vacuum fluorescent display. It kind of triggered the 'shut up and take my money' reflex in me, but as it wasn't for sale and didn't have any design details available I quickly had to scrap that. Fast forward a bit, during a late night eBay s ...
Read more

›
Digital signage can be useful at events to inform visitors about upcoming panels, changes in the schedule or dynamically provide information. Using LED Matrix displays for that makes the messages readable even from far away and is an eye catching feature. Features include: 2 Lines of dot matrix modules, 1 RGB Ring indicatorhttp web interface for simple fallback managementREST/JSON API for advanced remote ma ...
Read more

›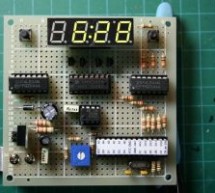 This Arduino based digital clock is synchronized by the 60Hz power line. It has a simple and inexpensive common anode 4 digit 7 segment display which shows hours and minutes. It uses a cross over detector to detect when the incoming 60Hz sine wave crosses the zero voltage point and derives a 60 Hz square wave. Over short time periods the frequency of the incoming sine wave from the power line may vary very ...
Read more

›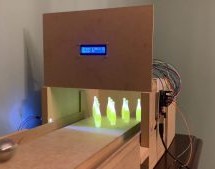 Bowling has been around since ancient Egypt and continues to entertain people of all ages, especially once they roll out the fog machine and hit the blacklights. But why pay all that money to don used shoes and drink watered-down beer? Just build a tabletop bowling alley in your spare time and you can bowl barefoot if you want. Those glowing pins aren't just for looks — the LEDs underneath them are part of ...
Read more

›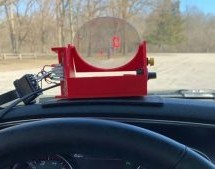 Many cars these days come with a basic Heads Up Display, or HUD. Typically, these display speed, though some also throw in a tachometer or navigational graphics too. Of course, if your car doesn't have one of these stock, hacking in your own is always an option. [PowerBroker2] developed this HUD in a somewhat circuitous way, but it's effective nonetheless. An ELM327 Bluetooth OBD-II reader is hooked up to t ...
Read more

›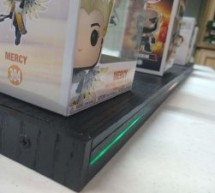 Back Story My brother has Funko POP figures that represent his characters that his friends play most often in video games. We thought that it would be cool if they had a display case that would have LEDs in it to represent their status on Steam. So with my previous experience with Arduino, Steam API, and woodworking, I said that I could probably figure something out. For anyone that does not know what Steam ...
Read more

›