Another quick hack. I purchased a voice changer because I was looking for something cheap that could be hacked into an voice input device. Basically I wanted to animate a skull when I spoke. Added bonus, now the skull puppet would also have a scary voice. I am going to show you how to hack a voice changer to use as a digital input for an Arduino project. I leave the output or reaction up to you. Step 1: Wha ...
Read more

›
This project is a part of experiments done while doing an artist in residence at Instructables. You can see the other projects here. Creating emergent patterns that can be converted into sounds fascinates me. So this is my first experiment in building an arduino platform for creating such patterns. This version uses a Gameduino as its sound processor and uses particles that bounces around on a led matrix as ...
Read more

›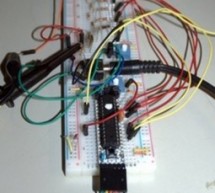 DAC is short for Digital to Analog Converter. In this article we play around the code Michael Smith created for a PWM based DAC. I modified his code so that other DAC options could be tried. I compare the 8-Bit PWM DAC with the R2R DAC at various numbers of bits. You might be surprised at how well a 4-bit DAC sounds. This article includes several sound samples for the various DAC options and demonstrates so ...
Read more

›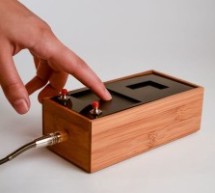 This project is a part of experiments done while doing an artist in residence at Instructables. You can see the other projects here. Inspired by Korgs Kaossilator I took it upon myself to build an opensource version of it. This way people can design new ways of interacting with the touchpad. The basic principle is creating sound via a trackpad. This enables you to create an instrument with quite wobbly poss ...
Read more

›
The Mystery Beeping Prank is a device hidden in a hollowed out book that beeps intermittently at different frequencies. I made this because I am surrounded by a lot of incredibly creative people who have a penchant for pranking one another, and this seemed like the most subtly annoying thing that I could think of. In fact, I imagine this will be outright maddening for all those not in on the joke. Hopefully ...
Read more

›
Wearable Arduino mod for your headphones. Non-invasive procedure for headphones that don't have room inside the drivers or you don't want to hack apart your high end cans. Adafruit just put out a tutorial for adding pattern blinking LED lights to headphones.  This instructable takes it one step further. This project is really the Adafruit Ampli-tie project morphed into a cool sound reactive LED light applia ...
Read more

›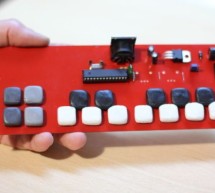 Este tutorial te lleva paso a paso por la construcción de un teclado MIDI de una octava, programable via arduino gracias a su conector de 6 pines. Vas a necesitar: Componentes: 1 Atmega328p con el bootloader de Arduino 1 Zócalo de 28 patas 1 Cristal 16Mhz 2 Capacitores 22 pF 2 Capacitores 10 uF 1 Capacitor 0.1 uF 1 Regulador 7805 1 conector de alimentación hembra para placa 1 Conector DIN 5 (MIDI) hembra pa ...
Read more

›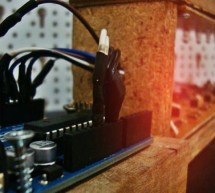 English: This is a simple and easy to make MIDI harp, it runs on an Arduino UNO and uses infrared sensors as strings. It communicates with every recording software that has MIDI. Its really fun to play with and also very cheap, so enjoy!! Español: Este es un simple y facil de hacer harpa MIDI, funciona con un Arduino UNO como controlador y tiene sensores infrarojos como cuerdas. Puede comunicarse con cualqu ...
Read more

›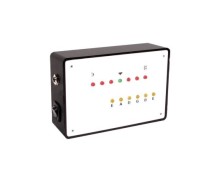 Build your own electric guitar tuner using the Arduino! I decided to make this because I wanted to experiment with audio input and frequency detection. I used Amanda Ghassaei's method for Arduino Frequency Detection in order to get frequency readings using the Arduino. I used LEDs that light up according to the frequency of the audio input, indicating whether the string being played is sharp, flat, or in tu ...
Read more

›
For a class, my teammate and I decided to develop a MIDI based system that has a responsive light for each note played. For example, if you plug our little setup to a keyboard, pending on which note you press, you'll get a specific color. You'll need a list of several items, but the reward is quite nice! Plus, there are a lot of possible improvements and developments from the original idea ...
Read more

›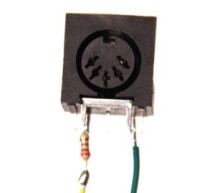 This tutorial shows how to play MIDI notes from an Arduino. MIDI, the Musical Instrument Digital Interface, is a useful protocol for controlling synthesizers, sequencers, and other musical devices. MIDI devices are generally grouped in to two broad classes: controllers (i.e. devices that generate MIDI signals based on human actions) and synthesizers (including samplers, sequencers, and so forth). The latter ...
Read more

›
This example shows how to use the tone() command to play different notes on multiple outputs. The tone() command works by taking over one of the Atmega's internal timers, setting it to the frequency you want, and using the timer to pulse an output pin. Since it's only using one timer, you can only play one note at a time. You can, however, play notes on multiple pins sequentially. To do this, you need to tu ...
Read more

›