Goal of this project: Convert a cheap toy piano to work as a midi device and use it with Synthesia (http://www.synthesiagame.com/) Other programs that use midi inputs can also be used. Approach: The pushbuttons of the piano are used to make a simple pull-down circuit for the arduino mega. The arduino interprets the keystrokes and sends serial midi data to the pc. Then this data is send to a virtual midi por ...
Read more

›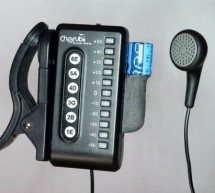 How to modify a guitar tuner so it can be used by a blind person This build uses an Arduino Pro mini microcontroller, (all code is provided). This project was undertaken for the charity Remap, which provides custom-made equipment for people with disabilities. Summary Begin with an LED electronic guitar tuner. I used a Cherub Guitar Mate (WST-550), which cost about £10 from eBay. It was a good choice for thi ...
Read more

›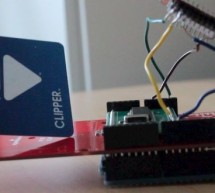 Music party is a new way to listen to music with others. By tapping an RFID/NFC device that is synced to a Facebook account on an Arduino RFID reader shield and sending that unique ID to Music Party server using the Arduino WiFly shield, we can automatically listen to the favorite music of everyone who taps in. Go to the Music Party website to see an example. About Lifegraph Labs My name is Jon and I'm a me ...
Read more

›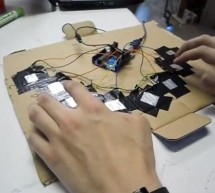 Using only an Arduino, a few resistors, a buzzer, and some bits of aluminum foil, you can create your own touch-sensor piano keyboard in just a few minutes! Using an Arduino Uno, you can create a piano with up to 18 keys; or with an Arduino Mega, you can get over 60 keys! Other Arduino boards should work with this project with little to no modification to the code. Step 1: Parts and Material [box color="#98 ...
Read more

›
For my internship at Create Digital Music/Meeblip I've created quite a fun little synthesizer. This thing is meant to be more flexible than other synthesizer by making it completely independent; it is battery powered, has its own amplifier/speaker and is controlled by a manually operated sequencer. Inspiration for this form comes from my frustrations with most synthesizers: that I can't just take them out a ...
Read more

›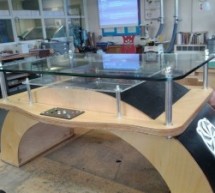 One quick fore note: this is my first Instructable and my first large Arduino project, so if you see any stupid errors or have an idea of how things could be done better, then please let me know. Now that that's out of the way I'll begin, I started designing this around September last year as my A2 Product Design project and thought that it might make a good Instructable once it was finished. The design of ...
Read more

›
Makeblock is an aluminum extrusion based construction system that provides an integrated solution for aspects of mechanics, electronics and software design. With Makeblock you can make professional robots, toy machines or even art-ware. It's super easy-to-use and helps bring your creations to life. The only limit is your imagination. For more information, please visit Makeblock website listed below: www.mak ...
Read more

›
This example shows how to use the tone() command to generate notes. It plays a little melody you may have heard before. Circuit image developed using Fritzing. For more circuit examples, see the Fritzing project page Connect one terminal of your speaker to digital pin 8 through a 100 ohm resistor. Connect the other terminal to ground. Schematic Code The code below uses an extra file, pitches.h. This file co ...
Read more

›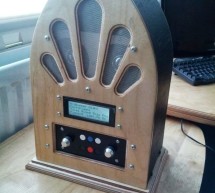 I was looking for a project to do with my Raspberry Pi and found thisInstructable and thought I would have a go at something similar which worked with Google Play Music. I had a rough idea of what I wanted the final item to end up like and was able to get my dad interested in helping me with the design and construction of the enclosure. All code and CAD drawings can be found in the GitHub repo. Before we be ...
Read more

›
This sketch shows you how to read the microphone sensor. The microphone will range from 0 (total silence) to 1023 (really loud). It uses the sound level to set a brightness level for the green LED. When you're using the sensor's reading (for example, to set the brightness of the LED), you map the sensor's reading to a range between the minimum and the maximum. Circuit Only your Arduino Esplora is needed for ...
Read more

›
Another quick hack. I purchased a voice changer because I was looking for something cheap that could be hacked into an voice input device. Basically I wanted to animate a skull when I spoke. Added bonus, now the skull puppet would also have a scary voice. I am going to show you how to hack a voice changer to use as a digital input for an Arduino project. I leave the output or reaction up to you. Step 1: Wha ...
Read more

›
This project is a part of experiments done while doing an artist in residence at Instructables. You can see the other projects here. Creating emergent patterns that can be converted into sounds fascinates me. So this is my first experiment in building an arduino platform for creating such patterns. This version uses a Gameduino as its sound processor and uses particles that bounces around on a led matrix as ...
Read more

›