Makeblock is an aluminum extrusion based construction system that provides an integrated solution for aspects of mechanics, electronics and software design. With Makeblock you can make professional robots, toy machines or even art-ware. It's super easy-to-use and helps bring your creations to life. The only limit is your imagination. For more information, please visit Makeblock website here. The Music Robot ...
Read more

›
If you've ever wanted to bring a piece of paper to life, now is your chance. This instructable will take you through all the necessary steps to create an amazing interactive flyer or artwork. This event flyer is no ordinary piece of print. It is printed using Bare Conductive ink. This means that when it is brought along to the event it can be plugged in and transformed into a musical instrument! The large p ...
Read more

›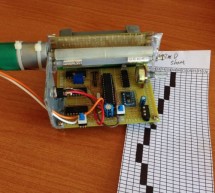 Music is the most universal means of expression. Regardless cultural language or age the idea conveyed though music would not differ much. It is safe to say everyone loves music, one type or another. When one's favourite piece is played there is a overwhelming desire to get involved and turn on one's Air Guitar. Not being familiar with any type of musical instrument myself. Moving my hand insanely in the ai ...
Read more

›
I present this new Arduino project: A full MP3 player based on Arduino. As you can see in the photo, the idea was to build a standalone player, in the style of antique radios or 'tapes', in the age of Iphones .... The player uses a small module based on the VS1002d chip (now discontinued, but who had a drawer). The module in question I bought at  Futurlec . Currently you can get similar modules on ebay for ...
Read more

›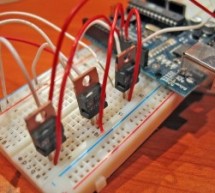 For my project, the Arduino output is not enough so digging on the net and asking to a friend some help, I managed to build an amplifier to feed my 3 computer fans. This circuit can be used as an amplifier to switch on and off a DC motor and to regulate its spinning speed with a PWM source generator. In my case the PWM generator would be the PIN 9, 10 and 11 from the Arduino board. Given that the adapter th ...
Read more

›
Biasing AC input using resistor divider and scaling up / down if necessary; Sampling fast and accurately using direct access to Control Registers of ADC and Timer1; Subtract whatever was added at step #1 from result of Analog / Digital conversion and Square; Average / accumulate, filtering following VU specification; Sqrt – take square root, Log10 – transform to dB scale; Display. 1.   Hope, you follow my a ...
Read more

›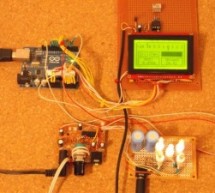 ow my Arduino can precisely measure audio input (VU meter),   and obviously, next thing that comes to mind right after measurements, is regulation or control. There are many different ways how to electronically adjust audio volume or level of AC signal.  I'll name a few: Specifically design IC, Digital potentiometers. Mechanical potentiometers, driven by servo / motors. Vacuum tubes amplifiers in "variable- ...
Read more

›
Well, it's elementary simple in theory, how to do sound localization based on phase difference of signals, that received by two spatially distant microphones. The Devil, as always, in details. I've not seen any such project created for arduino, and get curious if it's possible at all. Long story short, here I'd like to present my project, which answer this question  - YES! Let me stress, project based on ph ...
Read more

›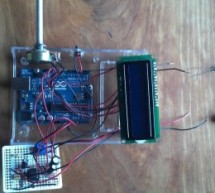 I've just completed my second Arduino project, a sound level detector which sets off an "alarm" when there's the sound level is to high for too long.  I built it for use in a school that wants to provide visual feedback to students when they are being too loud.  The "alarm" is a string of flashing LEDs that's controlled by an IR-remote, which I reverse engineered using the the arduino itself and the excelle ...
Read more

›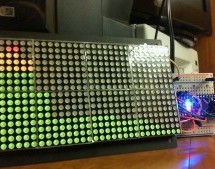 In this Instructable I am going to show how to make a program in Processing that analyzes sound on your computer and sends data to an Arduino that controls an LED matrix to show the spectrum analysis. I will be explaining where to get materials, explaining the coding and wiring needed and providing example programs that can be adapted. I will be using an Arduino Nano and and a 32x16 LED Matrix from Sure Ele ...
Read more

›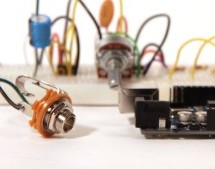 Generate sound or output analog voltages with an Arduino.  This Instructable will show you how to set up a really basic digital to analog converter so you can start generating analog waves of all shapes and sizes from a few digital pins on an Arduino.  (This article is a companion to another Instructable I've written about sending audio into an Arduino, find that here) Some ideas that come to mind: sample b ...
Read more

›
Send sound into your Arduino.  This Instructable will show you how to prepare audio so that it can be sampled and processed by an Arduino to make sound responsive projects and audio effects.  (This article is a companion to another Instructable I've written about building an audio output circuit for an Arduino, find that here) Some ideas that come to mind include: beat detection- trigger lighting effects, b ...
Read more

›