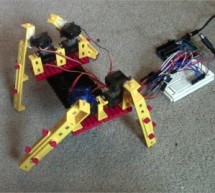 I needed a project that would use all my servos, so I decided to make the do-nothing, worthless spider. If you have fischertechnik and servos to waste, this is the project for you! Really, this flopping spider makes for a great learning project. The main goal of this project is to teach the fundamentals of servos, synchronizing them, programming them, and understand the range and strength of servos. The res ...
Read more

›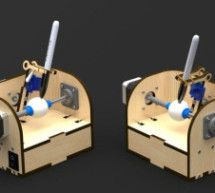 The Sphere-O-Bot is a simple 2 axis CNC machine that can draw on most spherical surfaces. You can use it to decorate ping pong balls or eggs.This design is based on the 3D printable Sphere-O-Bot. By building your Sphere-O-Bot using a laser cutter, you can achieve a clean look while also reducing the production time of your parts. This design also features an electronics bay for your wires, micro-controller, ...
Read more

›
Here you will learn how to create an internet controlled robot or other installation using Livebots. Livebots is a project I'm working on which consists of an easy to use website for all the robots that people can interact with through the internet. As an example I will be using a simple Arduino UNO with a LED connected to an Raspberry Pi to show you the concept, but of course you can use anything that can ...
Read more

›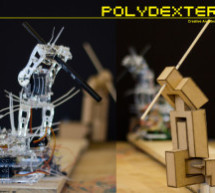 Polydexter was the introductory project in the Creative Architecture Machines (CAM) advanced options architecture studio at the California College of the Arts (CCA), taught by Jason Kelly Johnson (co-founder of Future Cities Lab) and Michael Shiloh. Parts developed for this robot would go on to become integral in the second project of the studio, our walking 3D printer Geoweaver, which can also be found her ...
Read more

›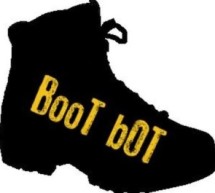 The Boot Bot Shield lets you burn the arduino boootloader onto a blank Atmega 328 chip. The bootloader is that magic piece of software that turns a mundane chip into the open source programmable miracle known as the arduino. Blank chips cost a few dollars less per chip than bootloaded ones. With the Boot Bot you will have no need for all that pre-bootloaded extravagance. Once completed, this board will allo ...
Read more

›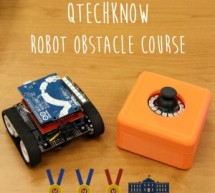 Have you ever thought of controlling your FuzzBot wirelessly? Do you want to make a real - life video game? Do you want to learn about the tech behind NFC and RFID? - the Qtechknow Robot Obstacle Course How - To Guide is for you! Please cast your vote for me (at the upper right hand corner, the orange ribbon) in the RC Contest, Tech Contest, and the Microcontroller Contest! What does it do, how does it work ...
Read more

›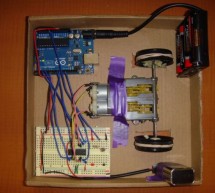 The objective is to construct a programmable hobby bot that is affordable and simple to make. The parts will be purchased from places such as Wal-Mart, Radio-Shack, any Hobby Store, or online store that is accessible to the public. The price range is 50 dollars or lower for the entirety of the robot. Step 1: Gather Your Materials Here is a list of all materials needed to complete the bot and their prices. - ...
Read more

›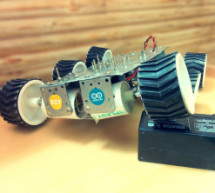 Hello, In this post we"ll be making a Six wheel drive all terrain vehicle (ATV). These are rare and hence expensive robots (at least in India). I made this ATV as my summer project. Dagu manufactures a similar 6WD chassis but its way too expensive (Rs 20000 / $ 250). So I decided to make a cheap Six Wheel drive(6WD) - All terrain vehicle(ATV) chassis out of aluminium and steel and then control it with an an ...
Read more

›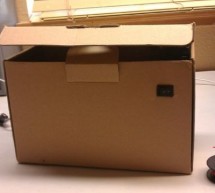 Have you ever given something to someone and wished that the box you gave it in opened automatically? No? Well neither have I (well, maybe) :D. However if you have, this is the guide for you! With just a flick of a switch the box will open automatically! Step 1: Tools & Materials [box color="#985D00" bg="#FFF8CB" font="verdana" fontsize="14 " radius="20 " border="#985D12" float="right" head="Major Compo ...
Read more

›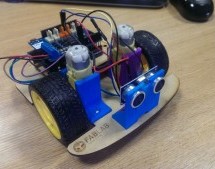 This instructable assumes very little with respect to prior knowledge. If there are any areas you feel could be improved or clarified, please feel free to message or comment and I will update. Here are all the details you need to produce a simple wall avoiding robot. Along the way you will have the chance to take a look at (and modify) the arduino code needed, get a bit of info on header files and look at s ...
Read more

›
Tools: Hot Glue Gun Laptop with Arduino software 22 awg hookup wire (black, red, yellow) wire strippers usb cable drill 1/16th drillbit exacto knife Parts: 2 tongue depressors 1 clothespin 1 rubber-band 1 dart 1 cup (paper or plastic) 1 arduino 1 breadboard 1 led 1 momentary button switch 1 22k ohm resister 1 0.1uf capacitor 1 10k ohm resister 1 infra red sensor Step 1: Assemble the crossbow 1) hot glue the ...
Read more

›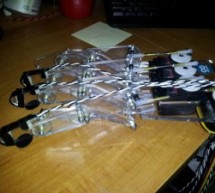 For science fair this year, I felt like building something instead of doing an experiment. All I needed to do was look around Instructables for a project idea. I was inspired by njkl44's robotic hand since it reminds me so much of stuff out of science fiction movies. My goal was to create a system of haptic feedback from a robotic hand like that. The system provides a way for the person controlling the hand ...
Read more

›