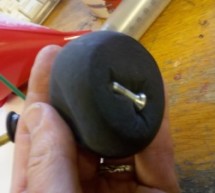 The "universal gripper" developed by researchers from Cornell University, the University of Chicago, and iRobot inspired me to create my own version. The YouTube video is quite impressive. The gripper can form around very asymmetrical and smooth shapes and still pick up the object. I gathered the materials below and decided to create a gripper of my own that could be incorporated into one of my robot design ...
Read more

›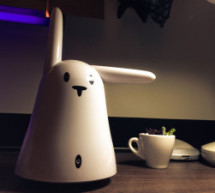 This is a Nabaztag - Armenian, apparently, for "hare". It's an adorable bunny rabbit packed with sensors and communication devices.... and it's completely unusable. There's people who wrote some interesting software to hack it, and I applaud them: however, I could never actually get my Karotz (Nabaztag's third incarnation) through the arduous initialization. So, to gain full control over the Bunny, we'll ha ...
Read more

›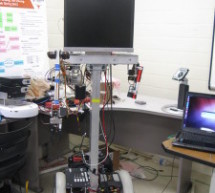 This is the documentation page for the Spring 2012 DIY Telepresence project. Here you will find schematics, software, and guides for the robot. The goal of the project was to design a low-cost, easy to build telepresence robot. Some of the features include: Segway based mobility plane Robot arm Aluminum frame Two way-video conferencing using the WebRTC protocol Wifi enabled remote control of the robot HTML5 ...
Read more

›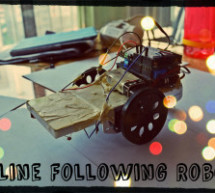 This is a Line Following Robot. It follows a black line that is drawn. It is able to detect the black line through one photocell and one analog light sensor. There is an LED in between the two sensors that gives off red light when the Arduino is powered on. Then, when the light is reflected back, more light is detected when it is reflected on the white surface, compared to when it is reflected on the black ...
Read more

›
In this Instructable I wanted to show to you how to make a self balancing robot. What makes it unique is that its exterior is made to look like the Instructables Robot. Internally it works in the principle of PID, it is a very popular control system for maintaining a variable from fluctuating. In this instructable I have used the MPU6050 which is a gyroscope and an accelerometer in a single package. The gyr ...
Read more

›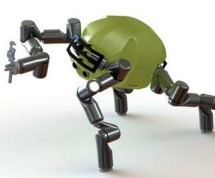 Summer Project: Arduino Scouting Robot [video id="P6PVLhjQ5FY" type="youtube"] Arduino Scouting Robot Part 1 * 12,9,5 volt power supply recharge it with a 12-volt charger keep power switch on to charge * 2 DC motors operate at 7.2V with a maximum current draw of 3 amps * 2 Digital Servos operate at 6V with a maximum current draw of ~1 amp each the pwm wires are connected to the pwm pins on the arduino (pin ...
Read more

›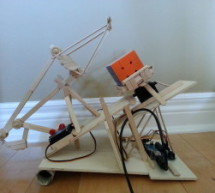 This robot that can solve a Rubik's cube using Arduino. I learned how to solve a Rubiks cube last year, and I was also into Arduino, so eventually I ended up with an idea to make my own Rubik's cube solver. Like many people searching for "Rubik's Cube Solver" on Google, one of the first robots I found was the Tilted Twister design by Hans Andersson: [Play Video] I looked around at some other Rubik's cube so ...
Read more

›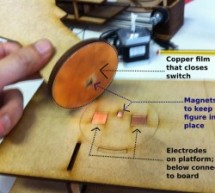 4./ Interactivity & electronics 4.1/ Switches / characters 4.2/ Screen / interface 4.3/ Motor controller 4.4/ I/O controller & interface [4./ electronics] [4.1/ switches / characters] The characters on top of the moving platform function, as interfaces, actually as on-off switches. While standing in its position on the platform that keep a switch on. Once they are knocked off the switch is off. The ...
Read more

›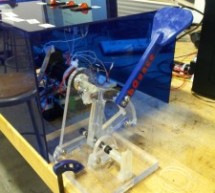 bOunce is a haptics-based learning game system that teaches the concepts behind wave dynamics, and in particular, resonance. The bOunce device (an adaptation of the Haptic Paddle) allows a user to "bounce" a ball in a virtual environment. By feeling the haptic force feedback from the virtual ball, as well as seeing the ball's waveform trajectory in the virtual environment, the user strategically times his o ...
Read more

›
Now you can have all the remotes of your house in a device that fits in your hand with Arduino, never fight for who has the TV remote again! To make it you will need: Arduino (I used a cheap copy of the arduino UNO). LCD keypad shield, (I bought mine from dealextreme) 1x Infrared LED (standard ~940nm) 1x Infrared sensor. A computer. (That can run the arduino compiler program) Codes/Programs: Program for gat ...
Read more

›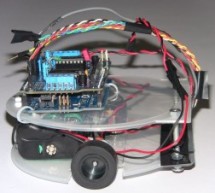 UPDATE FEB 2012: This guide is featured on Adafruit's blog http://www.adafruit.com/blog/2012/02/14/arduino-based-line-follower-robot/ This is Faz3a II, my first line-following robot, which I also hope to use for maze-solving. I used the Arduino Uno, Adafruit motor shield, Pololu's QTR-8RC line sensors and motors. You can build a cheaper and lighter version of this robot using the Atmel Atmega328 and the L29 ...
Read more

›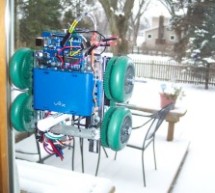 The idea for this project came from one of my favorite 'ibles: the polargraph. I loved the drawing style and thought how cool would it be to do this on the side of a building? Unfortunately the challenges to setting up such a large polargraph on a student budget pushed me to find an alternate solution, and thus started the window painting robot! This is a fairly simple robot that uses two neodymium magnets ...
Read more

›