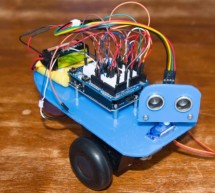 Edit: Thank you so much everyone for voting for James in the Toy Contest! He got first place and I won a $500 Shapeways voucher! Expect to see more robot instructables from me in the future! :D So you want to make a robot? Don't know where to start? How about you learn how to make a robot with me and make James! James was made as part of a Robotics Class I teach to a few high school students. I called him J ...
Read more

›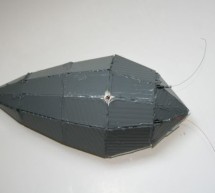 Robopod is a simple arduino robot that uses antennas to detect obstacles. Robopod's motors are controlled by an H bridge and   powered by a nine volt battery.  Robopods circuit is based on a breadboard for easy modification. Step 1: Tools and Materials Material Arduino uno Breadboard H Bridge 9 volt battery 9 volt battery snap Barrel jack 22 awg Wire 32 awg enamel wire Toggle Switch 2 Motors Corrugated Plas ...
Read more

›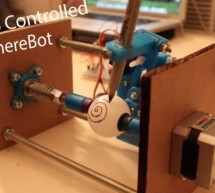 First off this project was a combination of of two great online resources. I had been looking into building an eggbot for a while and since I had a lot of ping pong balls on hand after one of my other videos the time was right for making my SphereBot that could write on ping pong balls. After doing some research online I found that there were already some brilliant designs out there. The 3D printed d ...
Read more

›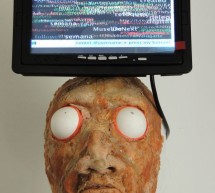 Creepy fairground attraction and Twitter App! The Psychic Hive-Mind Fortune Teller is a fairground arcade-type attraction which can tell your fortune. Even better than that though - it's also a web-connected Twitter application that can harvest tweets and regurgitate them as fortune readings! The Fortune Teller reads the mind of a twitter discussion. It takes people's thoughts from their tweets, then decons ...
Read more

›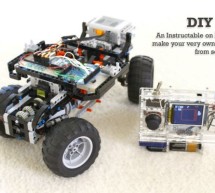 UPDATE (8/29/13): Thank you readers for your enthusiasm and kind remarks regarding this project! It has been a tremendous journey since I started this project back in March, but I am very glad with the resulting product and the excitement with which it has been received by the maker community. Happy building! -Cyrus Do you like Legos? Do you like Arduinos? Do you like RC things that you can bring to life wi ...
Read more

›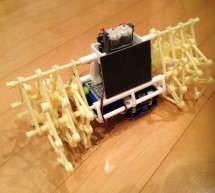 The Strandbot is a DIY upgrade for the Strandbeest originally designed by Theo Jansen.  Strandbeests are amazing mechanical creatures that are able to move on their own using just a little bit of wind power.  Unfortunately my tiny apartment is short on wind, so I decided to upgrade a miniature Strandbeest using an Arduino and some motors.  The brain is powered by a solar-charged Li-Po battery so the Strandb ...
Read more

›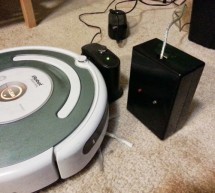 Like most people I was skeptical about getting a robotic vacuum cleaner, so as a trial run I thought I would buy the now obsolete iRobot Roomba 530 which was heavily discounted (they're still available in Australia, showing how behind the times we are). Of course, as soon as I got it home I fell in love with it and for once had clean carpets! Unfortunately, this model doesn't come with a remote (I ended up ...
Read more

›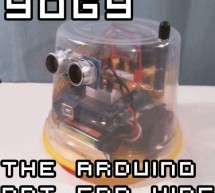 In this Instructable I will show you how to make a cute and kid friendly Obstacle Avoiding Robot I like to call Yogy. Yogy gets his name from the Yoghurt tub body he is made from. I am a sucker for seeing the best in trash and this Yoghurt tub looked too good to be thrown away. I salvaged it and decided to give it a new life, a better life, a life as a robot! You can follow through with me and make Yogy by ...
Read more

›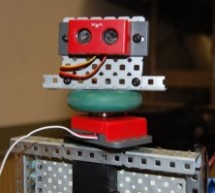 This is a step by step guide to build an autonomous navigation robot. We use the Arduino microcontroller to control this robot. We have two different programs for this robot. The first enables the robot to drive around and avoid anything that gets in its way. This avoiding obstacles program uses two ultrasonic sensors. Our other program uses 2-D arrays to map out the surrounding area. Based on the values we ...
Read more

›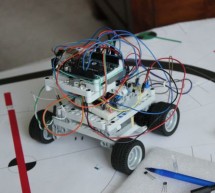 The AAA Robot is a perfect robot for beginners. It is versatile, easy to build, and discusses many of the topics roboticists need to learn, including but no limited to transistor switches, motor driving nad analog sensors. This Instructable includes step-by-step instructions on how to build your very own robot. This robot has two modes, manual and automatic. In manual mode, one pair of sensors is compared o ...
Read more

›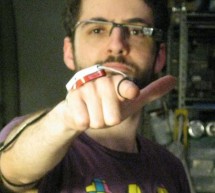 Control cyborg technology and revolutionize your PowerPoint presentations - build a wearable mouse! So you converted some video glasses to a heads-up display glass. You built a wearable Raspberry Pi, pcDuino, or BeagleBone Black. Now, how do you control your cybernetic augmentations? You make a wearable mouse, of course! The Point Shooter turns your hand into a mouse. Draw your gun gesture to activate, aim ...
Read more

›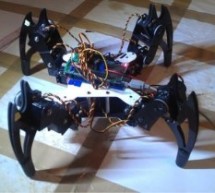 Arduino Quadruped Robot - Stalker I am going to build an Arduino Quadruped Robot. As usual, I will share my source code and show as many pictures as possible, to help those of you who are also building Quadruped robots. The way I do things might not be the best ways, and I am sure you can come up with better solutions, please let me know if you do! This robot is actually the first robot I wanted to build, b ...
Read more

›