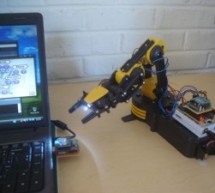 UPDATE: Added Schematic, Top Layer PCB, Bottom Layer PCB, and both Top, Bottom PCB images When I finished the  "RevIO" - an Arduino Clone that has the different way of exposing pins usage. I decided to go further to the next project. To test my "RevIO" board that it could do the bigger task than just blinking the LED! I modified the Wired Robotic Arm Edge to Wireless controlled, using my "RevIO" and DIY Thr ...
Read more

›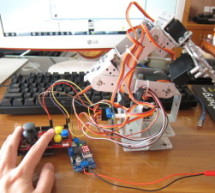 Although it is great controlling the robot arm with computer or mobile phone, I think using joystick is also cool, so I've bought a joystick shield and make a new project. This joystick shield is compatible with Arduino. It also support Nokia 5110 LCD module, nRF24L01 wireless module and Bluetooth module. It should be fun and convenient for various projects. : ) Step 1: Parts Joystick Shield Robot Arm Set 1 ...
Read more

›
Here is part 1 of the Arduino and L293D Robot.This is part of a series of instructables leading to a Line follower Robot. This is a basic Robot made by controlling two motors via the L293D chip through an Arduino Board. I have done this project in the past with similar set up just not with an Arduino Board. Do let me know what you think of this project and if I made any mistakes. Step 1: Parts Arduino Board ...
Read more

›
The figures above shows the basic idea of any robot, where we have some inputs and output devices connected to the brain and some outputs controlled by the brain. In our case we will have the Arduino like the brain. The central Brain, controls all movements of the Robot.  The sensors will do the monitoring where the light focus is and finally the motors that gives to the robot its movements to go forward, t ...
Read more

›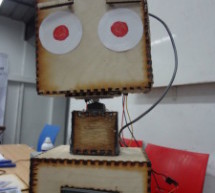 Did you hear before about Social Robot? Did you you see the Pepper Robot or Jibo robot? These kinds of robots that can hear you, understand you and make a social contact with you via sound, facial expressions and body gestures. Social robots have various applications, specifically with elderly people, children and children with a lack in social interaction such as autism. The existence of social robot "phys ...
Read more

›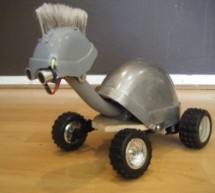 Hello, in this instructable I'll be showing you step by step how to build the TurtleDuino, an object avoidance robot, with an Arduino UNO microcrontroller on board. I designed the TurtleDuino using material from the hardware store (Home Depot) and all the electronics from sparkfun.com and jameco.com. Shopping List: Arduino UNO      (Sparkfun.com) Ultrasonic Ping))) Sensor      (jameco.com) 2 Larg Servo moto ...
Read more

›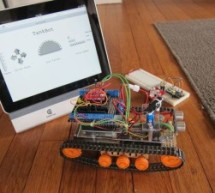 Do you remember a game called Tank Wars? This is an attempt to make a physical version of that classic arcade game. You, the player drive an Arduino powered tank and fire a laser at a target. This project uses an Arduino to control a tank through a web page. The tank is driven from a control panel on a web page, that is communicated to over a  WiFly. The tank uses a Parallax Ping to avoid obstacles, a servo ...
Read more

›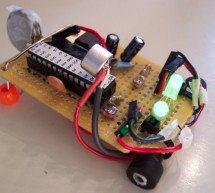 I love robots. Normally the ones I build are quite large and wouldn't fit in your pocket, but for a change of pace I decided I would try something small and fun! This robot is exactly that, and in fact fits inside of an altoids tin. It is inexpensive, versatile (so many different sensors can be used), and extremely entertaining. Check it out in action below! (Unfortunately I played with mine so much before ...
Read more

›
The FuzzBot is an awesome, fast, fully autonomous small Arduino robot that everyone loves!!!  It uses the compact Pololu ZumoBot Chassis kit for a great drive system, and uses a Parallax Ping sensor to sense proximity, to make the FuzzBot fully autonomous.  I like to think of it as a cheap & hackable "mini Roomba" because it uses a Swiffer Duster on the back to pick up any unwanted dirt off of the floor ...
Read more

›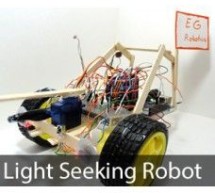 LDR Robot with IR and a Servo The LDR/IR Robot is designed to seek out light and avoid obstacles. The robot uses the Light Dependent Resistor to seek out light and the Infrared Sensor to detect and avoid objects in its path. The following are instructions with pictures to show exactly how we built our robot. Your robot can be designed the way you desire and in your own order. At the end of this manual you w ...
Read more

›
Starting with robotics can be hard, if you don't know where and how to start. Best way to start is to make mobile robot. In this step-by-step we will show you, how to make cheap robot with parts available in your local store and household. Before you start you should make some plans how platform should look like. We did some sketches how robot should look like. Later we made some modifications so everything ...
Read more

›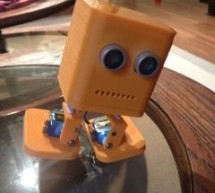 Did you buy an arduino after seeing all the cool instructables and now you tired of just making LEDs blink? Are you envious of all the cool walking robots people are building but don't have the experience or cash for all of those servos and expensive brackets? Here is your solution meet BoB the 4 servo mini biped robot. Bob is both easy to build and very cheap to assemble and yet is loaded with personality ...
Read more

›