After I finished my last project,  I coudn't stop thinking how to build an AM receiver, that would also operate in conjunction with my little friend Arduino. To minimize a workload and complexity, especially with RF part of the circuitry, I come up to conclusion, that SDR (Software Defined Radio) is the best choice for hobbyist level project. There are 4 major functional parts so far ( work in progress! ): ...
Read more

›
This example is designed to be used with a Processing sketch. Processing is an open source programming environment. The application on the computer reads the sensors on the Esplora board and controls the buzzer and the RGB LED through a graphical interface. The image in the Processing application mirrors the Esplora board, so you'll see a virtual version of your board. If you don't have Processing installed ...
Read more

›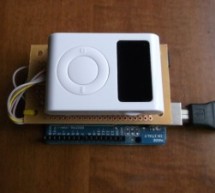 I've been visiting local convenience store (Dollarama, here in Montreal, Canada) and notice nice looking FM Radio, just for only $3. Why not to try to interface it to my lovely Arduino? Idea looks quite challenging, the same time what is the point in interfacing a DSP radio shield to arduino? I don't need a radio, I want to have fun experimenting with it, so  lets go to the bare metal! You, probably, could ...
Read more

›
Who would have thought that just about every Arduino attachment can be controlled in some way with a TV remote? Now its time to find out how. Arduino.skp141 KB Step 1: Setup and Materials The setup for this is quite basic. The real challenge is finding neat products for this and writing the code. Materials. 1x Arduino 1x Servo available @ Hobbyking Sparkfun etc. Jumper wires 1x Infrared receiver diode avail ...
Read more

›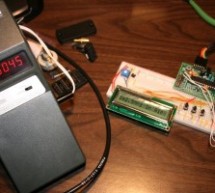 I have two good AM transmitters - one I'd built using a single 6888 Tube plus an old KnightKit Broadcaster that I'd refurbished, as well as a high-quality solid state transmitter from SSTRAN that I use to play music over the several antique AM radios I've repaired or refurbished. I wanted a high-quality FM Stereo transmitter to stream iPod / iTunes output around the house and to my FM-band radios. FM Stereo ...
Read more

›
This instructable shows how to build a shield to connect devices that send MIDI signals (e.g. a masterkeyboard) to an Arduino. The basic schematic is derived from: http://www.arduino.cc/cgi-bin/yabb2/YaBB.pl?num=1187962258/ Step 1: The schematic Basically the schematic is just an optocoupler with some resistors to decouple the MIDI device from the Arduino. Note that the DIN connector on the left side is see ...
Read more

›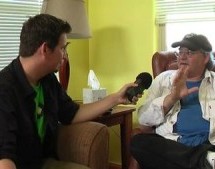 This time on the show we continue coverage of Toorcamp 2012 - the American Hacker Camp. This time Darren speaks with Rob Eby about packet radio as an extension of the Internet. Plus what could be better than flexible individually addressable RGB LED strips? %1 controlled by Arduino! All that and more! ...
Read more

›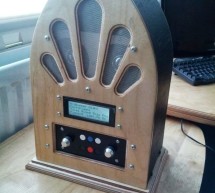 I was looking for a project to do with my Raspberry Pi and found thisInstructable and thought I would have a go at something similar which worked with Google Play Music. I had a rough idea of what I wanted the final item to end up like and was able to get my dad interested in helping me with the design and construction of the enclosure. All code and CAD drawings can be found in the GitHub repo. Before we be ...
Read more

›
Waveform generators (also called function generators) are useful for testing and debugging circuits. They can be used to test the frequency response of electronic components like op amps and sensors or to characterize and troubleshoot audio effects boxes and pedals. This waveform generator shield is powered by an Arduino. It outputs four waveforms: sine, triangle, pulse, and saw, each waveform ranges in fre ...
Read more

›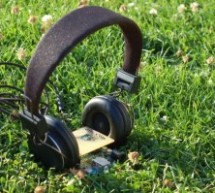 This Instructable will show you how to build your own FM radio receiver shield to be used with an Arduino board. The radio chip we are going to be using is the AR1010 on a breakoutboard found at Sparkfun or Electrokit and there will be code to get you up and running provided later on. We are going to use an laser cutter for the shield fabrication. Step 1: Eagle 1 First we build up our circuit using eagle. T ...
Read more

›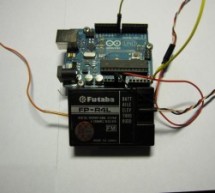 I recently dug up my old RC transmitter and receiver and thought "How can i control my arduino with this?" so i powered on my scope to see what was going on at the receiver. Sure enough, it was sending out the standard PWM signal that servos use. Now I just needed something to control. What's easy and fun to control? LED's of course. Step 1: The Receiver To begin with i had to figure out what pin on the rec ...
Read more

›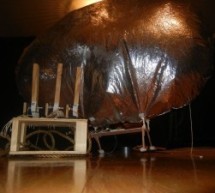 The blimp is controlled by a transmitter on the ground, operated by a human. There are three control levers-- one for each motor, and one for the servo that rotates the axis they're attached to. You push / pull to make the motors speed up or slow down; they're controlled individually, it's like driving a tank. You need two Arduinos - one for the transmitter and one on the blimp itself. I generate the hydrog ...
Read more

›