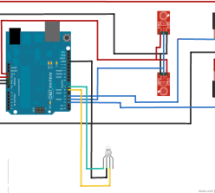 I have an Arduino Uno connected to two IR transmitters and respective receivers. Basically, when one of the receivers detects a beam break, I have a strand of LEDs display a pattern. This all works in principle, but the problem is that when the IR transmitters and receivers are connected to the Arduino, the LEDs flicker with random colors. The specific parts I'm using: Adafruit 36mm 12V LEDs (http://www.ada ...
Read more

›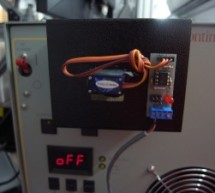 One of my colleagues, Dr. Shane Mayor, has built a very nice LIDAR system for atmospheric research. It's located at a remote site, at the end of a dirt road, and everything about the system can be controlled remotely except the main pump laser power supply. That supply has a key-switch, which has to be manually turned to activate the system. He asked me to see what I could do to make it all remote-controlle ...
Read more

›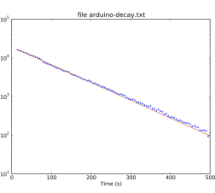 My students need to learn LabVIEW —I know, it's proprietary software, and expensive, but until a viable open-source equivalent comes along we're stuck with it— and one of the exercises I have them do is to make a program to analyze radioactive decay. This gives them experience in using counters, plotting data in real time, curve fitting, etc. The problem arises when I have a dozen students and not so many g ...
Read more

›
This project used the Si470x FM radio receiver and an ardurino to make an over the counter kitchen radio. These parts had been purchased for a different build that unfortunately met a premature end. The concept for this project is simple. Play my favorite news and music radio stations while having a form factor that does not take up space on the kitchen counter. I have a small push button that toggles betwe ...
Read more

›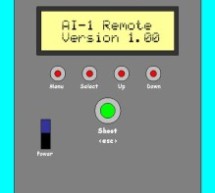 Introduction August, 2007  One of my other hobbies is photography, and, about a year ago, I purchased a new digicam - a Panasonic FZ30. I joined the Panasonic forum on the dpreview site. One of the posters, a programmer and electronic hobbyist, designed a nifty wireless remote using a very inexpensive RF transmitter/receiver combination that he found on eBay. After he'd perfected that, he began designing an ...
Read more

›
What does a smart snow globe do? It tells you if tomorrow's going to be a snow day! Is it snowing tonight? Will you have the day off from school or work tomorrow? Put this snow globe next to your bed when you go to sleep to find out. Then when you wake up in the morning (or middle of the night) you can give the snow globe a shake and it will light up in a specific color to tell you whether you can stay home ...
Read more

›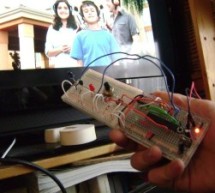 Have you ever wanted to use a good old knob to control your TV volume instead of repeated button pushing? Or make it controlled by light? Do you want your remote to be replaced by an awesome arduino and let it do the hard work of using a remote for you? Well this instructable is for you! Also if you just want to learn how to use IR to control your TV with your arduino this will help you gain some understand ...
Read more

›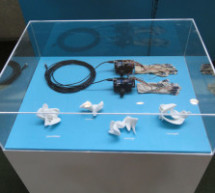 This is what came out of my attempt at combining some of my favorite tools and themes...Grasshopper, 3D printing, kinetic motion, and linguistics. I put these gloves on my friends, asked them to tell me a story, and used Grasshopper to record the data from their hand gestures. While these gloves are far from precise instruments, they still produced some interesting forms which I later 3d printed. Step 1: Gr ...
Read more

›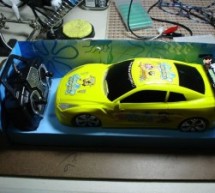 OBJECTIVE Cheap Chinese RC toy cars can be had for about 5 Euros in the local market. The wireless brains behind the majority of these cheap RC toys is a pair of very cheap ICs the TX2 and the RX2. Yup, that's what they are called. So this tutorial is focused on the TX2/RX2 based remote controlled toys. I bought one RC toy car a while ago and used the Arduino with an IR sensor to drive it. Then I figured wh ...
Read more

›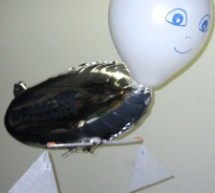 Is it flying seal? A flapping alien? No it's a ZAPpelin, an Arduino controlled indoor blimp, setup to learn in the signals from an IR remote to command it. This project came to life at the third Arduino Jam Februari 15th to17th 2013, at Timelab, Ghent, Belgium. Our team consisted of: -charles32 -mgossye -myself (masynmachien) The main challenges we set ourselves: - Keeping the weight down. The Zappelin shou ...
Read more

›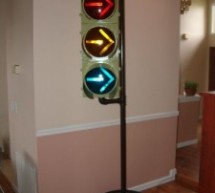 I had a traffic light that I was refinishing.  The only thing left to do was to build the controller for the light's signal patterns.  To give it a twist I incorporated a remote control.  This was also the perfect opportunity for me to try out an Arduino.  I wanted to use the Arduino becuase it was easy to use on both MAC and Windows. Step 1: Define the Project To start an electronics design project first d ...
Read more

›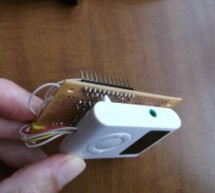 If you have read my first blog on the topic, than you already know what I'm experimenting with. Low price FM Radio, build with TDA7088 / YD 9088. It was obvious, that technology from the early 90-x is outdated. I mean, simple "search and hold" function of the radio. Scan function works only one way, up in the frequency. After switching power "on/off" you have to tune it again on your preferred radio wave. Y ...
Read more

›