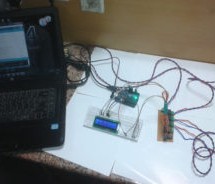 This project explains designing a home automation system which is controlled by a computer to switch On and switch Off various electrical and electronics devices. For demonstration we have used 3 zero watt bulbs which indicates LIGHT, FAN and TV. It uses Arduino Uno board as a controller and a 5V relay to connect light bulbs with the circuit. There could be various types of communications to control devices ...
Read more

›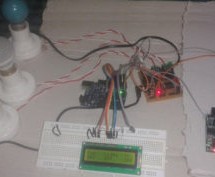 Mobile phone is a revolutionary invention of the century. It was primarily designed for making and receiving calls & text messages, but it has become the whole world after the Smart phone comes into the picture. In this project we are building a home automation system, where one can control the home appliances, using the simple GSM based phone, just by sending SMS through his phone. In this project, no ...
Read more

›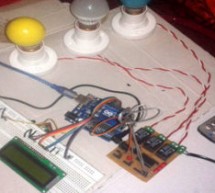 Previously we have covered many types of Home automations using different technologies like DTMF Based Home Automation, PC Controlled Home Automation using Arduino, Bluetooth Controlled Home Automation. In this project, we are using IR based wireless communication for controlling home appliances. In this project, Arduino is used for controlling whole the process. We send some commands to the controlling sys ...
Read more

›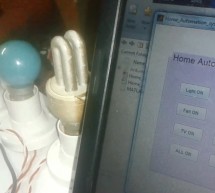 We all are familiar with the word 'Automation', where the human interaction is minimal and things can be controlled automatically or remotely. Home automation is very popular and demanding concept in the field of Electronics, and we are also making our best efforts to make this concept easily understandable and manageable as Electronics Projects. We have previously developed several types of Home Automation ...
Read more

›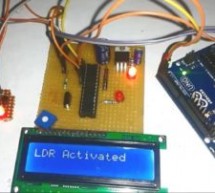 Arduino is an open-source development platform for engineers and hobbyists to develop electronics projects in an easy way. It consists of both a physical programmable development board (based on AVR series of microcontrollers) and a piece of software or IDE which runs on your computer and used to write and upload the code to the microcontroller board. Arduino uses a boot loader. Boot loader is a piece of so ...
Read more

›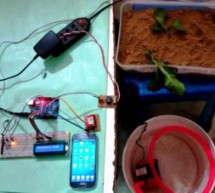 Whenever we go out of town for few days, we always used to worry about our plants as they need water on regular basis. So here we are making Automatic Plant Irrigation System using Arduino, which automatically provides water to your plants and keep you updated by sending message to your cell phone. In This Plant Watering System, Soil Moisture Sensor checks the moisture level in the soil and if moisture leve ...
Read more

›
This Instructable shows you how to build a micro-controller based weather monitoring device. Built on the Arduino Uno board it can easily be extended and modified should you have additional sensors at hand. Main requirements: - Measure temperature (accuracy +/- 0,5 degree Kelvin) - Measure barometric air pressure (+/- 0,1 Pascal) - Display measured values on a LCD on demand by pressing a button Main compone ...
Read more

›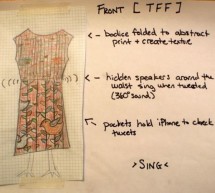 The idea of this dress comes from a series of tweets with online friends @shineslike and @arduinogirl.  @shineslike and I had taken a half day Arduino workshop given by @arduinogirl at the MCN 2011 conference. I was immediately inspired creatively by the sensory and interactive opportunities. Over the next few months I struggled with the electronics learning curve, but my ever supportive online friends real ...
Read more

›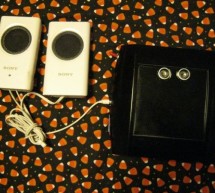 So my boss came to me one last week and said he wanted to scare the trick-or-treaters who came to his home, and the kids who would come to work during a special Halloween Walk the community does. Thus was born the talking pumpkin. In short, I used an Arduino, an SD card read/writer, and an ultrasonic sensor to trigger a sound byte when the kids walk past our pumpkin… something they would not expect. If you ...
Read more

›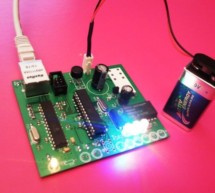 This instructable describes how a simple but powerful webserver used for controlling of home appliances can be done. The hart of the circuit is the ATmega328 microcontroller. I have chose this because I wanted to use all available Arduino libraries compatible with them. The Ethernet chip used is ENC28J60. A lot of Arduino libraries exist also for it. The webserver is designed in the way that it control 4 ch ...
Read more

›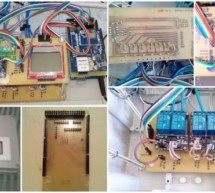 News: In this latest months I've made some important fixes and improvements to the code and to the webserver of the project. See datura_mega_v19.ino for the latest code. The most functional project over internet – Use it as a complete irrigation system for your garden, or use it to control your aquarium, or just to control any kind of devices at home. The imagination is the only limit. Features Arduino prog ...
Read more

›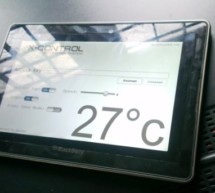 Its been awhile since i last posted something here. Was kinda busy with my university exams & all! Idea for this project was in my mind for very long & i don't think anyone would've done this project with Autohotkey! Anyway, this is a necessity for me, honestly i'm a super lazy person   & i don't like getting up to switch on fan/light even though the switches are just 3 footsteps away!   From th ...
Read more

›