We have used the pda with a desktop computer (robot) and with the Nslu2. Here we are going to use an old pda with serial port.to act as an lcd. Everyone either has one or knows someone who has an old pda that they do not use anymore.  Ask them if you can borrow it get get it cheap. Though it is not demonstrated here, you could also use the pda for input,  Therefore you can easily interact with your Arduino ...
Read more

›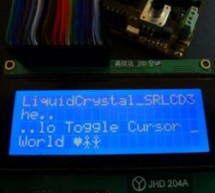 This post is based on the work made previously by tomek in wiring LCD displays using 4 bits. The basic idea is to group the 7 pins that are needed to drive the LCD in only 3 using a shift register. This is a cheap alternative to serial LCDs. The schematic shows that wiring the LCD is a simple operation. It has been drawn in a way that makes it possible to develop this as part of a single sided PCB including ...
Read more

›
I show how to use a standard 16X2 LCD display in three different use cases. 1. With an Arduino Uno 2. With a TI Launchpad MSP430 running Energia 3. Directly on a breadboard on an MSP430G2553 running Energia This LCD display is low cost - I paid $2.26, shipped, on Ebay. It uses the standard Hitachi 44780 controller, and has a pretty blue back light. ...
Read more

›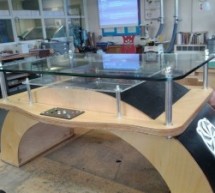 One quick fore note: this is my first Instructable and my first large Arduino project, so if you see any stupid errors or have an idea of how things could be done better, then please let me know. Now that that's out of the way I'll begin, I started designing this around September last year as my A2 Product Design project and thought that it might make a good Instructable once it was finished. The design of ...
Read more

›
Description The DS90UH925Q serializer, in conjunction with the DS90UH926Q deserializer, provides a solution for secure distribution of content-protected digital video within automotive entertainment systems. This chipset translates a parallel RGB Video Interface into a single pair high-speed serialized interface. The digital video data is protected using the industry standard HDCP copy protection sch ...
Read more

›
This Arduino project will display RSS feed headlines on an LCD via an Arduino and a USB cable. It works quite well, and lets you keep up with the world news while you're sitting at your desk. Many of the values in the code can be changed, and the system can be adapted to display Twitter and other information as well. It uses Python to interface with the Arduino. All of the code and instruction provided is d ...
Read more

›
I love Ardunio. I love the things that people make with them and I love to make my own. Last August I published an Instructable on how to make your own postage stamp sized Arduino compatible. This Instructable will show you how to to make a rugged, versatile Ardunio compatible with basic components on board. It will be more suitable for deployment in the real world than a bread board attached to a developme ...
Read more

›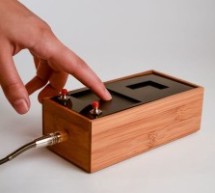 This project is a part of experiments done while doing an artist in residence at Instructables. You can see the other projects here. Inspired by Korgs Kaossilator I took it upon myself to build an opensource version of it. This way people can design new ways of interacting with the touchpad. The basic principle is creating sound via a trackpad. This enables you to create an instrument with quite wobbly poss ...
Read more

›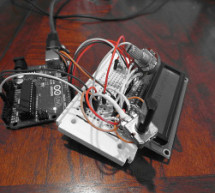 Step 1: Ingredients: Electronics Arduino Breadboard LCD* 2x 50k pots 150 ohm resistor Jumper wires, and tons of them! If you do not want to use a LCD then you will have to use serial monitor. Wherever you see lcd.print just change it to Serial.print. Instead of lcd.begin change it to Serial.begin(9600);. Step 2: The LCD So the first thing I did was go to the Arduino website and see how to hook up my LCD scr ...
Read more

›
Adding an LCD display to Arduino projects can add real value but the cost of doing so can be significant. Not a financial cost - you can pick up 16 (characters) x 2 (rows) LCD for as little as £3.50. The cost is the pin count it can take to drive them. Using the built-in LiquidCrystal Display library it can take as many as 6 pins! That does not leave much for your sensors, motors and other components. There ...
Read more

›
It's my first post in English on this blog, just to get to the broader English crowd of the maker world. I'll present my latest project, the fifth iteration in my quest to create a remote control for my DSLR. There's a night-mode, where all the LCD turns red, useful for astro-photography, when you need to be able to look at it without compromising your acquired night vision. The interface is limited to a si ...
Read more

›
This Instructable shows how to create a Barcode Reader using only a webcam together with Roborealm and Arduino. The webcam used in this demonstration is the Logitech Quickcam and the LCD screen is labelled, JHD162A. What you need for this project: 1. Arduino UNO 2. LCD 3. Roborealm 4. Potentiometer Step 1: Coding the Arduino First of all, start by coding the Arduino to successfully output words on the LCD. ...
Read more

›