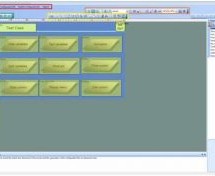 We are changing the way we use the STONE Trademark LCD with the Arduino. You can connect to the official page of the LCD. These screens will communicate with UART or RS232 as if they were on the same Nexton screen. If I were to do a comparison, the Nextion display has some extras and minors. I think the biggest minority editor does not have a simulator. A feature that speeds up testing when simulating anima ...
Read more

›
This project started as I had to create a project for the HKU with an arduino. It had to be something which would be either entertaining or solving a certain problem. For which I chose to pick the entertaining part. In the end combining multiple elements of things I love in to this product. In this project you will find the process I went through to get to my final product, as well as how to create this min ...
Read more

›
While you might think of radar pointing toward the skies, applications for radar have found their way underground as well. Ground-penetrating radar (GPR) is a tool that sends signals into the earth and measures their return to make determinations about what's buried underground in much the same way that distant aircraft can be located or identified by looking for radar reflections. This technology can also ...
Read more

›
I was having a discussion with my other half about football and money and the subject came round to betting. Whenever he goes to the match his mates all chip in a few quid and they put a bet on. The bet is usually the final score AND either the first or last goal scorer. Needless to say they never win any money. We decided to make that money work for us instead – so we will enjoy the excitement of a bet whi ...
Read more

›
These are assembly instructions for the LCD Temperate Shield with buzzer that i am going to be selling soon. Please note, all the photos are my own, but are of one of my Prototype stage boards, and are subject to change, the production boards WILL look different and may have slightly altered layout, but the directions are similar, and once i get production going, i'll update the photos. Link to my site with ...
Read more

›
This project is an extension or remix of my original Portal Turret on Instructables (Portal-2-Turret-Gun). It can also be used as a cheap controller to control anything that uses the nRF24L01 radio chip. The LCD screen is particularly useful when customizing. https://youtu.be/8gPdsQ2TPBI (It turns out to be quite useful in checking when my radios establish and lose connections with other nRF24L01's on the " ...
Read more

›
This Instructable will show you an easy way to wire up an Arduino Nano to various PCB breakout boards. This project came about during my search for an effective, but non-destructive way to interconnect several module. I had five modules I wanted to interconnect: An ArduinoA 5-inch 800x480 graphical LCD touch panel from Haoyu electronicsAn SD card readerA DS1302 real-time clock unitA MAX485 RS-485/RS-422 tra ...
Read more

›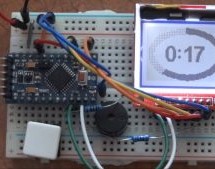 Feature creep is typically something to be avoided, since watching a relatively simple project balloon into a rat's nest of complexity often leads to ineffective, or even abandoned, projects. On the other hand, if you can maintain a tight focus, it's not always a bad thing. [cbm80Amiga] shows us how to drill down and add specific features in this single-button timer without losing focus on what the original ...
Read more

›
TFT touchscreens are the amazing graphical interface which can be used with microcontrollers such as Atmel, PIC, STM, as it has a wide color range, and good graphical ability and a good mapping of pixels. Today, we are going to Interface 2.4 inch TFT LCD Shield with Arduino. This shield is for Arduino UNO, but I'll teach how to use it with Arduino Mega for a very logical reason, the "Program Memory". By usi ...
Read more

›
I have been a school teacher for most of my adult life, and like most students, I look forward to the long summer break that awaits us each year. This year as one of my classes learned the basics of LED control with Arduino and then graduated on to displaying simple messages with 4-digit 7-segment display units, I came up with an idea to display a countdown to the end of the school year on the corner of my ...
Read more

›
This instructables show how to combine Arduino Esplora and M5Stack to make a NES game console. Step 1: What Is Arduino Esplora? Arduino Esplora is an Atmega32U4 AVR microcontroller board. It is unique Arduino boards, because it built-in various input sensors out-of-the-box, including a joystick, 4 push buttons, a slider, a temperature sensor, an accelerometer, a microphone, a light sensor, etc. And also Ard ...
Read more

›
https://youtu.be/UDwan_kk5Yc This project is my implementation of an alien themed slot machine using two ATmega328P-PU micro-controllers. The slot machine is for entertainment and educational purposes only. I tried my best to make the game simulate a real slot machine as closely as possible. The project is completely built. An enclosure was added after the parts arrived from China and I soldered everything ...
Read more

›