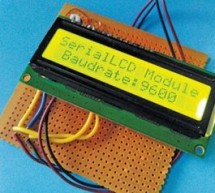 In most electronic systems, it is necessary to provide information in the visual form for a convenient user interface. The most commonly used displays in electronic systems are LED, LCD and TFT. Amongst these, an LCD display is the most cost-effective solution as it can display alphanumeric characters along with special user-defined symbols. It also contains an integrated controller which frees up the main ...
Read more

›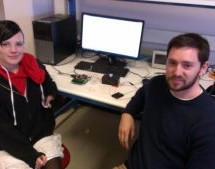 The purpose of this project was to design a functioning digital meter to measure voltage, current, and resistance to a known accuracy. The project involved the integration of hardware and software to take an input measurement signal from a pair of high and low leads that was then displayed on an LCD per the rotary selection switch (similar to the operation of most commercial digital multimeters). Dig ...
Read more

›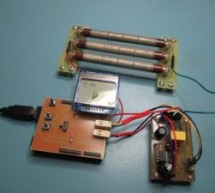 In the previous posts I've described a simple Geiger–Müller counter and various experiments with this device. Today I would like to present Arduino project to communicate with a Geiger-Muller counter, gather data and present it to the user. The device is based on Arduino Uno, Nokia 5110 LCD and homemade shield. Currently it's possible to show two layouts: bar graph of the pulses in one minute interval and h ...
Read more

›
Step 1 Scavenging Parts What I'd like to do for this crazy/ambitions project is turn an old cell phone into a smartwatch. So obviously an old cell phone is required. The primary reason for this project is simply that I had an old cell phone laying around and wanted to find a creative way to repurpose it. The one I had is a Nokia 1100, but most other old cell phones would work, so long as you can find the sc ...
Read more

›
While working on a new Instructable (coming soon) I had decided to use an Arduino Uno with an LCD/button shield I purchased off of AliExpress. It's a knockoff of the DFRobot Shield. I knew that I needed a menu for my project but was becoming so disillusioned with the terrible menu template programs available for the Arduino Uno. Many of which were not designed to work with this shield. I decided to make my ...
Read more

›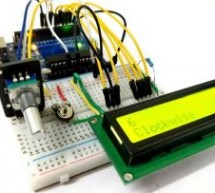 A Rotary encoder is an input device which helps the user to interact with a system. It looks more like a Radio potentiometer but it outputs a train of pulses which makes its application unique. When the knob of the Encoder is rotated it rotates in form of small steps which helps it to be used for stepper/Servo motor controlling, navigating through a sequence of menu and Increasing/decreasing the value of a ...
Read more

›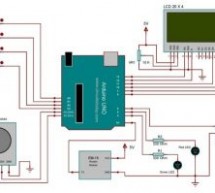 An RFID based Attendance System is a very interesting project which can be used in different places say in Schools to register the attendance of students and teachers, Private organizations to tabulate monthly working hours of employees and automatically calculate salary based on the number of hours registered in the office and other similar kinds of applications. An RFID based attendance management system ...
Read more

›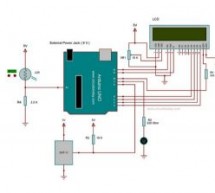 Smart LCD  with Automatic Brightness Adjusting Using Arduino and LDR Sensor Here is a simple Arduino project that focuses on adjusting the brightness of an LCD screen whenever there isn't  sufficient light in a room. The Arduino reads the surrounding light intensity using an LDR sensor.  The room temperature and humidity range will also be displayed on the LCD. The entire hardware of this simple project usi ...
Read more

›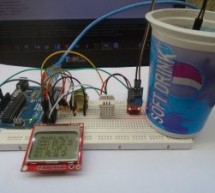 Learn to Build Arduino Weather Station using DHT11, Soil Sensor, and Nokia Display In this project tutorial, we are going to make an Arduino weather station using 2 sensors; FC-28 soil moisture sensor to measure the moisture and the DHT22 sensor to measure the temperature, humidity and the heat index. All the measured parameters (with the help of sensors) will be displayed using Nokia 5110 LCD. Before we pr ...
Read more

›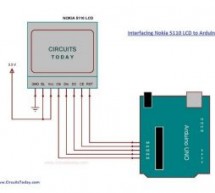 Interfacing Nokia 5110 LCD Display To Arduino In this article, we are publishing a project tutorial which explains different aspects of interfacing a Graphical LCD (GLCD ) Nokia 5110 with Arduino. Nokia 5110 is a  48 x 84 graphic LCD that has an internal controller PCD8544 to control all displays and operations. The Nokia 5110 is interfaced to the microcontroller through a serial bus interface. After going ...
Read more

›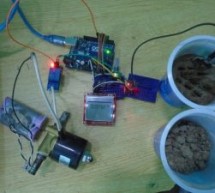 In this project, we are going to build an automatic irrigation system using Arduino which senses the moisture of the soil and opens or closes the valve according to the moisture value. The moisture value and the valve status is shown on the Nokia 5110 LCD display. Before we proceed, let's take a look at another project – a plant watering system using Arduino, which is very similar to our application. You ma ...
Read more

›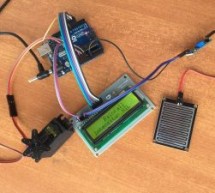 Automatic Rain Sensing Wiper Using Arduino  This project is designed to build a car wiper that automatically detects the rainfall intensity and regulates the frequency of wiper operation. It is built, using Arduino UNO board. A rain sensing module is used for measuring the intensity of rainfall. And a servo motor is used for controlling the wiper movements. An LCD module is also attached to the controller f ...
Read more

›