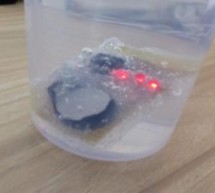 Story I went for a shower one day, was getting late for office. Running tight on time, but I didn't want to come out of hot shower in cold morning. Without any clock in my bathroom I was saying to myself "Lets enjoy the shower for few more minutes, I might be over estimating the time". Result: I got really late to my office. Solution: Put a clock in your bathroom. Nooooo. Why would I put a clock in my bathr ...
Read more

›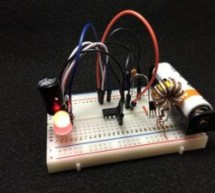 Introduction I've been fascinated with joule thief circuits since I made my first one. It's amazing what all you can power from a single AA or AAA battery. The only problem is you can't do much beyond light up an LED because the current isn't "always on". With a couple of extra components, you can take your joule thief to the next level! While this circuit isn't particularly useful o ...
Read more

›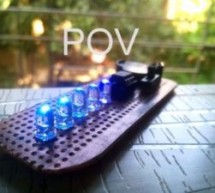 Persistence of vision is an optical illusion, it works on a simple phenomenon how our day to day television works. MY first pov was six months before with arduino uno and with motor. However it is best to have a small and portable device that can be carried anywhere and image can be seen without any external motors or fan. This small portable pov version uses attiny 85 ic, smaller variant of arduino uno tha ...
Read more

›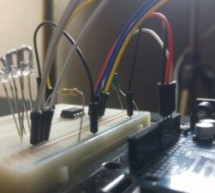 Today, we are going to build a circuit to program an ATtiny85 with our Arduino. Supplies We are going to need the following: Some jumper wires 1 x 10 micro farad capacitor The ATtiny85 Chip A breadboard An Arduino For Extra visual's (that are not really required) I'm going to add: 3 LED's 1 x 330 Ohm Resistor And some extra jumper cables Before we start with the circuit build, head over to the Arduino IDE. ...
Read more

›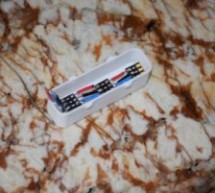 Stand out from the crowd with this unabashedly ostentatious excuse for a wallet. It's got plenty of space, RGB lights, and you can even put your name on it for added vanity. Interested? Keep reading! In the files section of this build you can find two things: a Fusion archive and some STL files. If you're just interested in printing a blank wallet without any text on it then download the STL files. Load the ...
Read more

›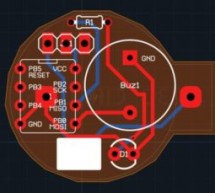 Small enough to slip in a mint tin, yet loud enough to be heard across a house at only a few dollars per unit. A nice combination for a pretty good prank! Let's dive in! Step One: The Circuit You can purchase the printed circuit board from OSH Park using the link in the parts section of this build. You by no means need to use an ATtiny or my own printed circuit board. This circuit would take a grand total o ...
Read more

›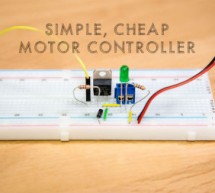 I've used this simple circuit several times to drive motors (like in my Stair Climbing robot) as well as solenoids. I originally picked it up from this instructable which is focused on controlling a solenoid. I wanted to isolate this circuit in its own Instructable as a motor driver so I could easily reference it from other future instructables and also provide example code to show how to use it in this man ...
Read more

›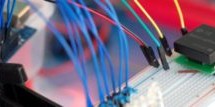 A few weeks ago we showed you how to control your arduino over serial. Well this week are going to do the same thing. Only this time instead of using the serial monitor to send the commands, we will be using the Innovations ID line RFID reader. RFID, or Radio Frequency Identification, is basically a wireless barcode, and in this implementation works by a reader sending out a signal that powers a "tag", the ...
Read more

›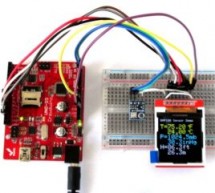 The BMP180 is a new generation digital barometric pressure and temperature sensor from Bosch Sensortec. In this tutorial, we will briefly review this device and describe how to interface it with an Arduino Uno board for measuring the surrounding temperature and pressure. We will also discuss about retrieving the sensor altitude from its pressure readings. Experiment setup Bosch Sensortag's BMP180 ...
Read more

›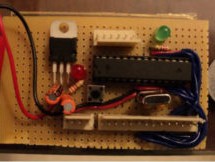 Want to save money by making your own Arduino clone boards? Or want to make a custom board specifically for your needs, then this project is for you! Make Arduino board from cheap electronic components available at your local store. Just follow these simple step by step instructions. Have fun with this DIY hacking tutorial! Required Materials Hardware An Arduino bootloader ATmega328/168 or any compatible At ...
Read more

›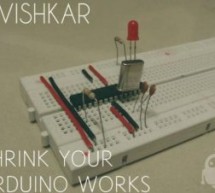 When you make a project using Arduino, it usually contains a lot of jumper connections on the breadboard and the project will not be a permanent one. If you want to make any other project using that Arduino, you will have to remove all the connections made on it and to rebuild the same project, you need to start over again. Shrinking Arduino projects makes them smaller in ...
Read more

›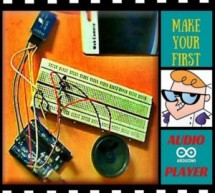 This Arduino project is a simple and fun project you can build in 10-15 minutes. The result of this make will be an Arduino audio player that plays ".wav" files. It consists of a speaker, a simple transistor acting as an amplifier, and a micro-SD card adapter with a micro-SD card in it where the .wav files are loaded and played. Required Materials Hardware: Arduino Uno (Any other Arduino except Duo wil ...
Read more

›