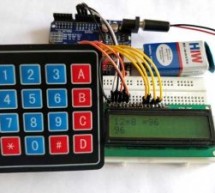 Programming is always fun and Arduino is a wonderful platform if you are just getting started with Embedded programming. In this tutorial we will build our own calculator with Arduino. The values can be sent in through a keypad (4×4 keypad) and result can be viewed on a LCD screen (16×2 Dot-matrix). This calculator could perform simple operations like Addition, Subtraction, Multiplication and Division with ...
Read more

›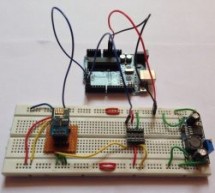 I learnt about Arduino 2 years ago.So I started playing around with simple stuff like LEDs,buttons,motors etc.Then I thought wouldn't it be cool to connect to do stuff like displaying the day's weather,stock prices ,train timings on an LCD display.I found that this could be done by sending and receiving data through the internet.So the solution was connecting to intenet. There began my search on how to conn ...
Read more

›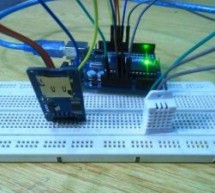 In this project, we are going to make a temperature and relative humidity data logger. Arduino is the brain of this project. DHT22 sensor is used for sensing temperature and relative humidity. Arduino Uno is programmed to read temperature, humidity values from DHT22 sensor and save it to a file in an SD Card. So whenever required we can take the SD Card for viewing data. Here we will take data from SD card ...
Read more

›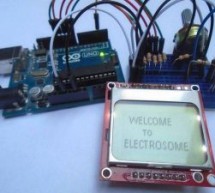 In this project, we are going to make a Digital Thermometer using Arduino Uno. We will use DS18B20 temperature sensor to sense the temperature and Nokia 5110 LCD to display it. DS18B20 is a 1-Wire digital temperature sensor manufactured by Maxim Integrated and is capable of reporting degree celsius with 9 ~ 12 bit precision. Components Required Arduino Uno DS18B20 Temperature Sensor Nokia 5110 LCD 1KΩ Poten ...
Read more

›
In my previous Instructable I have described how to plug the ESP-01 module into a breadboard. This is just the first step to make a cheap Arduino WiFi shield using the ESP8266 module. With few more electronic components and the WiFiEsp library you can build it for less that 10 USD. Step 1: Components Here are the components you need Arduino board - In this example I'm using an Arduino Uno board but I person ...
Read more

›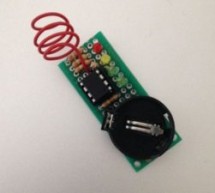 Story This is a simple tutorial to create an EMF detector. You can use Arduino for this job, but is better use a microcontroller called Attiny85. It is possible program it throe the Arduino interface. What is a Magnetic Field [from Wikipedia] An electromagnetic field (also EMF or EM field) is a physical field produced by electrically charged objects. It affects the behavior of charged objects in the vicinit ...
Read more

›
Story The Nokia 5110 is a basic graphic LCD screen for lots of applications. It was originally intended to be used as a cell phone screen. This one is mounted on an easy to solder PCB. It uses the PCD8544 controller, which is the same used in the Nokia 3310 LCD. The PCD8544 is a low power CMOS LCD controller/driver, designed to drive a graphic display of 48 rows and 84 columns. All necessary functions for t ...
Read more

›
In this Instructable I am going to show how to use an Arduino board and BitVoicer Server to control a few LEDs with voice commands. I will be using the Arduino Micro in this Instructable, but you can use any Arduino board you have at hand. The following procedures will be executed to transform voice commands into LED activity: Audio waves will be captured and amplified by the Sparkfun Electret Breakout boar ...
Read more

›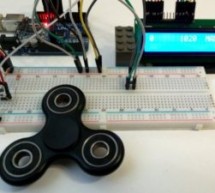 Hi everyone! This is my next project, Fidget Spinner RPM Counter or Arduino Tachometer with Hall-Effect Sensor. 1: Requirements Parts Required: Fidget Spinner neodyimium magnet Arduino Uno LED + resistor 220 Ohm Hall-Effect Sensor - a3144 resistor 10 k Wires Breadboard LCD 1602 2: Hall-Effect Sensor Using Hall-Effect Sensor we can measure the speed of rotation. I used Hall-Effect Sensor - a3144. RPM (Revolu ...
Read more

›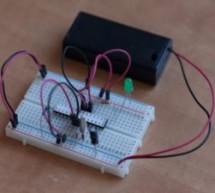 Story When it comes to portable electronics, one of the most important features is how to maximize the battery life. The ATmega328P, used on popular boards like the SparkFun RedBoard, Arduino Uno, and Pro Mini are actually quite power hungry. The RedBoard and Arduino Uno, draw around 15mA minimum, which doesn't sound like much but as you'll see in this project, we can drastically bring that down with just a ...
Read more

›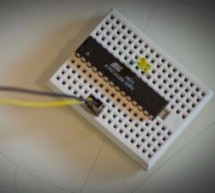 Story I have been working out ways to make a minimal Arduino to fit in the smallest space possible, and limit the power consumption of the microcontroller. (You can go through this project for more info about reducing power consumption at: Reducing Arduino Power Consumption). You can assume this one is an extended version of that project. An Arduino consists of many components like linear regulator, USB to ...
Read more

›
Story A bit of background. My brother came to me with an odd box that a friend of his asked someone to make so that they can determine the fastest contestant to push a button. The box consisted of some LEDs, two buttons, and two sets of bicycle bells that made some weird noises. It did light up and make noises, but it did not actually serve the purpose it is made for, which is to actually determine the firs ...
Read more

›