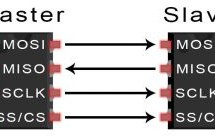 When you connect a microcontroller to a sensor, display, or other module, do you ever think about how the two devices talk to each other? What exactly are they saying? How are they able to understand each other? Communication between electronic devices is like communication between humans. Both sides need to speak the same language. In electronics, these languages are called communication protocols. Luckily ...
Read more

›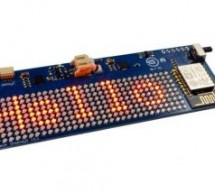 Makers, developers and electronic enthusiasts may be interested in a new Arduino programmable Internet connectable LED matrix display launched via the Crowd Supply website this week, which is now available to back with early bird pledges available from just $29. The LED display is available in six different colours including white, blue, red, orange, green and purple. Watch the demonstration video below to ...
Read more

›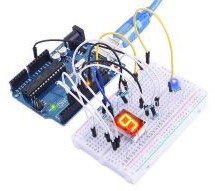 Arduino is an easy-to-learn prototyping platform that lets you create interactive electronic projects. This Arduino compatible kit is the one I recommend to people who ask me how to get started. The reason I recommend it is because it's very cheap and it has a bunch of components that would cost a lot more if you were to purchase them separately. Two things it doesn't have, but should if you really want to ...
Read more

›
In this instructable, I'll go over what a printed circuit board is, where they are used, and the basics of how to make one yourself. So sit back, strap in, and enjoy learning about this very important and interesting method of making electronics! Note: this is an introductory guide. I'm sure that there is a lot I did not cover, and if you find something you think I should mention in this guide, make sure to ...
Read more

›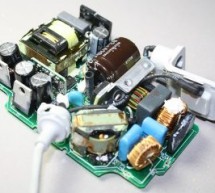 Have you ever wondered what's inside your Macbook's charger? There's a lot more circuitry crammed into the compact power adapter than you'd expect, including a microprocessor. This charger teardown looks at the numerous components in the charger and explains how they work together to power your laptop. Most consumer electronics, from your cell phone to your television, use a switching power supply to conver ...
Read more

›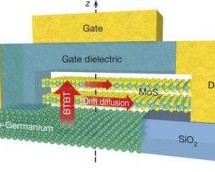 A team of researchers with members from the University of California and Rice University has found a way to get a flat transistor to defy theoretical limitations on Field Effect Transistors (FETs). In their paper published in the journal Nature, the team describes their work and why they believe it could lead to consumer devices that have both smaller electronics and longer battery life. Katsuhiro Tomioka w ...
Read more

›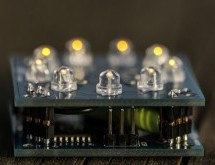 Specifications Features 9 LED candles that you can blow on, to make them flicker and go out, like you do with a real birthday cake! Each candle blinks with random period and phase that depends on the intensity of the air flow Piezo sensor and a special air trap to detect air flow with astounding sensitivity using resonance effect Atmel ATTiny44 microcontroller on board with 4 kilobytes of flash memory and 2 ...
Read more

›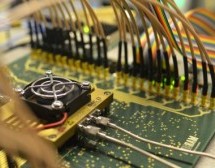 A new method of processing signals via fiber optic cables could vastly increase the distance at which error-free data is transmitted via submarine cables without additional signal amplification. As the technique is capable of correcting corrupted or distorted data being transmitted, it may also assist in increasing the capacity of all optical fiber communications. With demand for internet connectivity runni ...
Read more

›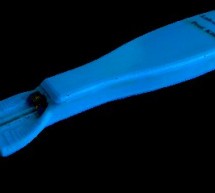 Subject: Daily life activities of food preparation can be challenging for consumers due to restricted skills and experience, loss of perceptive abilities (accident/aging) or due to product fraud and contaminations, commonly summarized under the term of food adulteration, which are exceeding human perceptive abilities in general. Thus, in our work the E-Taster-assistance-system for living assistance and food ...
Read more

›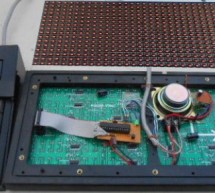 This is a Queuing System project requested by a clinic asistant which allows the doctor enter number from a keyboard and display it on a 32x16 LED panel. This project uses two Arduino, the first Arduino functioned as a SENDER which included a PS2 keyboard and a mini LCD for number input. While the other Arduino is functioned as a RECEIVER which will trigger a "ding-dong" tone and display number on the 32x16 ...
Read more

›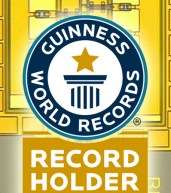 Getting into the Guinness Book of World Records isn't just about who can eat the most hotdogs or fly a paper airplane the highest. Sometimes it involves technological breakthroughs with huge potential. Guinness has handed DARPA's Terahertz Electronics program the award for the fastest solid-state amplifier integrated circuit. Developed by Northrop Grumman, the Terahertz Monolithic Integrated Circuit (TMIC) ...
Read more

›

WinHeist is an electronics component organizer that was developed by a programmer with an electronic habit. It has developed over the years from a personal application used by the author into the full blown application that it is today. To get a look at WinHeist and get an idea of what it is and what it can do go to the online help. For more detail: WinHeist – An Electronic Components Organizer for E ...
Read more

›