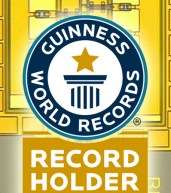 Getting into the Guinness Book of World Records isn't just about who can eat the most hotdogs or fly a paper airplane the highest. Sometimes it involves technological breakthroughs with huge potential. Guinness has handed DARPA's Terahertz Electronics program the award for the fastest solid-state amplifier integrated circuit. Developed by Northrop Grumman, the Terahertz Monolithic Integrated Circuit (TMIC) ...
Read more

›

WinHeist is an electronics component organizer that was developed by a programmer with an electronic habit. It has developed over the years from a personal application used by the author into the full blown application that it is today. To get a look at WinHeist and get an idea of what it is and what it can do go to the online help. For more detail: WinHeist – An Electronic Components Organizer for E ...
Read more

›
This device captures the IP address of your network and it publish on site DynDNS.com. All without PC. It allow a remote access to your LAN even if the IP address of the connections changes. For logistics reasons the provider can not assign a IP fixed for all users, so many users, especially private, work with a dynamic IP or public IP: in practice when they connect modem or router, to their connection is a ...
Read more

›
The ElectroFried is a game with a shocking fun level. ElectroFried is developed for the Global Game Jam 2011 in Antwerp in design center the winkelhaak. The Team Jekkos/ Cinezaster decided to make a simple game based on colliding electrons. With a nasty side effect, a electro shock. As a input devised I hacked a old computer mouse to control the electron and bring it to the proton without colliding with the ...
Read more

›
Interfacing Electronic Circuits to Arduino In this instructable I use an example of interfacing an Arduino to an ARINC 429 transceiver in order to demonstrate the general process of interfacing an Arduino to electronic circuits so you can use these techniques on your own designs. An ARINC 429 bus is the most common data bus used on aircraft for computer to computer communications. The ARINC 429 bus operates ...
Read more

›
This instructable will show you how to make an electronic dice with minimal experience using 7 LEDs, resistors, jumper wires, and of course the arduino (or arduino clone). I wrote this instructable for anyone to easily follow along and learn more about the arduino. Questions are welcome and will be answered as soon as possible. For less experienced users the code for the arduino is in "longhand" and several ...
Read more

›