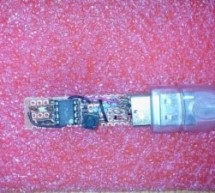 Chachka is born! Chachka is an Adafruit Trinket CLONE built from the ATtiny85 microcontroller.  Because it is a current Adafruit product, it has a training guide and its own support forum and lots of sample code.  All of this means that like an Uno clone, the Chachka will be well supported with firmware and libraries and other users. The Trinket in itself, is not expensive.  But hacking is not about expense ...
Read more

›
Hello Everyone. This is my very first Instructable so please go easy on me. This was more or less a test project to see if my new arduino board worked. Any friendly advice will be greatly appreciated so my future posts can be even better. I am going to show you how to create the best device on earth. Well i mean if you brought this back to the 1600s then it would be the best device on earth. Anyways lets ge ...
Read more

›
I came across Plama2002's "Emergency Party Button" build a while back and wanted something similar for my bar. I also had an old USAF B-8 stick grip from an A-10A that I picked up in my previous life. I figured instead of just being a conversation piece, I could put it to good use as a remote control for my AV system. What I came up with is a master control box that: - Controls my SAT TV, music server and i ...
Read more

›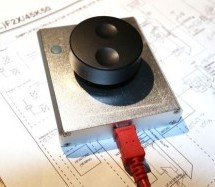 PUB! is a Programmable USB Button on which you can program a sequence of keystrokes. When you press the button those keystrokes are "replayed" over a USB connection. The button (which is really a rotary encoder with a built-in push button switch) is programmed using an innovative and slightly quirky interface that does not require any custom software to be installed on your computer. All you need is a text ...
Read more

›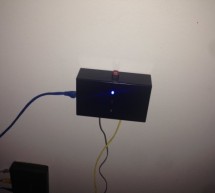 THE SETUP For an interface I thought 3 LEDs would be simple enough: Blue for everything is fine (as blue LEDs are cooler than green ones); red for something is wrong; and yellow for the modem and router are being restarted. I added a button to do the actual restarting as I wanted it to only be done deliberately. For the internals I went with: Arduino mini pro clone 5v ENC28J60 Ethernet connector (datasheet) ...
Read more

›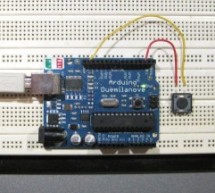 What's simpler and dumber than a button, you ask... I say: behind a button, unexpected things can hide. And within a program that does various things, handling a button can be tricky. The nice thing is that interesting functions can be built with a simple dumb button. This tutorial will address these aspects: wiring and configuring pins, using pull-up/pull-down resistor, deglitching, detecting states versus ...
Read more

›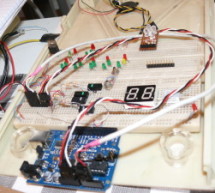 Using this method, I'll show you how you can access 5 (or even more) inputs through 1 Arduino pin. These buttons will only be read correctly if only one is pushed at any time though. As we go through it I'll explain whatever background info you need to know, so as long as you can blink a button, read a switch and read an analog input, you'll be fine. If you can't do any of these, I'll point you in the right ...
Read more

›
Pushbuttons or switches connect two points in a circuit when you press them. This example turns on the built-in LED on pin 13 when you press the button. image developed using Fritzing. For more circuit examples, see the Fritzing project page Connect three wires to the Arduino board. The first two, red and black, connect to the two long vertical rows on the side of the breadboard to provide access to the 5 v ...
Read more

›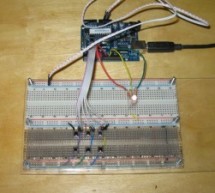 In this instructable we will learn how to use 6 buttons to control the color of an RGB LED with the use of an Arduino Micro Controller. This is a fun and easy little project that should take you no more then 20 minutes to finish. Step 1: Connecting an RGB LED Before we connect the LED to the breadboard we first need to identify the Anode and Cathodes. If you pick up your LED at a retailer there should be a ...
Read more

›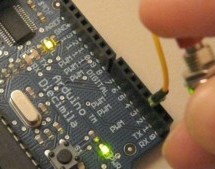 Once you've got a pushbutton working, you often want to do some action based on how many times the button is pushed. To do this, you need to know when the button changes state from off to on, and count how many times this change of state happens. This is called state change detection or edge detection. Circuit image developed using Fritzing. For more circuit examples, see the Fritzing project page Connect t ...
Read more

›
I made the original Instructible that this is based on over a year ago (You can see it here to see some of the theory around how this works:http://www.instructables.com/id/How-to-access-5-buttons-through-1-Arduino-input ). To make a long story short, I moved to a different country a few weeks after that and have not played with any electronics since. I'm starting a project to build a clock that will display ...
Read more

›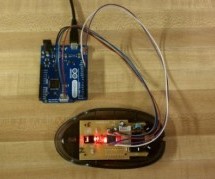 Using the Mouse library, you can controls a computer's onscreen cursor with an Arduino Leonardo, Micro, or Due. This particular example uses a five pushbuttons to move the onscreen cursor. Four of the buttons are directional (up, down, left, right) and one is for a left mouse click Cursor movement from the Arduino is always relative. Every time an input is read, the cursor's position is updated relative to ...
Read more

›