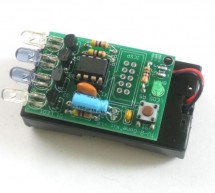 Tired of all those LCD TVs everywhere? Want a break from advertisements while you're trying to eat? Want to zap screens from across the street? The TV-B-Gone kit is what you need! This ultra-high-power version of the popular TV-B-Gone is fun to make and even more fun to use. Built in co-operation with Mitch Altman (the inventor of the TV-B-Gone - http://www.tvbgone.com) this kit is a great way to build some ...
Read more

›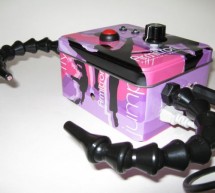 This project uses an Arduino microcontroller and a laser break-beam trigger to fire via USB remote a Canon camera modified with CHDK (Canon Hack Development Kit) firmware. Immediate influences are the high-speed flash photography triggered by sound or light project by Glacial Wanderer and the Laser Triggered High-Speed Photography instructable by Saskview. The first uses a laser break-beam and an Arduino to ...
Read more

›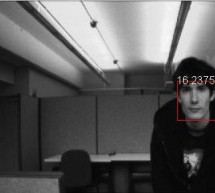 After over spending nearly 20 hours extra on fixing peggy2 board I mentioned in the previous post, there is only a few hours left for me to work on CMUcam3-Arduino system and its facial-recognition driven motor system. The basic programming architecture is shown below. When in "interaction mode", CMUcam3 camera dictates the only input information of the surface when there are people around. Based on differe ...
Read more

›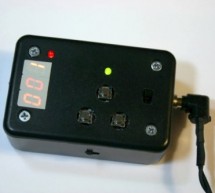 Intervawhat? An intervalometer is a camera controller that signals the camera to take a picture after some set interval. This is really useful for creating timelapse videos. For a long time, I used my TI-89 calculator to create timelapse videos with my Canon digital Rebel XTi. It worked quite well, and the calculator in/out port just happened to be the same as the Canon remote shutter port, so there wasn't ...
Read more

›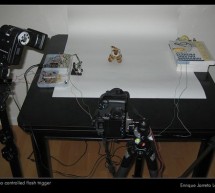 his project is mainly based in this one from Glaciar Wanderer. I just liked his idea and worked it on my own. (I think this guy and me would be friends, as the projects he has in his photography category are things I've been wanting to do since I got my Arduino. I will not be using a microphone as sensor, at least not right now. On the other side I am using a transistor to control the laser instead of using ...
Read more

›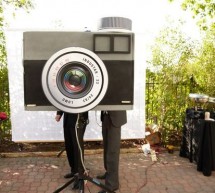 This Instructable is about: building an automated photo booth. The total build cost was around $150 as I re-used a lot of the components and materials I already had in my garage - in addition to what I could salvage from scrap yards. Why? - I decided to build my own photo booth after trying to rent one from local photography studios. The going rate for a rented photo booth is around $600 in addition to the ...
Read more

›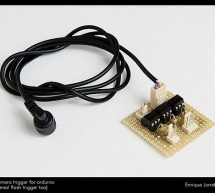 Here we go again, here is a picture of the camera and flash trigger module I made for my arduino photographic projects: It includes three 4N26 optocouplers. One (first one from the left side) to trigger a flash, as I did in the arduino controlled flash trigger project; and two more for triggering my Canon EOS 40D camera. The trigger mechanism is quite simple in modern EOS cameras, they simply have three pin ...
Read more

›
Simple digital cameras can produce remarkably good quality photos and are now cheap enough that it doesn't hurt the wallet too much to buy one with the intention of modifying it for use in a project. You may even already have an old digital camera that you don't mind sacrificing for a good cause! Modifying a camera to control it from an Arduino opens up a world of possibilities. This project lets your Ardui ...
Read more

›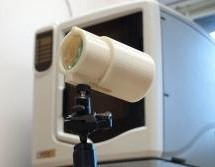 I developed the camera trigger unit in order to synchronize various events and actions during free-flight experiments with hawkmoths in the wind tunnel described in a previous post. More specifically, the goal was to trigger multiple high-speed cameras and have LEDs that indicate the exact timing of electrical stimuli delivered via a miniature stimulus chip carried by a hawkmoth. (Electric stimulation of th ...
Read more

›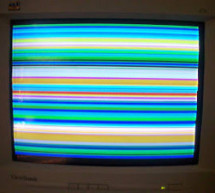 This post is a guide for people that are interested in my previous posts about dual monitor VGA hacking (see 1, 2 and 3). You will need: • A laptop or a computer with a VGA output • A breadboard (optional) and some wires or a strip board for soldering • Wire and breadboard jumpers (optional) • 2 female VGA connectors • 1 male VGA connector • up to 3 lots of 15x1 or 15x2 pin headers (optional) • An Arduino, ...
Read more

›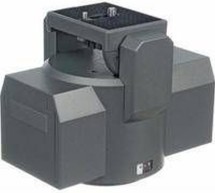 So my sister managed to break a pan and tilt camera mount and naturally thought daddy can fix this. After sitting on my dads workshop bench for a while he had a go at it and couldn't work out how to fix it so it was passed on to me as broken. So I decided to hang the current circuit board and lets make this thing arduino compatible and while I am at it lets make it wireless :-) In preparation for this I had ...
Read more

›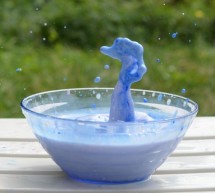 High speed photography is generally carried out in a dark room with dedicated equipment (controlled remote flash for example)... The instructable proposed here enables to make high speed photography outside (and enjoy the sun!), in less than 2 hours with some generic DIY basic tools. The principle is the following : A marble is dropped in a repeatable way. During its fall, it gets in front of a distance sen ...
Read more

›