This arduino projects show how to read Celsius and Fahrenheit temperature with LM35 temperature sensor. Instruction; 1) Connect all jumper wire as shown in diagram. 2) Connect LM35 center lead to analog pin 1, make sure ground lead connected to ground and Vs lead to 5V pin. Upload this code to your arduino /*   Temperature Sensor   Reading temperature with LM35 sensor.   Coded by: arduinoprojects101.com */ ...
Read more

›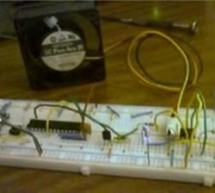 Oscar Gonzalez gives us a simple tutorial for speed controlling a PC FAN and reading a LM35 temperature sensor with an Arduino microcontroller. He covers the use of an optocoupler, PWM (Pulse Width Modulation) and reading analog voltages with the Arduino. He even has a video showing the fan speed control in action. This article was submitted by Oscar Gonzalez as part of the "Hobby parts for articles" progra ...
Read more

›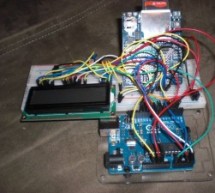 This is a data logger I made for my class. I couldn't find any instructions that I could use to make the Arduino record the light brightness and the temperature. Then display the temperature and the light value on the LCD then Save it to the SD card Requirements Here are the requirements for the Datalogging shield project (project #1): Collect data from at least 2 sensors write the data at regular intervals ...
Read more

›
A simple temperature sensor using one LM35 Precision Temperature Sensor , Humidity Sensor and Arduino, so you can hookup on your future projects. The circuit will send serial information about the temperature and humidity so you can use on your computer. I have taken data from my compost. The project is related to an existing product daily dump with which anyone can convert kitchen waste into compost at h ...
Read more

›
In this Instructable, I will step through controlling the temperature of most kitchen appliances. As an example, I will use an old Westbend Poppery popcorn maker (aka. coffee roaster), but these same techniques will be applicable to most hot plates, coffee makers, and waffle irons. This instructable puts you at risk of electrocuting or burning yourself. I will do my best to point out potential pitfalls, but ...
Read more

›