I was inspired by Frits Lyneborg's Yellow Drum Machine.  Watching the videos, it has such personality!  I have also been thinking recently about sound and robotics.  I did some research looking for a version of the robot that used the Arduino as a brain, but couldn't find one that seemed so responsive and alive as Frits' version. I have attached the Arduino code for the robot.  You will need to create a fol ...
Read more

›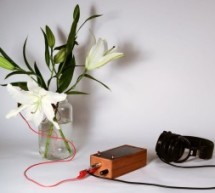 This project is a part of experiments done while doing an artist in residence at Instructables. You can see the other projects here. Making a plant sing has been a trick since the Theremin was invented. Here I am going to teach you how to do this with and arduino board, a gameduino shield and a the touch shield from my previous instructable. A short introduction to capacitance If two objects are conductive ...
Read more

›
Wrap Beats is an instrument that lets you string together notes in order to create different melodies and visual patterns. I constructed it using the Capacitive sensing library for Arduino and combining that with the music abilities of processing to create a dynamic instrument that can change sounds as you play it. The circular design of the object as well as the notes is completely a personal choice you co ...
Read more

›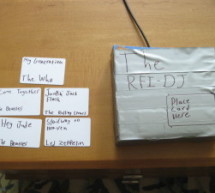 The RFI-DJ is a USB device for playing MP3 files from your computer. You have a set of RFID cards, each one with a song name written on it. You choose a card and place it on the RFI-DJ, and your computer will play that song. Its magic! Actually, it's not magic. It uses an Arduino and an ID-12 RFID scanner, and a python script running on your computer. The device is really fun to use, and it makes a great af ...
Read more

›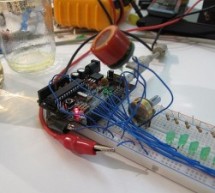 During the First Meeting of Electronic Arts in Florianópolis, we built a Breathalyzer using the Alcohol Gas Sensor MQ-3 and a Arduino Board to use in the last day of the meeting, in which we gave a party. You can see a quick video two posts below. Last days I received many emails asking for the code or how to make one, so I decided to build the sensor again, take pictures/videos and make a tutorial showing ...
Read more

›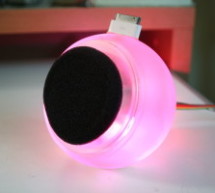 Using an Apple Pro speaker, I made a flashing RGB LED iPod dock for about $35. I recommend reading the entire 'ible before starting. Also, note that the volume is control from the iPod. It consumes minimal power in shutdown mode, and is controlled by a Teensy. This took me ~3 days to build, and you should know how to solder pretty well before doing this project. The enclosure looks amazing when lit, it is r ...
Read more

›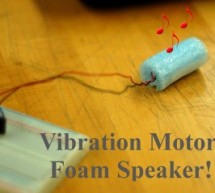 Concept: Very simple, using an arduino and the play melody basic program, create a music playing speaker out of a vibration motor and a piece of flexible foam. Instead of pulsing signal to a speaker, signal is pulsed to a motor varying how fast it can spin and when it spins. Science behind it (this might not be super correct but it is my basic understanding of how it works): As the motor vibrates (uses an i ...
Read more

›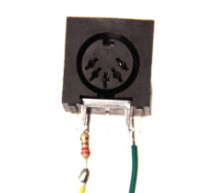 This instructable will show you how to use an Arduino to send and receive a variety of MIDI messages so you can start building your own MIDI controllers and instruments.  First I'll talk a little bit about MIDI protocol, if you're just looking for sample code skip ahead to steps 5-9. If you know absolutely nothing about MIDI note, velocity, and pitchbend or are confused about what MIDI does and why you woul ...
Read more

›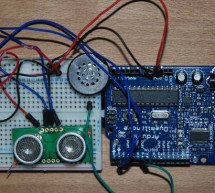 Theremins are cool. Fact. You may also have heard of them as either aetherphone/ etherophone or termenvox/ thereminvox. Essentially its an electronic music instrument that plays a certain note depending on the position of your hand and its distance from an antenna. Building a very basic one with Arduino is easy – easier than my basic Arduino drum machine. Very easy. Basically we can replicate one by buildin ...
Read more

›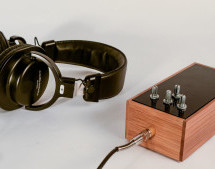 This project is a part of experiments done while doing an artist in residence at Instructables. You can see the other projects here. You can use bit-shifting as an alternative way of creating "music". This principle enables you to squeeze as much processing power as possible out of the Arduino while creating novel and interesting effects. The challenge lies in composing through bitshifting.  This is an exam ...
Read more

›
the idea of anything can be an instrumental music has been always in my mind so i made a wooden tissue box that i installed inside it a guitar of light strings Step 1: Building Box i made this wooden tissue box Step 2: Wiring we make the LDR wiring on a the top shelf of the box ... while the Led's are on the buttom shelf we place them under the LDR's directly to make the light effective on the LDR. Ultrason ...
Read more

›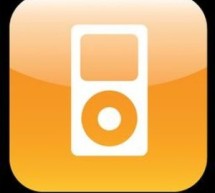 This instructable will help you understand the iPod serial protocol, and how to send commands to an iPod using an Arduino. This instructable is only meant to show the basics of the protocol and is by no means complete. I only had enough hardware space for 4 buttons, and the software reflects that. Hardware Needed : 1x Arduino 4x Push Buttons 4x 10k ohm resistor 3x 1k ohm resistor 1x 500k equival ...
Read more

›