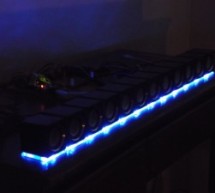 I already have one project where arduino outputs audio signal to USB speakers via software 10-bits PWM.  In first, I was not satisfied with quality of sound generated via PWM. There are just not enough speed in arduino engine  to run PWM well.  For example for 20.000 Hz audio, PWM has to be at least 2 – 3 times higher  above normal frequency range, or 40 – 60 kHz. If we multiply this value with 10-bits reso ...
Read more

›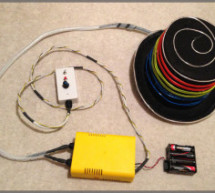 Welcome to the Instructable guide of my EL Wire hat with some fun features. The concept is an EL Wired hat with 8 sequenced EL wires controlled by a wired remote. Multiple speed controllable sequence modes are pre-programmed into an Arduino UNO, including a sound activation feature. Features: 7 sequence modes (speed controlled) 1 sound activated mode (sensitivity controlled) 1 sequence mode that goes throug ...
Read more

›
The objective of this project is to build an Arduino voice shield to empower thousands of voice related applications! All this mostly thanks to an integrated ISD1790PY chip. This particular voice/TTS  feature can be useful to integrate voice messages in alarm systems, to implement generic I/O controls in home automation or even in home security applications: something like playing an alert when a person or ...
Read more

›
I was wondering about on making a sequencer, a big 16 step sequencer was what I wanted to make. To it's full extension with lots of features including single leds for each step, midi input and output, etc. Then I realised that I should start from a more basic model and then maybe tweak around to see what I can do. So while surfing the web and between other small sequencer projects I found this arduino seque ...
Read more

›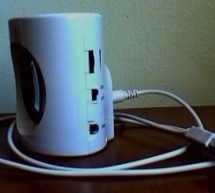 The easiest way to connect an audio signal to your arduino, is to build a simple 3 components (2 resistors plus cap) circuitry shown on the first drawings on right side. Disadvantage: there is no amplifier, and consequently sensitivity would be low, hardly enough to work with headphones jack output.  For low level signals, like output of electret microphone, amplifier is necessary. Here is the kit, which in ...
Read more

›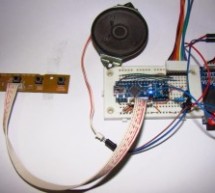 This is a simple circuit to play wav files using arduino Nano V3.0 ,it consist from 4 buttons ,each one play specific wav file loaded to SD card. Step 1: Parts 1- Arduino Nano V3.0 (I used the chines version called Funduino Nano). 2- SD card Module. 3- SD card. 4- Bread Board. 5- four push Button . 6- four 22K resistors. 7- one 4.7K resistor. 8- BC546B NPN transistor. 9- Speaker. 10- wires. Step 2: Prepare ...
Read more

›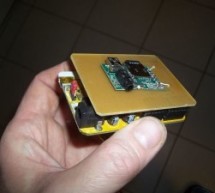 This is a follow up to an earlier Instructable for attaching the guts of a cheap clip MP3 player to an Arduino. http://www.instructables.com/id/MP3-Interface-for-Arduino-Cheap-and-Easy/ The previous Instuctable showed how to use the Arduino to control all of the functions of the MP3 player: volume increase and decrease, next and previous MP3 file, play or pause. The previous Instructable also showed how to ...
Read more

›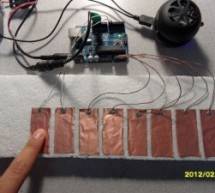 What is the OctoSynth you may ask? The octosynth is a polyphonic synthesizer that is able to produce eight Pulse Width Modulated tones that form together a musical scale. In English terms, it is a 8 key electronic organ that can play more than one tone at once but only one scale. Special thanks to Joe Marshall who wrote the very useful code. As suggested in the title, it runs on Arduino. So before we get st ...
Read more

›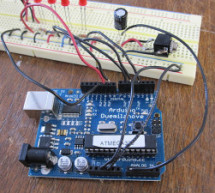 This project functions to display sound using vibration.  You plug your iPod, computer, or TV into it and get tactile feedback representing the loudness of the audio.  It can help deaf people to experience sound. Stuff you need: Arduino USB Cable Computer running Arduino software (www.arduino.cc/download/) Breadboard LEDs Pager Motors Three 100K resistors Six 220uF resistors 1K potentiometer 3-Conductor Ste ...
Read more

›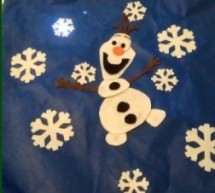 For my children and technology class, we were challenged to make a product using a Lilypad Arduino. I am currently obsessed with the movie Frozen, so I decided to create something using one of the most iconic characters of the movie, Olaf. I used a blank, reusable grocery bag and created a picture of Olaf with led lights and music that plays the most popular line of "Do You Want to Build a Snowman." I have ...
Read more

›
I like drum machines. However they are not always the easiest to build. I wanted one that is: A. Simple, Yet Powerful-If it uses lots of components then it is too complicated B. Sound-It's not a a drum machine if it "beeps" C. Easily Modifiable-If I can't change stuff for improvement it is kind of annoying. A meticulous internet search wasn't so successful. Finally, I found this but, even that was a bit un- ...
Read more

›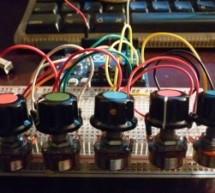 Hello again. Today I'd like to show you the Auduino. That's right, the Auduino is a Lo-fi Granular Synth that works on arduino. It uses some analog pins and a digital pin. I had loads of fun making and playing with it so I'd love to show you how to make it. Sketch created by Peter Knight, Tinker.it http://tinker.it. For more information please visit the website. I hope you are already familiarized with the ...
Read more

›