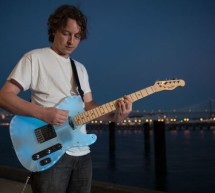 In the kingdom of rock and roll it is important to set oneself apart. With millions of people in this world who can play the guitar, simply playing well is just not going to cut it. You need something extra to rise up as a rock god. Consider this guitar the mystical glowing ax bestowed upon you by the Rock Goddess of Bangs; The fabled ax that will lay waste to nonbelievers and shred through the aether with ...
Read more

›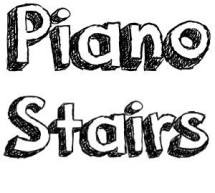 Who doesn't love music? These Piano Stairs are an interactive, relatively portable, musical installation that can be applied to basically any stairwell. I built them for HackPrinceton and won 2nd place in the hardware track. I've had requests to share my code and diagrams, so I decided to make an Instructable! These piano stairs use a light-based "tripwire" for each stair. The light sources should be on one ...
Read more

›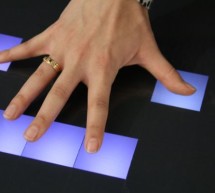 This project is an Arduino-powered infrared touchscreen / coffee-table interface that I've been using to control various music and graphics applications on my computer. This is an old project that I've recently had time to go back and document/fix up; this project is a little more special to me than most because it was my first Arduino/electronics project, and while I was doing research for it I ended up on ...
Read more

›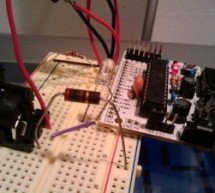 A friend of mine wanted to control Cubase, his audio recording software, with a push button so that he could stop and start recordings remotely without having to go over to the computer and type on the keyboard. You may be able to do this in other recording software, we just happen to use Cubase. Step 1: What you need Normally open push buttons (one for every action you want to perform like these) 10K-Ohm r ...
Read more

›
Have you ever struggled with audio settings in control panel in middle of a VoIP call? Or, wondered if the other guy can hear you properly? I have. My work requires great deal of remote conference calls using PC. The first thing I wonder always when starting is if my audio settings -- mic volume, input selection, mute/unmute, speaker volume -- are in order. Typically, they are not and it takes a while to fi ...
Read more

›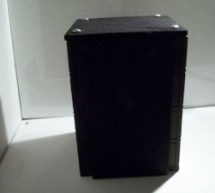 This is a PIR motion sensor device that works with the arduino uno. In order to make it covert enough to be placed in multiple settings and portable enough to fit most places, I decided to make the case for it appear as a speaker. The inspiration for this project: My cat is a jerk. One of his favorite things to do is to alarm me that he is hungry every morning at 4am by sitting on my dresser and knocking ra ...
Read more

›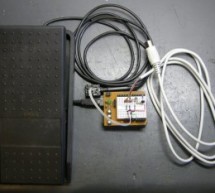 I'm playing keyboards this fall in another rock concert to benefit the high school robotics team, and for some of the tunes I need to be able to fade an organ in and out over a period of a measure or two. My keyboards are velocity-sensitive, so if you hit the keys harder they play louder (like a piano); and they have aftertouch, so if you press down extra-hard on the keys you can get special effects. But th ...
Read more

›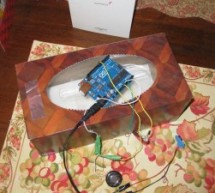 This simple device simple plays a small tune at a random interval, between 5 and 30 seconds when the lights in a room go off. It can be cleverly disguised inside a tissue box, or inside or under any number of household objects. This is a vary simple project (my first audio project) and requires vary few materials, most of which can be easily scavenged. If you are just starting with arduino or audio electron ...
Read more

›
SOS is the commonly used description for the international Morse code distress signal (· · · — — — · · ·). [read more on wiki] Requirements: 1) Arduino 2*) 8 Ω speaker 3*) 150 Ω or similar resistor 4) 5mm RED LED 5) Hook-up wires 6) Any breadboard * Ω = Ohms Step 1: Schematic Hook-up wires as shown (original pic here). Make sure that LED's anode and cathode correctly connected. [read more on wiki] Ste ...
Read more

›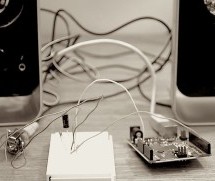 Multiple synthesizer projects have been done for the Arduino, but few have been able to utilize the full power of the Arduino processor. DZL from GeekPhysical wrote a 4 voice wavetable synthesizer that is one of the more advanced software based synths for the Arduino.  It has wavetables included (sine, saw, square and triangle) and envelopes to create beats. This instructable will show you how to make a sim ...
Read more

›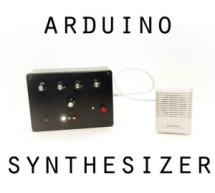 The Arduino is able to output sound through a library that has been developed called the Tone Library. By creating an interface and a program that can call certain values to be output to an audio out, the Arduino Synthesizer is a robust tool for making a rudimentary noise machine. It uses granular synthesis techniques to generate a distinctive sound that can be a whole lot of fun for musicians, artists, tin ...
Read more

›
This is my first build using an arduino microcontroller. I wanted to create a simple tone output device along the lines of the 555-basedatari punk console, but using solely the mcu as the tone generator. Unfortunately, that was just too simple a task with a microcontroller to play with--it was done in about five minutes and my mind was already forging ahead with a bunch of stupid ideas. Since coding the ard ...
Read more

›