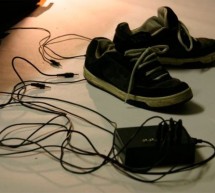 Like many people, I often find myself unconsciously tapping my feet, whether it's along to a song or out of some nervous habit. As fun as that is though, I've always felt as if something has been missing. If only I could trigger the sounds of say, a rabid pack of furious jungle beasts instead of those boring old toe taps. Or, you know, drum sounds or something. I guess that's cool too. Well, now my dreams h ...
Read more

›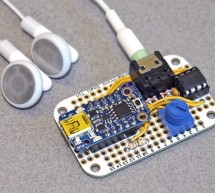 Overview We usually think of the Adafruit Trinket as a tiny subset of a "real" Arduino; less RAM, less code space, less I/O. But this little chip has a couple tricks up its sleeve, things its larger brethren can't do. One of these is a high-speed PWM mode. With just a few extra components this can be used for audio output. Not simply piezo beeps and buzzes…actual sampled digital sound! You could make an ele ...
Read more

›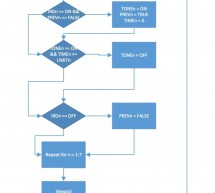 In order to realise the "music garden",the most important part is the Arduino code and circuit diagram. First of all,I will present my Arduino code:(I will show you the way I think as a flow chart at first) Flow Chart: Details:this flow chart is a mode for one single flower pot IRDs means the sensor PREVn means the records about whether there are people in front the sensor When turn on the IRDn and the PREV ...
Read more

›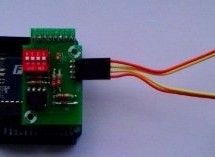 MIDI BASS PEDAL ARDUINO UNIT The MIDI Bass Pedal circuit is capable of encoding any number of momentary action, push to make, single pole single throw (SPST), switches from 1 up to 30 to produce the equivalent MIDI note-on/note-off data commands. The encoded switches are wired via IN4148 diodes. The keys are arranged in an 6 x 5 (30 keys) matrix, for up to a two and a half octave range. The  MIDI start Note ...
Read more

›
Here is a quick write up on how to use the tymkrs "Turn Me" rotary encoder.  This supports the "push down" feature of the tymkrs kit. Fritzing Rotary Encoder Part: Rotary Encoder with Knob bth.fzpz Fritzing Project: RotaryEncoderDemo.fzz Arduino (1.5) project: RotaryEncoderDemo.ino 1 2 3 4 5 6 7 8 9 10 11 12 13 14 15 16 17 18 19 20 21 22 23 24 25 26 27 28 29 30 31 32 33 34 35 36 37 38 39 40 41 42 43 44 45 4 ...
Read more

›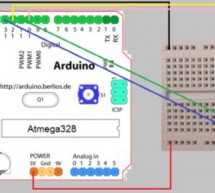 Contents 1 Team Members 2 Mentor 3 Concept 4 Softwares Used 5 circuits 5.1 Pre Amp circuit 5.1.1 Circuit Diagram 5.1.2 Working 5.2 EEPROM circuit 5.3 Led Matrix display circuit 6 Algorithm for silence & noise removal 6.1 Pre-Emphasis 6.2 Silence and Noise Removal 6.2.1 Idea 6.2.2 Implementation 7 Codebook Formation 7.1 Database 7.2 Main Algorithm 7.2.1 Common Procedure 7.2.1.1 Normalization 7.2.1.2 DWT ...
Read more

›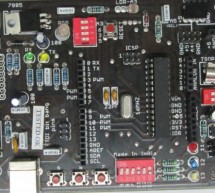 Hello friends,Welcome to ElectroPLUS . This is a post to show how to make voice control car using arduino and android. COMPONENTS REQUIRED: 1.Arduino uno or Induino R3 board. Hello friends,Welcome to ElectroPLUS . This is a post to show how to make voice control car using arduino and android. COMPONENTS REQUIRED: 1.Arduino uno or Induino R3 board. 2.Connect HC-05 with induino R3 board.Connect the pin 11 and ...
Read more

›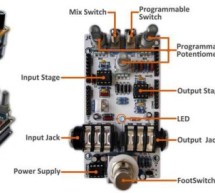 Web site: http://www.electrosmash.com/pedalshield Project Summary: pedalSHIELD is a programmable Arduino Open Source & Open Hardware guitar pedal made for guitarists, hackers and programmers. Users can program and share their own effects in C/C++. Full Project: pedalSHIELD is a programmable Arduino guitar pedal. It is Open Source & Open Hardware and made for guitarists, hackers and coders. Users can ...
Read more

›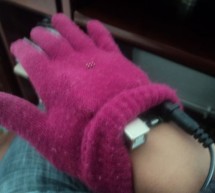 The title "MultiMovEDIA" does not mean much – if anything – at first sight. However, looking at more carefully, we can see it is a composition of two words: "Multimedia", referring to the information content and the channels it uses (text, image, sound), and "Move", meaning movement. This project incorporates movement and dynamics into the world of multimedia, in a unique way, where moving one's arm or just ...
Read more

›
Okay, okay, I know you all were wondering what I am up to now. I love synths and so, I built this. There are three things that can catch my attention: Synthesizers, Amplifiers and free. The other day (Actually it was just Thursday) I was cruising around Make's website when I saw the Deal of the Day was the Loud Objects Noise Toy. I had seen it before but had not cared much for it. I the n saw a Vimeo video ...
Read more

›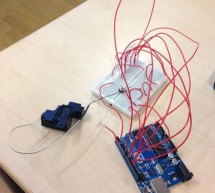 To make your Arduino to play a melody you need thes accessories. One 5 ohm speaker One Arduino uno board One Push buttom One 10 kohm resistor 8 leds And a lot of core wires Step 1: Connect the arduino and make the speaker play This is how i connected the arduino to the white connection plate. With these picture should help you get an ide of how to connect the speaker to the arduino plate and make it play th ...
Read more

›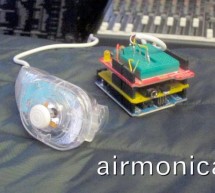 improvise + harmonize + customize The airmonica is a easy-to-learn tweakable musical instrument that you can use to perform harmonic musical ditties by accompanying a tri-tone arpeggiator. There are endless opportunities to expand the airmonica in any way that will make it your your own custom instrument. The airmonica consists of three parts: 1. a wii compatible nunchuck as the instrument interface 2. an a ...
Read more

›