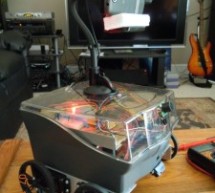 I started with an idea of what I wanted to do from the beginning but one attempt after another I finally got to where I am now. This robot can be remotely controlled from anywhere in the world and driven around the house. I can see through it's eyes. Here is a brief run down. I'll get into more later. *I have taken a 3.5 floppy disk case as a body and added 4 servo's converted to continuous operation for th ...
Read more

›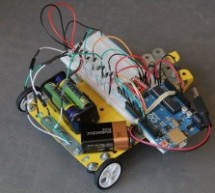 As a beginner myself, I struggled to find a one-stop set of instructions to get up and running with Sparkfun's Motor Driver 1A Dual TB6612FNG.  This motor driver breakout board is exceptional value, is beautifully small, but does need a little more effort to get it working. The TB6612FNG is an H-Bridge driver - I won't go into the technicalities of how it works, but the end result is that it can turn a conn ...
Read more

›
This instructable will show you how to create a simple servo leg that can be controlled by buttons on an arduino or via serial. Here is a video of the leg in action    http://www.youtube.com/watch?v=Q8i1nrPIJvo Leg Materials: Popsicle sticks-make sure that all of them are flat and not curved, like in the picture Paper clip 4 3mm screws Servo motor weights Leg tools: Hot glue gun wire strippers needle nose p ...
Read more

›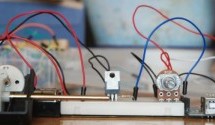 A quick circuit showing how to control the speed of a DC motor with a potentiometer with your Arduino board. Also shows how to use a TIP120 transistor to allow the Arduino control a larger power supply. Transistors are 3 pin devices, which via the 3rd pin (Base) allow it to control the current passing through the other 2 pins (Collector and Emitter). So for this tutorial I am using the power from the Arduin ...
Read more

›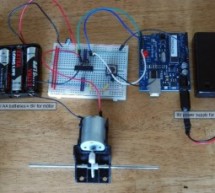 This is a quick guide with a bit of extra info (pin configurations etc..) that I've learnt along the way on how to use the L293D with the Arduino, showing that we can: A) Use a supplemental power source to power the DC motor B) Use the L293D chip to drive the motor C) Use a switch to change the direction of the motor UPDATE: If you intend to use this for robotics then please check out this page here to get ...
Read more

›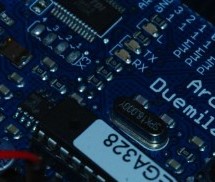 Very simple basics of building a circuit to control a servo using Arduino and PWM For this you will need: Arduino Board – I'm using a Duemilanova ATMEGA328 Arduino Sketch software – I'm using version 0015 Arduino Servo Library found here save it to lib/targets/libraries if you don't already have it A Servo that requires no more than a 5V supply I'm using a Futuba S3113 A Potentiometer (A dimmer switch) Brea ...
Read more

›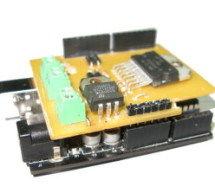 Today, I'm going to show you how to make an Arduino motor shield (driver) at a low cost. It works splendidly, its posses almost all the characteristics of the original Arduino motor shield. It's almost considered as a clone. The original Arduino motor shield has the same motor driver chip (L298), the only difference with it, is the package type, my project contains the vertical version of the chip L298 (wit ...
Read more

›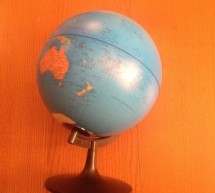 This instructable describes how to upgrade your globe to a motorized version. It looks amazingly better on the shelf when it is slowly rotating, and any demonstration with your kids (to explain the day/night cycle or the seasons) will gain in interest. No need to rotate the globe by hand while painfully holding the flash light with your teeth. The instructions correspond to the various parts I had at my dis ...
Read more

›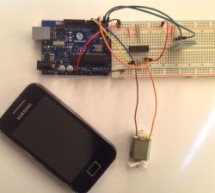 Hi guys, In this project we will control a DC motor with a smartphone via bluetooth. This project is great to learn more about: -DC motor -Interfacing Arduino with your smartphone -Bluetooth module -L293D you can visit my website for more electronic projects, interesting news and tips: http://randomnerdtutorials.wordpress.com/ Step 2: Schematics and common mistakes Two common mistakes: -You need to remove t ...
Read more

›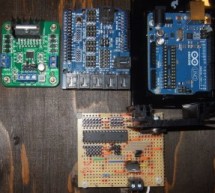 I am presenting a compact design of a stripboard Arduino board (DIYduino) that includes a 2A motor driver and has additionally the functionality of a sensor shield. The 2-channel version cost approximately $29.43 and is more affordable compared to $39.00 for a commercially available system consisting of an Arduino Uno, $21.50, a sensor shield, $8.50, and a motor shield, $9.00. The cost can be further reduce ...
Read more

›
Buildings account for 20-40% of total energy use in developed countries. Window shades (or blinds) can help to reduce building energy use and improve visual comfort (i.e., reducing glare and increasing daylighting). A recent study showed that occupants are fairly inactive when operating manual roller shades (O'Brien et al. 2013) which could lead to increased visual discomfort and increased heating and cooli ...
Read more

›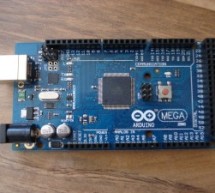 With our new project, JustAddSharks, we are very keen to support the development of open source control software for laser cutters. We are more than happy for people to modify our laser cutters, replace the control system with something suitably open source and then let us know how it goes. Realistically though we're going to have to figure these things out for ourselves so we can guide other people through ...
Read more

›