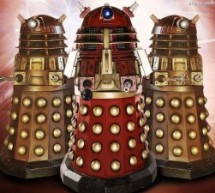 Overview The Arduino Motor Shield is based on the L298 (datasheet), which is a dual full-bridge driver designed to drive inductive loads such as relays, solenoids, DC and stepping motors. It lets you drive two DC motors with your Arduino board, controlling the speed and direction of each one independently. You can also measure the motor current absorption of each motor, among other features. The shield is T ...
Read more

›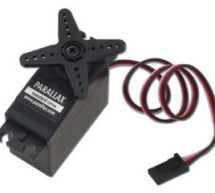 In this instructurable I will expalin and show you how to make a Parallax servo rotate 360º. And againI have search the internet to see tutorials clear enough to make this posible with no luck. Don't get me wrong they are some how good but not clear. This mod will help you to use the mod servo for robots that need a fully 360º rotation servo. Also some of the pictures were taken from other instructurables a ...
Read more

›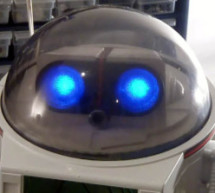 *Check back for more updates on this build :) So, have you heard of the Omnibot? Well! Any kid from the 80's will remember how amazing this robot was. For you young kids, this robot was released in the early 80's by Tomy. The robot was "programmable", in the sense that the actions were recorded to a casette tape. As you operated the robot over its remote control, the casette would record tones for each acti ...
Read more

›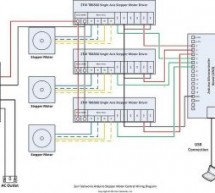 Hardware Preparation Stepper Motor Driver Board Arduino Board (UNO) If you have purchased the Arduino Board from ZTW, we have already uploaded the g-code library for you. If you are using your own Arduino Board, you can doawnload grbl Arduino library online and load it to your board using xloader. Power Supply The power supply is used to give the power to stepper motor driver board. USB Cable (A Male - B Ma ...
Read more

›
For my Digital Multimedia class final, I created a treat dispenser that is activated by pulling a chain, which starts a servo motor that spins a wheel to dispense treats to my to African Grey parrots. Step 1: Gather Materials [box color="#985D00" bg="#FFF8CB" font="verdana" fontsize="14 " radius="20 " border="#985D12" float="right" head="Major Components in Project" headbg="#FFEB70" headcolor="#985D00"] Mat ...
Read more

›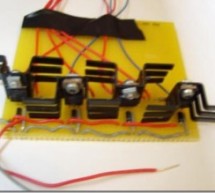 This page will show you how to put together a simple stepper motor driver board that can be controlled with an Arduino. I built mine to use with my heliostat projects, but it could be used for other things too. Update: I no longer use this driver board with my sun tracking / heliostat system. Commercial driver boards have become so cheap that it is hardly even worth bothering to build it. Additionally, this ...
Read more

›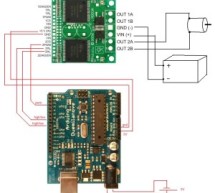 Finally, I finished reading the datasheet. It didn't give much information about how to connect the motor controller to a micro-controller. I used the simple circuit I found from a post in Pololu's forum: Using Dual VNH3SP30 Motor Driver with arduino @ http://forum.pololu.com/viewtopic.php?f=15&t=1923. Dual VNH2SP30 Motor Driver Carrier MD03A to Arduino Circuit DiagramI connected everything according to ...
Read more

›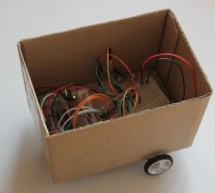 This is the second part of our BaW-Bot (Bells-and-Whistles Bot) build – 5 separate instructables that look into different Arduino-related technologies, combining to create a Bot with all the bells-and-whistles. Part 1: Build an Arduino on a Board Part 2: Build the motor-controller & body Part 3: Adding Sight and Touch Part 4: Blinging up the BaW-Bot Part 5: Taking it to the Next Level In this instructab ...
Read more

›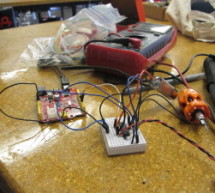 Using two xbees, an arduino, an xbee explorer, and an h-bridge, wirelessly control a DC motor to spin in both directions (last video). Note: I used the xbee I linked to, but for a one to one communication, rather than a network of wireless devices, xbee series 1 would do fine, but the AT commands are slightly different. Step 1: Materials Arduino 2 xbees Any DC motor power supply or battery usb mini cable xb ...
Read more

›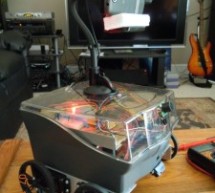 I started with an idea of what I wanted to do from the beginning but one attempt after another I finally got to where I am now. This robot can be remotely controlled from anywhere in the world and driven around the house. I can see through it's eyes. Here is a brief run down. I'll get into more later. *I have taken a 3.5 floppy disk case as a body and added 4 servo's converted to continuous operation for th ...
Read more

›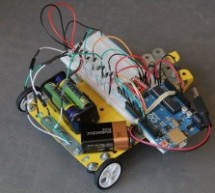 As a beginner myself, I struggled to find a one-stop set of instructions to get up and running with Sparkfun's Motor Driver 1A Dual TB6612FNG.  This motor driver breakout board is exceptional value, is beautifully small, but does need a little more effort to get it working. The TB6612FNG is an H-Bridge driver - I won't go into the technicalities of how it works, but the end result is that it can turn a conn ...
Read more

›
This instructable will show you how to create a simple servo leg that can be controlled by buttons on an arduino or via serial. Here is a video of the leg in action http://www.youtube.com/watch?v=Q8i1nrPIJvo Leg Materials: Popsicle sticks-make sure that all of them are flat and not curved, like in the picture Paper clip 4 3mm screws Servo motor weights Leg tools: Hot glue gun wire stripper ...
Read more

›